Med Vet Urban
The UF/IFAS Entomology and Nematology Department has a major commitment to conduct research in medical, veterinary and urban entomology and to provide research-based educational opportunities for future specialists in these fields. Medical, veterinary and urban pests are especially severe in Florida's subtropical and tropical conditions, so there is a special need to develop significant efforts in research to support our academic and Extension programs.
A large contingent of medical entomology faculty works at the UF/IFAS Florida Medical Entomology Laboratory in Vero Beach, and many others work in association with the USDA-ARS Center for Medical, Agricultural, and Veterinary Entomology Laboratory in Gainesville. Outstanding research opportunities exist at the main campus in Gainesville and at several UF/IFAS Research and Education Centers throughout the state.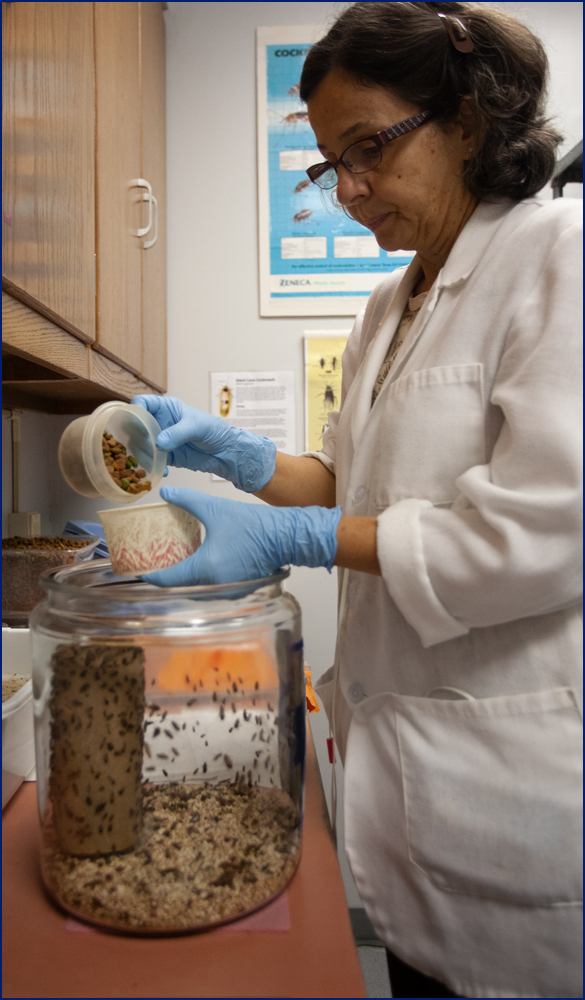 The faculty members listed below have a strong research focus in this area. Click on the names below to learn more about their research programs.
Barry Alto, Medical Entomology, Arbovirology, Associate Professor
Rebecca Baldwin Urban Integrated Pest Management, Undergraduate Coordinator, Associate Professor
Eva Buckner Medical Entomology Extension, Assistant Professor
Edwin R. Burgess IV Veterinary Entomology, Assistant Professor
Nathan Burkett-Cadena Mosquito Ecology, Biology of Disease Hosts, Assistant Professor
Lindsay Campbell Mosquito Ecology, Assistant Professor
Eric Caragata Mosquito-Microbe Interaction, Asssistant Professor
Thomas Chouvenc Urban Entomology, Assistant Professor. Please visit the Florida Termite Distribution Map.
William Kern Urban Entomology, Associate Professor
Yoosook Lee Molecular Ecology, Population Genomics, Bioinformatics, Assistant Professor
Cynthia Lord Population Dynamics, Associate Professor
Estelle Martin Invertebrate Vectors of Disease and Public Health, Assistant Professor
Derrick Matthias Mosquito/Arbovirus Biology, Assistant Professor
Faith Oi Urban Entomology, Extension Associate Professor
Roberto Pereira Urban Entomology, FPMA Endowed Professor, Extension Professor
Lawrence Reeves Mosquito Biology and Ecology, Assistant Professor
Jorge Rey Wetlands Ecology, Center Director and Professor
Michael Scharf Urban Entomology, Sapp Endowed Professor
Rudolf Scheffrahn Biology and Control of Termites, Professor
Chelsea Smartt Molecular Entomology, Medical Entomology, Associate Professor
Nan-Yao Su Biology and Control of Termites, Structural and Household Pests, Distinguished Professor
Panpim Thongsripong Vector-borne Disease Ecology, Virus Evolution, Assistant Professor