Dr. Georgette Kluiters
Lecturer & Distance Education Coordinator
Dr. Kluiters is a lecturer and the Distance Education Coordinator for the Entomology and Nematology Department.
She has a background in veterinary science, infectious disease control, and epidemiology, with research interests focused on the control of vector-borne diseases of livestock. She has a particular interest in bridging the gap between academia and policy and has worked for legislative bodies in both Wales and Switzerland.
She held a BBSRC-funded Future Leader Fellowship (PI) and subsequent internally-funded Fellowship at the University of Liverpool, UK, before moving to the University of Florida in 2022. She continues to be an Honorary Fellow at the University of Liverpool. Prior to this, she held positions at the National Assembly for Wales (Cardiff, UK), Animal Health Trust (Newmarket, UK), Swiss Federal Veterinary Office (Bern, Switzerland), and has also spent time working at CIRAD (Montpellier, France) and ILRI (Nairobi, Kenya) – on both veterinary disease control/surveillance programs (primarily with an entomological focus) and scientific policy.
Dr. Kluiters primarily teaches online courses for the Entomology and Nematology Department, including:
Insect Classification (ENY 4161/6166)
Scientific Communication (ENY 6931)
Principles of Entomology / Graduate Survey of Entomology (ENY 3005/5006)
In her role of coordinating the distance education programs for the department, she serves as the primary contact and academic advisor for students enrolled in online, non-thesis M.S programs and graduate and undergraduate certificate programs. She advises non-thesis M.S students in their capstone projects.
She has an interest in developing and adopting innovative approaches to deliver meaningful learning opportunities to online students, enjoys helping students work towards their career goals and aiding them to navigate their time at UF.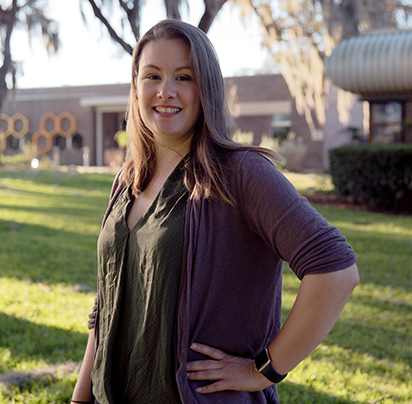 Contact
1881 Natural Area Dr.
Room 2004
Gainesville, FL 32611
(352) 273-3919
g.kluiters@ufl.edu
Employment

2021 – present: Honorary Fellow, University of Liverpool, UK
2016 – 2021: BBSRC-funded Future Leader Fellow (PI), University of Liverpool, UK
2013 – 2016: Postdoctoral Research Associate, University of Liverpool. UK
2012: Policy Advisor, National Assembly for Wales, UK
2008 – 2009: Equine Grass Sickness Surveillance Scheme Lead, The Animal Health Trust, UK
2008: Research Fellowship; The Swiss Federal Veterinary Office, Switzerland

Recent Honors & Awards

BBSRC Future Leaders Fellowship Grant, £355,000 GBP. 2016 – 2021: Determining the effects of mermithid nematodes on Culicoides biting midges and their potential use for disease and vector control. PI: Georgette Kluiters
Research Secondment University of California, Riverside, 2018: Mermithid methods
BBSRC Global Food Security Policy Lab Grant, £2,000 GBP. 2016: Rewarding sustainable production and nutritious & sustainable Purchasing habits. PI: Georgette Kluiters, COI: Willcox
Model of Nematode Parasitism, £1,000 GBP. 2016: Large-scale model of parasitized Culicoides for extension programs
Royal Entomological Society Early Career Entomologists Research Prize, 2016
Pump Priming Grant, £1,000 GBP. 2015: Laboratory studies on bluetongue virus vector control
Research Secondment International Livestock Research Institute (ILRI), Kenya, £2,160 GBP: Living with Environmental Change Call: Global movement of Culicoides midges
Allan Downie Research Prize, Institute of Infection & Global Health, 2013: Modelling the spatial distribution of Culicoides biting midges at the local scale. J Appl Ecol. 2013; 50: 232–42
BBSRC Competitive Policy Position: National Assembly for Wales, 2012: Full-time employment sponsorship
International Fund for Animal Welfare Travel Grant; Equine Grass Sickness Fund Travel Grant; Rhoda la Marchant Travel Bursary, £2,050 GP. 2009-2011
Swiss Federal Veterinary Office, Bern, Switzerland: Funded Fellowship. 2008

Grant Funding for UG Research

£16,000 BBSRC & Wellcome Trust student funding:

£2,500: Laboratory Methods for Rearing Insects, BBSRC
£2,500: Mermithid Nematode Parasitism, BBSRC
£2,500: Breeding Sites of Culicoides, BBSRC
£2,500: Fluorescent Dusts for Mark-Release-Recapture of Culicoides, BBSRC
£2,000: Mermithid Nematode Parasitism of Gravid Culicoides, Wellcome Trust
£2,000: The dispersal of Culicoides on / between Farms, Wellcome Trust
£2,000: Spatial Distribution of Culicoides in Zoos, Wellcome Trust