Dr. Bryony C. Bonning
Eminent Scholar and Professor
Dr. Bryony C. Bonning is an eminent scholar and professor of entomology and nematology at the University of Florida, and Director of the Center for Arthropod Management Technologies (CAMTech), a National Science Foundation Industry/University Cooperative Research Center. Dr. Bonning held postdoctoral appointments at the Natural Environment Research Council Institute of Virology in Oxford, UK and at the University of California, Davis, USA. She then joined the faculty at Iowa State University, and moved to University of Florida in 2017. Bonning oversees cutting edge research on insect physiology and insect pathology with the goal of developing novel, environmentally benign alternatives to chemical insecticides for insect pest management.
Please visit the Bonning lab at

https://entnemdept.ifas.ufl.edu/bonning-lab/
Research

Dr. Bonning oversees research on the molecular interactions between viruses and insects, and between microbe-derived insect toxins and their receptors. Knowledge of these interactions is then used to optimize current insect pest management strategies and to develop novel environmentally benign alternatives. A major area of emphasis is application of toxins derived from Bacillus thuringiensis for management of Asian citrus psyllid.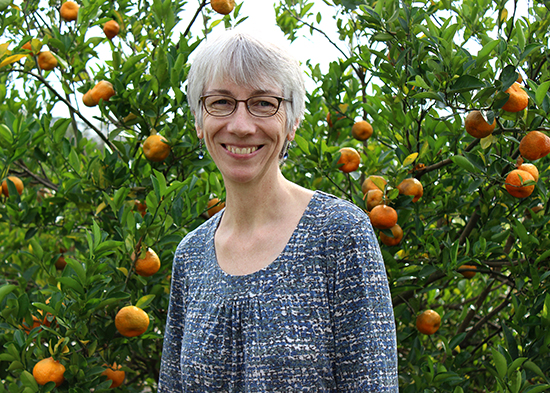 Contact
Steinmetz Hall
1881 Natural Area Dr
Gainesville, FL 32611
(352) 273-3984
bbonning@ufl.edu
Education

Ph.D. Entomology, London School of Hygiene and Tropical Medicine, University of London, UK
B.Sc. Zoology, University of Durham, UK

Awards

2016 ISU Outstanding Achievement in Research Award
2016 ISU College of Agriculture and Life Sciences Outstanding Achievement in Research Award
2015 Rossmann Manatt Faculty Development Award, ISU for an exceptional level of creativity and productivity in scholarship, teaching and research
2013 Fellow of the Entomological Society of America
2013 Nan-Yao Su Award for Innovation and Creativity in Entomology
2011 Iowa Technology Association, Iowa Women of Innovation Award for Research Innovation and Leadership
2010 Fellow of the American Association for the Advancement of Science