Honey Bee Research and Extension Lab
Honey Bee Research and Extension Lab

Bee College
Bee College is a training event for beekeepers of all experience levels held in Gainesville, FL. Bee College participants get the opportunity to learn about honey bees and beekeeping from the state's experts. Class topics include beginner beekeeping courses, in-hive skill practice, research updates, native bees, and more! Click here to sign up for emails about Bee College events.
---
Next Bee College: Virtual Bee College (Every Saturday morning 8:30am-12:30pm (US Eastern Time) in March, 2021)-- registration BELOW
2021 Virtual Spring Bee College Agenda
2021 Spring Virtual Bee College Registration HERE
Due to COVID-19, we plan to offer a virtual bee college session for 2021 Spring Virtual Bee College. We apologize for any inconveniences. Thank you!
Rates
-$35/session/person
-$125 for all four sessions ("Package Deal")/person
-10% discounts available only when purchasing the "Package Deal" to active duty military members, Retired Veterans, Florida State Beekeepers Association members, active members of the Master Beekeeper, Master Gardener, and/or Master Naturalist Programs, UF/IFAS county extension faculty, and anyone under 18 years of age. Use the discount code 'Discount' at checkout.
For Bee Clubs/Association
Bee Clubs/Associations can purchase a "Package Deal", all four sessions, at a discounted rate ($110) to raffle off to your club's members. Only one discounted ticket is allowed per club.
---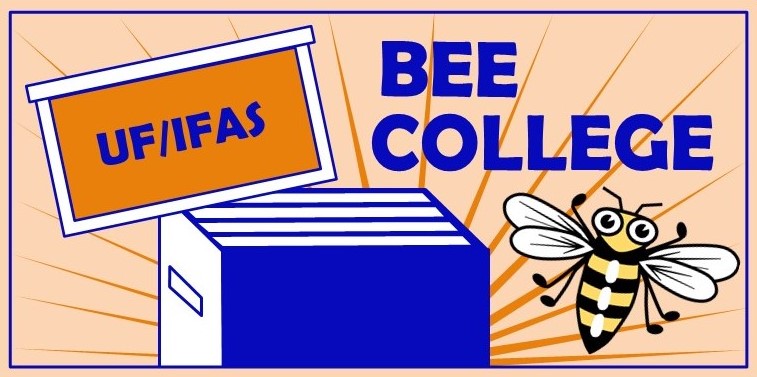 Questions about Bee College? Contact us!
UF HBREL Extension Team
honeybee@ifas.ufl.edu
---
Vendor Information

If you are interested in becoming a vendor at the upcoming Bee College, please read the Vendor Guide above. Vendor spaces are available on a first-come, first-serve basis while also considering a diversity of products and services due to a limited availability of spaces. All those interested in vending at Bee College must first apply (see link above). You will receive a confirmation email from the UF Honey Bee Lab when your application has been accepted. Submission of an application is not a guarantee of a vendor space. Please read the Vendor Guide fully before applying.