Q-biotype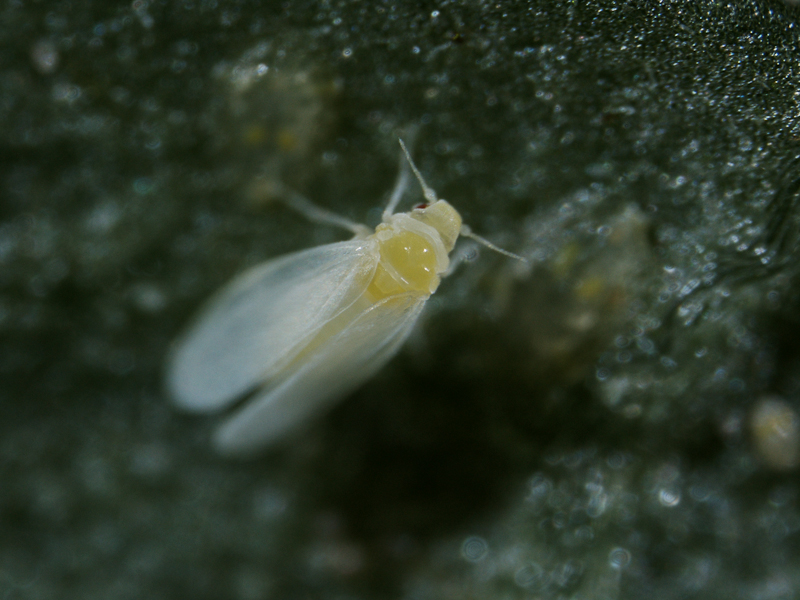 Introduction
Bemisia tabaci (Gennadius) feeds on more than 600 host plants and vectors over 111 plant virus species and is considered to be a major invasive species worldwide. The taxonomic status of B. tabaci remains debated between 36 previously identified biotypes and the newly proposed 26 discrete species and they can only be identified by performing genetic analysis. Losses in agricultural production have increased owing to B. tabaci as new, more virulent and less pesticide-sensitive cryptic species have spread to all continents except Antarctica. Very few countries have escaped its cosmopolitan distribution and subsequent establishment of at least one of the B. tabaci cryptic species. The two most invasive members of the cryptic species complex posing the greatest threat to growers are Middle East –Asia Minor 1 (MEAM1) and Mediterranean (MED) (commonly known as biotypes B and Q respectively).
A little history
After the introduction of MEAM1 into the United States around 1985, unprecedented losses began occurring on poinsettia in the late 1980s in Florida, followed by high infestations in field-grown tomato crops. MEAM1 rapidly spread across the southern United States to Texas, Arizona and California, where extreme field outbreaks occurred during the early 1990s on melons, cotton and vegetable crops. Losses exceeded more than 500 million dollars in one year.
The problem
Morphologically indistinguishable from MEAM1, MED could become problematic to agricultural production because populations are highly prone to develop resistance to insect growth regulators (IGRs) and neonicotinoid insecticides. Both classes of insecticides are widely used for controlling whiteflies in many cropping systems, including cotton, and ornamentals. Based on recent reports, we may be in for a challenging year for whitefly management. We are receiving reports from the keys to Palm Beach County to the Panhandle that whitefly populations in landscapes and field crops are reaching unprecedented levels and they don't seem to be responding to pesticide applications. At this point in time, the Q-biotype has been found in 18 retail outlets, 8 wholesale nurseries, 2 agricultural fields and 11 residental landscapes. These detections have been in Broward, Duval, Highlands, Hillsborough, Martin, Miami-Dade, Palm Beach, Pasco, Pinellas, Seminole, St. Johns, and St. Lucie. Samples from all the other difficult to manage populations are the B-biotype.
Bemisia feeds on a large number of hosts. Click Here to download a PDF file that contains a list of Florida plants on which this whitefly has been found.
Biotype-Q UPDATE from 6/16/2016 Click Here
Educational Resources:
NORTH AMERICAN Q-BIOTYPE INVASION PROJECT (41:32):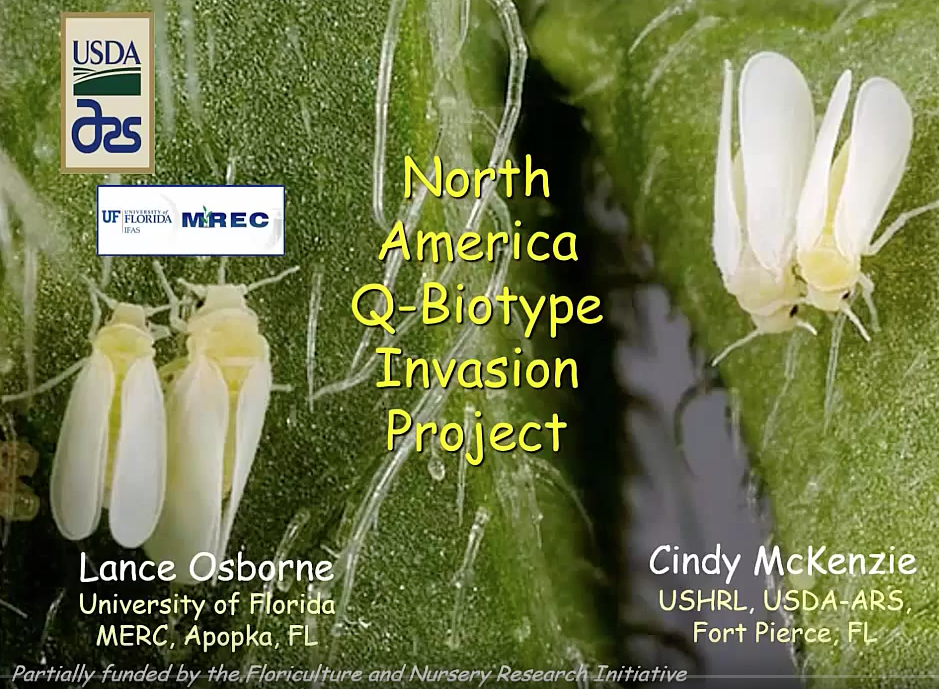 MANAGING THE US INVASION OF CRYPTIC WHITEFLY SPECIES: Q VS. B WHITEFLIES (39:14):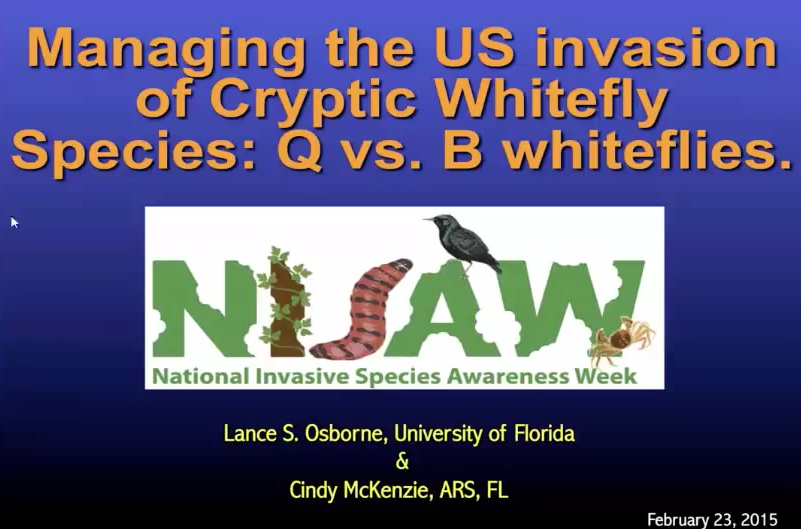 AGENT WEBINAR: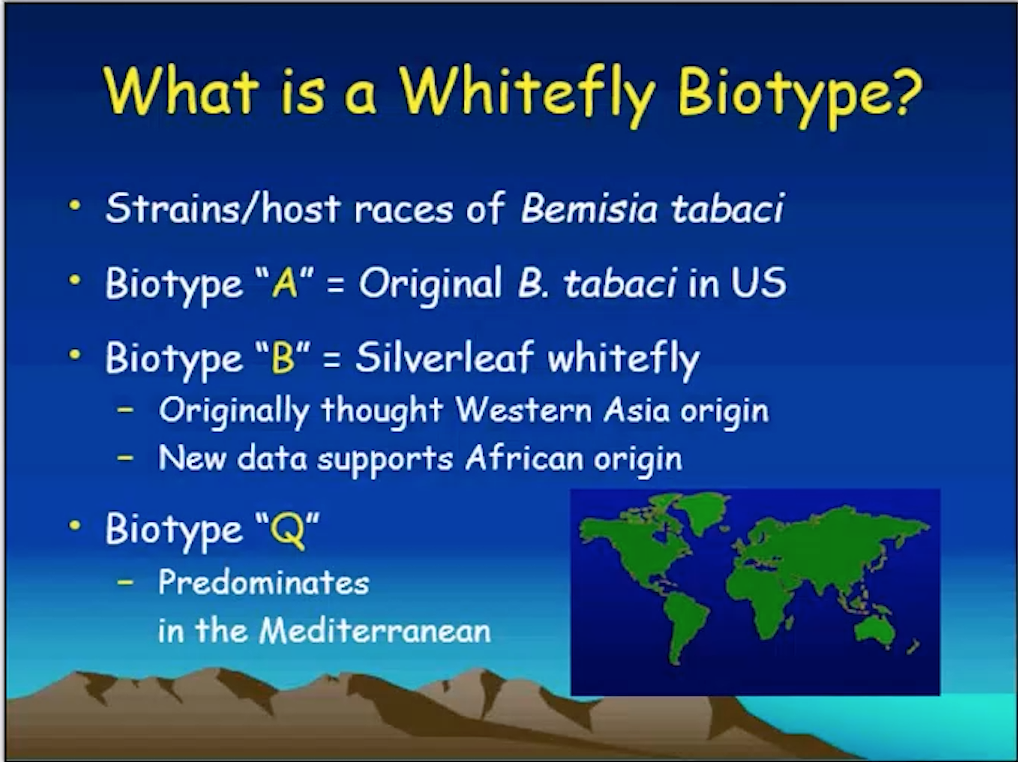 Sampling Whiteflies for Biotyping: Click Here
Task Force Letter to Growers: Click Here
An Important Message About Insects in the Landscape: Click Here
A Letter to the Landscape Management Industry: Click Here
Whitefly Management Program: Click Here
Products Table Ent Whiteflies edited by LSOsborne: Click Here
Landscape Pesticides with Activity on the Q: Click Here
Invasion and Response: Impacts of Bemisia on Worldwide Agriculture: Click Here
THE Q-BIOTYPE whitefly, a New Whitefly in Florida: A guide for homeowners: Click Here
BEMISIA-L Listserver What is a list server? A list server is like on open conversation that travels through e-mail. One person e-mails a question to a specific email address and it is sent to all on the list. As people respond to the questions and statements they are e-mailed back to all on the list. This is a good way to get questions answered and to learn about the many new species of whiteflies attacking plants in Florida. This list is not limited to Bemisia. In fact, we will probably concentrate on a number of newly introduced invasive species.
To Subscribe Send an mail to listserv@lists.ufl.edu Leave the subject line blank and in the text of the message type the following: Subscribe Bemisia-L "YOUR NAME GOES HERE" DO NOT PUT "" AROUND YOUR NAME
This information was prepared by Dr. Lance Osborne and is also located on Mid-Florida Research and Education website at: http://mrec.ifas.ufl.edu/lso/bemisia/bemisia.htm