We have the pleasure to announce promotions for several faculty members:
Dr. Jim Cuda has been promoted to professor.
Dr. Jamie Ellis has been promoted to associate professor.
Dr. Amanda Hodges has been promoted to associate extension scientist.
Dr. Phil Lounibos has been promoted to distinguished professor.
Dr. Jawwad Qureshi has been promoted to research associate professor.



Other Faculty News

School of Ants is coming to Florida! Dr. Andrea Lucky, our newest faculty member in Entomology, brings with her The School of Ants citizen science project. Read all about it at www.schoolofants.org.
On June 6, a team of six entomologists returned from a 10-day termite survey of Paraguay. The expedition covered over 3,000 km along roadways in areas poorly or never assessed for termite diversity including the dry Chaco, the humid Chaco, and the Atlantic Forest. Almost 1,300 colony samples were collected. In addition to new species of termite soldiers, several new genera of soldierless termites were discovered. The survey team included Dr. Rudi Scheffrahn, Jan Krecek, and Aaron Mullins (UF/IFAS Ft. Lauderdale REC), Jim Chase and John Mangold (Terminix International), and Robert Hickman (BASF Corp.). Although much of Paraguay now consists of farmlands and pastures, the team found over 70 species of termites. It appears that grassland species have actually benefited from deforestation and compete with cattle for forage. This is the 71st expedition since 1990 to survey and describe the termites of the Neotropics. The termite collection at FLREC now contains over 38,000 colony samples, the largest and newest termite collection in the world.
The Department offered its first field course for Tropical Entomology, Ecology, and Ecotourism in Honduras this past July. Instructed by Dr. Jackie Miller and Dr. Deborah Matthews-Lott, this 9-day course focused on methodologies and techniques for conducting insect biodiversity surveys in the field, introduced topics on general tropical entomology and ecology, and provided students with background on the practical applications of ecotourism. The course was a great success and plans are currently being made to repeat and even expand the course in both duration and scope for 2013. (See photo above by Dr. Matthews-Lott.)

Student News return to top


In the interest of promoting student research and involvement with ESA, the MUVE Section (Medical, Urban & Veterinary Entomology) is pleased to announce that the Section has awarded eight student research grants of $700 each. Two of these grants were awarded to UF students.
Amanda Eiden, in Dr. Phil Kaufman's lab, won for her proposal titled "Determination of target site resistance mechanisms in pyrethroid and fipronil resistant brown dog ticks."


Erika Machtinger, in Dr. Norm Leppla's lab won, for her proposal titled "Effect of colonization on searching behavior of Spalangia cameroni."


Two students from the Kaufman lab presented their research at a national meeting last month- the Livestock Insect Workers' Conference in Kalispell, MT.

Holderman C, Bloomquist JR, Kaufman PE. 2012. Biological and molecular insecticide resistance in Florida horn flies.


Eiden AL, Kaufman PE, Oi FM, Dark MJ, Miller R. 2012. Status of acaricide resistance in the brown dog tick.

The Miller Lab is hosting a high school student this summer, Tomas Tussie. Tomas, a student at Cypress Bay High School in Weston, FL, has joined the Miller Lab for the summer through the UF Student Science Training Program. Tomas will be conducting behavioral research with squash bugs and is advised by Dr. Jennifer Hamel and Dr. Christine Miller.

Katherine Holmes presented results from her UF University Scholars research project with the Miller lab in a poster titled, "The relationship between vegetation structure and social group composition in the cactus bug, Chelinidea vittiger" at the Animal Behavior Society annual meeting at the University of New Mexico in Albuquerque, NM.

Lab News return to top


Need to name that bug? A host of experts are available to help Floridians identify any insect or related arthropod. If a mystery creature has six or more legs, the UF Insect ID Lab is the place to send it. Lyle Buss, the Insect ID Lab manager, received 66 physical samples in the Insect ID Lab during the month of June. They covered a wide range of categories (structural, vegetables, ornamentals, veterinary, etc.), with the most common groups being termites, ants, and ticks.

Think it might be a nematode problem? The Nematode Assay Laboratory serves Florida and other State residents by providing nematode assay and expert advice regarding nematode management. Some notable milestones for 2012 include:
Highest number of soil samples processed compared to previous years. Since January 2012 we processed 2000 extension and 680 research samples. This quantity beats the previous record set in 2011 by about 400 samples. This trend seems likely to continue with the lab processing 8.5 percent more samples by the end of June 2012 than it did in June 2011.
Despite the heavy workload, turn-around time is maintained between 3-5 business days.
Since January 2011 the lab launched its first website. Through this website, the Assay Lab provides access to a variety of information and resources, including types of services, sample submission forms, extension publications, news, and other general information.
On April 14th, 2012, our lab participated at the UF/IFAS extension open house where information on Nematode Assay services was disseminated to local growers and homeowners.
The Nematode Assay Lab is currently conducting in-house and collaborative research projects designed to control nematodes using different management strategies.
Nematode Assay Lab Visitors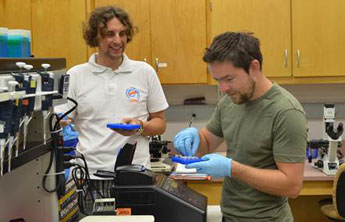 ABOVE: The nematode Assay Lab is currently hosting visiting scientists from the Czech Republic for three weeks. Their travel and research is funded by the US-Czech scientific collaboration to work on 'Morphological and genetic characterization of moluscoparasitic nematodes (MPN) groups occurring in Czech and Florida fauna'. After only three days in the lab we were able to isolate at least 2 species of nematodes previously unreported in native slugs and snails. DNA sequencing is currently underway to speciate these isolates.
Big Beautiful Nematodes!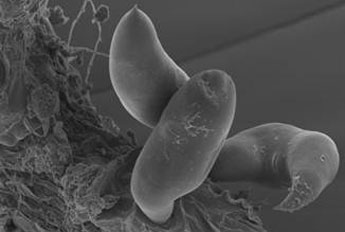 ABOVE: SEM of three Rotylenchulus reniformis females feeding on cotton roots. Note the kidney-shaped body with the vulva near the middle of the visible portion. Within 100 days, these three females can become a population of 120 million!

For more information on the Nematode Assay Laboratory please contact the Lab Manager, Dr. Tesfa Mengistu.

Publications return to top


Ali JG, Alborn HT, Campos-Herrera R, Kaplan F, Duncan LW, Rodriguez-Saona C, Koppenhöfer AM, Stelinski LL. 2012. Subterranean, herbivore-induced plant volatile increases biological control activity of multiple beneficial nematode species in distinct habitats. PLoS ONE 7(6): e38146.
Kakkar G, Seal DR, Stansly P, Liburd OE, Kumar V. 2012. Abundance of Frankliniella schultzei (Thysanoptera: Thripidae) in flowers on major vegetable crops of south Florida. Florida Entomologist 95: 465-472.

Kakkar G, Seal DR, Kumar V. 2012. Assessing abundance and distribution of an invasive thrips Frankliniella schultzei (Thysanoptera: Thripidae) in South Florida. Bulletin of Entomological Research 102: 249-259.

Kaplan F, Alborn HT, von Reuss SH, Ajredini R, Ali JG, Akyazi F, Stelinski LL, Edison AS, Schroeder FC, Teal PE. 2012. Interspecific nematode signals regulate dispersal behavior. PLoS ONE 7(6): e38735.

Tillman PG, Smith HA, Holland JM. 2012. Cover crops and related methods for enhancing agricultural biodiversity and conservation biocontrol: Successful case studies. pp. 309-327, chapter 19 in Biodiversity and Insect Pests: Key Issues for Sustainable Management. Gurr GM, Wratten SD, Snyder WE, Read DMY (Eds). John Wiley and Sons Ltd, Chichester, UK.

Stuhl CJ, Sivinski JM. (June 2012). A wasp parasitoid, Utetes anastrephae (Viereck). Featured Creatures. EENY-526.

Meetings and Presentations return to top

Dr. Jennifer Hamel was a finalist in the Allee Competition at the annual meeting of the Animal Behavior Society at the University of New Mexico, Albuquerque. The talk title was, "Functions and benefits of negative feedback in collectively signaling treehoppers."

Dr. Marc Branham gave a talk titled "The Evolution of Fireflies and their Courtship Signals" as part of the Milstein Family Science Program on Bioluminescence: Creatures of Light. American Museum of Natural History. New York, NY. The Milstein Science Series is a rare and rich opportunity for local and international families to engage with real scientists and their work. Dr. Branham was one of three invited speakers. Estimated audience in attendance >4,750 people. He also presented "The Evolution of Bioluminescent Signaling in Fireflies" for the Entomological Society of Washington, Smithsonian Institution, Washington, DC.

Gillett-Kaufman JL. 2012. Using social media to improve research, outreach and recruitment programs. Livestock Insect Workers' Conference, Kalispell, MT. June 25, 2012.

Kaufman PE, Waldron JK, Strong C, Rutz DA. 2012. Individual and paired Muscidifurax raptor and M. raptorellus releases in dairy calf facilities. Livestock Insect Workers' Conference, Kalispell, MT. June 26, 2012.

Members of Dr. Christine Miller's research group traveled to the Evolution 2012 conference in Ottawa, Canada, in early July to present their research findings.

Dr. Miller presented a talk titled "Genotype-by-environment interactions on mating and competitive success".


Dr. Jennifer Hamel presented a poster titled "Are female mating decisions adaptive when environments vary? A test using natural resource variation".


Katherine Holmes, an undergraduate member of the lab, presented a poster titled "The relationship between vegetation structure and social group composition in the cactus bug, Chelinidea vittiger"
Outreach return to top


What are the Melitto Files? A free newsletter by the UF Honey Bee Research and Extension Lab. Register for your own copy or view past issues online.



Getting Social: We have several social media sites for the Entomology & Nematology Department. To make them easily searchable, all three (YouTube, Facebook and Twitter) have the same page name, UFEntomology. Please share these links with past students or colleagues who may have an interest in departmental activities.


Thank you to those members and friends of the department who have volunteered for our June and July outreaches:
12 June: Tabling at Newberry Elementary Summer Camp. Volunteers: Dale Halbritter, Ben Hottel, and Stephanie Stocks
13 June: Presentation on insects for ESOL students at Finley Elementary. Volunteer: Dale Halbritter
14 June: Presentation on insects for FLMNH Summer Camp. Volunteer: Eddie Cayia
18 June: Presentation on insects for Timucua Day Camp. Volunteer: Dale Halbritter

Attendance: 50 Cub Scouts

19 June: Department tour. Volunteers: Chris Holderman and Dawn Calibeo
21 July: Department tour for 4H group. Volunteers: Dale Halbritter and Ruohan Liu
25-29 June: Field Entomology Camp for middle schoolers, held at our department.

Camp staff: Dr. Rebecca Baldwin, Andrea Darmanjian, Sarahlynne Guerrero, Dale Halbritter, Stephanie Hill, Nick Larson, and Ashley Poplin
Presenters: Lyle Buss, Dr. Charles Covell, and Ashley Mortensen
Attendance: 25 children
See below for a description of camp and some photos!

3 July: Presentation on insects and collecting techniques at Duval Elementary. Volunteers: Dale Halbritter and Nick Larson
The following are programs and outreach events are scheduled for the rest of July:
16 July: Presentation on insects at Baby Gator
19 July: Presentation on insects at Sprout Learning Resources
25 July: Presentation on insects at the Alachua Co. main library in Gainesville
26 July: Presentation on insects at the Alachua Library
The live critters are always a hit with children and adults alike. The critters are available for you to check out should you be leading an outreach event. We have doubles of our most popular critters, as well as various native insect species depending on the time of year. We have large wood and plexiglas cages for viewing our native orb weaving spiders. There is one traveling cage and one larger static cage. Please be sure to contact me and review the protocol on transporting and handling the critters if you are not already familiar with it. If you lead an outreach, be sure to fill out a documentation form so your event can be included in the newsletter and so that we can log all outreach events.
If you would like to schedule an event or have any outreach questions, go to the Outreach pages on our Bug Club Web site and contact us.

- Dale A. Halbritter, Outreach Coordinator

A Totally Buggy Camp

Tropical Storm Debby, fire ants, and extreme heat could not keep 25 middle school age campers from having a great time and collecting insects at the 3rd University of Florida Entomology Camp.

Entomology Field Camp is a week-long day camp for students entering 5th through 9th grade. The camp is held at the Entomology and Nematology Department. This year the theme was "Collect and Curate".

We started off the week learning about the arthropods and insects. Lyle Buss talked about insect orders bringing everyone up to speed. The campers learned about aquatic insect orders from Dr. Charles Covell and then got to collect at a stream on campus. Dr. Rebecca Baldwin gave the campers a nice introduction to the color of plants that insect prefer and how plants utilize the insects. We then traveled to the UF Bee Biology Research Unit to learn about honey bee biology.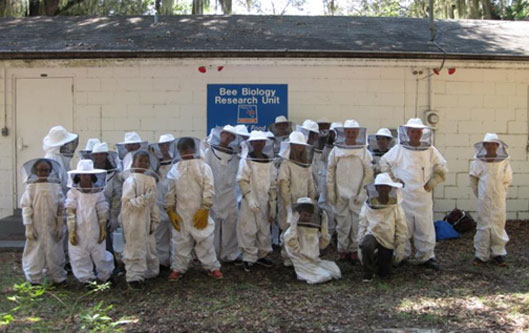 ABOVE: The campers suited up in bee suits.
We were fortunate enough to be able to extract and taste some wildflower honey provided by UF graduate student Ashley Mortensen.The campers toured the Urban Entomology Laboratory to learn about how to control pests in and around our homes. Dr. Baldwin then taught the campers about entomophagy and we all had insect snacks. Graduate student Matt Thom led the traditional Linnaean Games.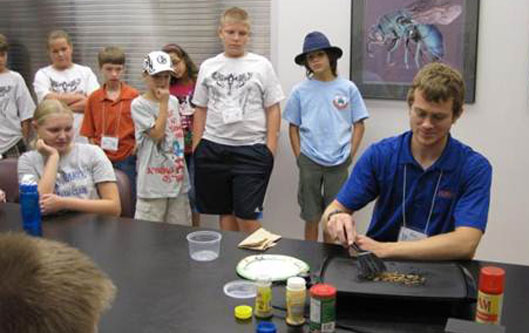 ABOVE: Group leader Dale Halbritter cooking up some mealworms for the campers.
This is the largest camp that has been held in the past three years. This year we had campers from all over the state of Florida as well as from New York and Oregon.
A special thanks to the camp group leaders; Dale Halbritter (graduate student), Nick Larson (graduate student), Andrea Darmanjian (undergraduate student), Sarahlynne Guerrero (graduate student), and Ashley Poplin (graduate student).

I would like to thank the Entomology Department for allowing us to have a lab room and make a little more disturbance than normal.

- Stephanie Hill

Grants return to top


Virni Mattson, our Grants Specialist, reports that June 1, 2012 to June 30, 2012 we have had 13 new grants or contracts awarded for a total of $2,894,412.11 in external funding for all Entomology & Nematology faculty (in Gainesville and at RECs).

Announcements return to top


SEB Member Awards

It's time for you to take the opportunity to recognize your colleagues for their outstanding accomplishments in entomology by nominating them for a Southeastern Branch Member Award. Award winners will be recognized at the 2013 Southeastern Branch meeting in Baton Rouge, Louisiana. Please submit your nomination packages to the chair of the Member Awards Committee by 1 September 2012. The awards currently open for nominations include:

1. Award for Excellence in Integrated Pest Management
2. Recognition Award in Entomology
3. Distinguished Achievement Award in Teaching
4. Distinguished Achievement Award in Extension
5. Distinguished Achievement Award in Horticultural Entomology
6. Distinguished Achievement Award in Urban Entomology
7. Distinguished Service Award to the Certification Program
8. Recognition Award in Insect Physiology, Biochemistry, and Toxicology

Additional information regarding ESA awards.

About This Newsletter return to top


Dr. Jennifer Gillett-Kaufman is the newsletter editor and does the HTML coding. Issues usually are published by mid-month. Submit items for an issue by the 7th of that month.
We would like to share news when it happens using our social media outlets- Twitter, Facebook and YouTube. Follow us on these sites for daily updates! When you send news we will post it on one or more of these sites and again in the monthly newsletter. Please be sure you have permission from people in photographs you submit for publication.

UF-Bugnews-L listserv subscribers receive notices when issues are posted. Our home page has instructions for subscribing and unsubscribing.
Special thanks to Pam Howell and Nancy Sanders who reviewed the newsletter for errors and to Jane Medley who built the web page.