Welcome to the Florida
4-H Bug Club!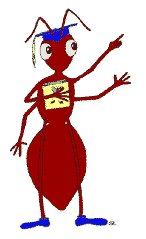 Have you ever chased butterflies, collected fireflies or stared at ladybugs? Insects are the largest group of animals on earth with nearly one million different kinds. The 4-H Bug Club will help you investigate these creepy crawlies and discover a new world all around you. You can then use your newfound knowledge to compete in 4-H Record Book and Collection Competitions.
Entomology Field Camp -
2014 CAMP is now full - 4/14/2014
The 2014 Entomology Field Camp will be held at the UF Entomology and Nematology Department in Gainesville on June 23-27. Click here for the previous photo galleries and information forms for this summer.
2014 Bug Collection Contest!
Congratulations to our 2013 1st place winners! Way to go!
Division I- Will E.
Division II - Cameron K
Division III - Fallon K.
Contact your County Extension Office to enter the 2014 Collection Contest!!! 
County winners will compete at 4-H

congress at the University of Florida in July.
Get a head start on your collection for the 2014 Collection Contest. Registrations are due by July 1st.
4-H Resources
UF/IFAS Bug Resources
UF/IFAS Publications