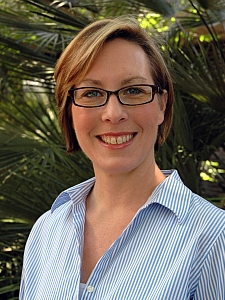 Stephanie Stocks
Ph.D. Student and Assistant-In, Extension Scientist
sstocks@ufl.edu
Stephanie develops educational material (scripted presentations for educators; e-learning modules for small farms, master gardeners, and homeowners; and K-12 lesson plans) on invasive species topics and concerns for Protect U.S.  She also works with the National Plant Diagnostic Network Training and Education Committee, the Sentinel Plant Network, and UF Online Training to help deliver educational content in an e-learning format.  In addition, she co-edits the monthly NPDN First Detector Newsletter. 
Stephanie Stocks is also a PhD student at the UF Department of Entomology and Nematology.  She is studying a new invasive moth, Duponchelia fovealis, which was detected in Florida in October 2010.  She will be examining its basic life history, distribution, hosts, the ecological affects (if any) it could have on the natural ecosystems of Florida (salt marshes and fresh water marshlands), and provide information on potential IPM strategies should this moth prove to become a large scale pest.
Stephanie received her first bachelors degree in Marine Science from Texas A&M University and her second in Wildlife and Fisheries Science at the University of Tennessee.  She earned her Master's Degree at Western Carolina University where she did an ecological study on an endemic caddisfly.  She has worked as an educator throughout her studies and in her career introducing K-12 students and teachers to scientific methodology and tools using arthropods as organisms of classroom study (correlating with the National Science Education Standards).  She has taught undergraduate courses and graduate courses that have been specifically designed to help bridge the gap between scientific research and K-12 education. 
Stephanie hopes to develop undergraduate courses that focus on understanding the Florida State Sunshine Standards and its associated content for future teachers.  She also wants to develop graduate courses (offered in the summer) that focus on content delivery and experiential learning for in-service teachers.