Research and Extension Projects
Keir Hamilton: Examining organic vegetable production under high-tunnels in Florida
I am currently working on adapting and expanding organic, high-tunnel vegetable production for the Southeast. Crops growing in these conditions may be attacked by a wide variety of pests such as whitefly, thrips, aphids, and stink bugs as well as the diseases they vector. Monitoring and control efforts for these pests will provide insight into the development of effective management strategies for organic high-tunnel growers.
Project collaborators include Florida Agricultural & Mechanical University (FAMU), University of Georgia, USDA-Agricultural Research Service (ARS), Organic Agriculture Research and Extension Initiative (OREI), and the National Institute of Food and Agriculture (NIFA).
Brianna Whitman: Monitoring Peachtree borer populations in Florida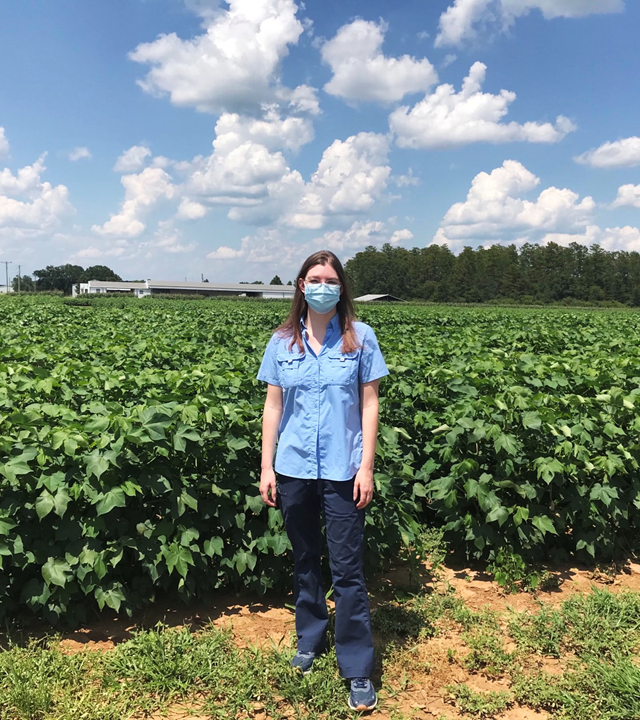 Peachtree borer (Synanthedon exitiosa) & lesser peachtree borer (S. pictipes) infest various Prunus spp. and are a major pest of peach trees with damage occurring primarily from larval feeding on the vascular cambium. Peachtree borer will feed on the crown, main stem, and large roots while the lesser peachtree borer will feed on the scaffolding branches of the tree. We have been monitoring populations in Florida and are finishing up our last year of data collection.
This project is being performed with assistance from the University of Florida Institute of Food and Agricultural Sciences (UF/IFAS) Citrus Research and Education Center.

Heather Kalaman: Examining floral resources of native and ornamental plants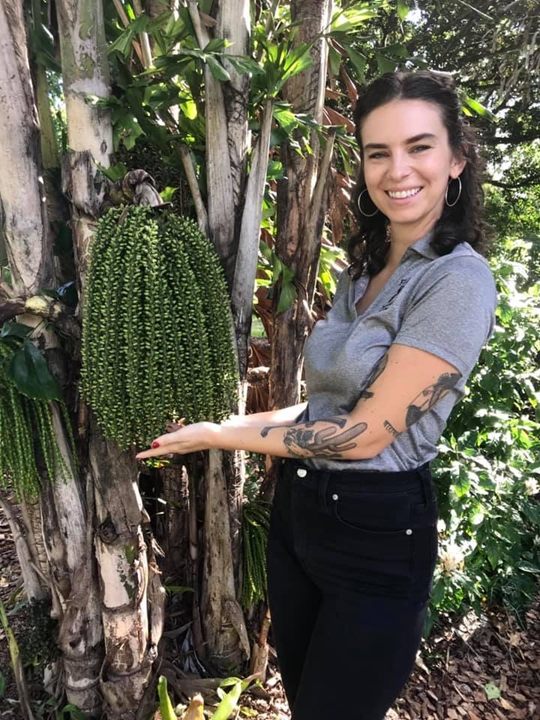 The overarching theme of my research is to evaluate popular ornamentals commonly advertised as 'pollinator-friendly' as floral resources for different pollinating insect communities here in Florida. My objectives specifically seek to compare floral abundance, area, and phenology of native and non-native ornamental plants, and compare pollinator attraction to those ornamental species. I am also evaluating the floral resource value of each of these ornamental species.
This project was funded in part by the Jacksonville Zoo and Gardens as well as the USDA
National Institute of Food and Agriculture (NIFA) and Crop Protection and Pest Management (CPPM) Extension Implementation Project.
Abigail Prohofsky: Examining behavior reproductive success of the Bagrada bug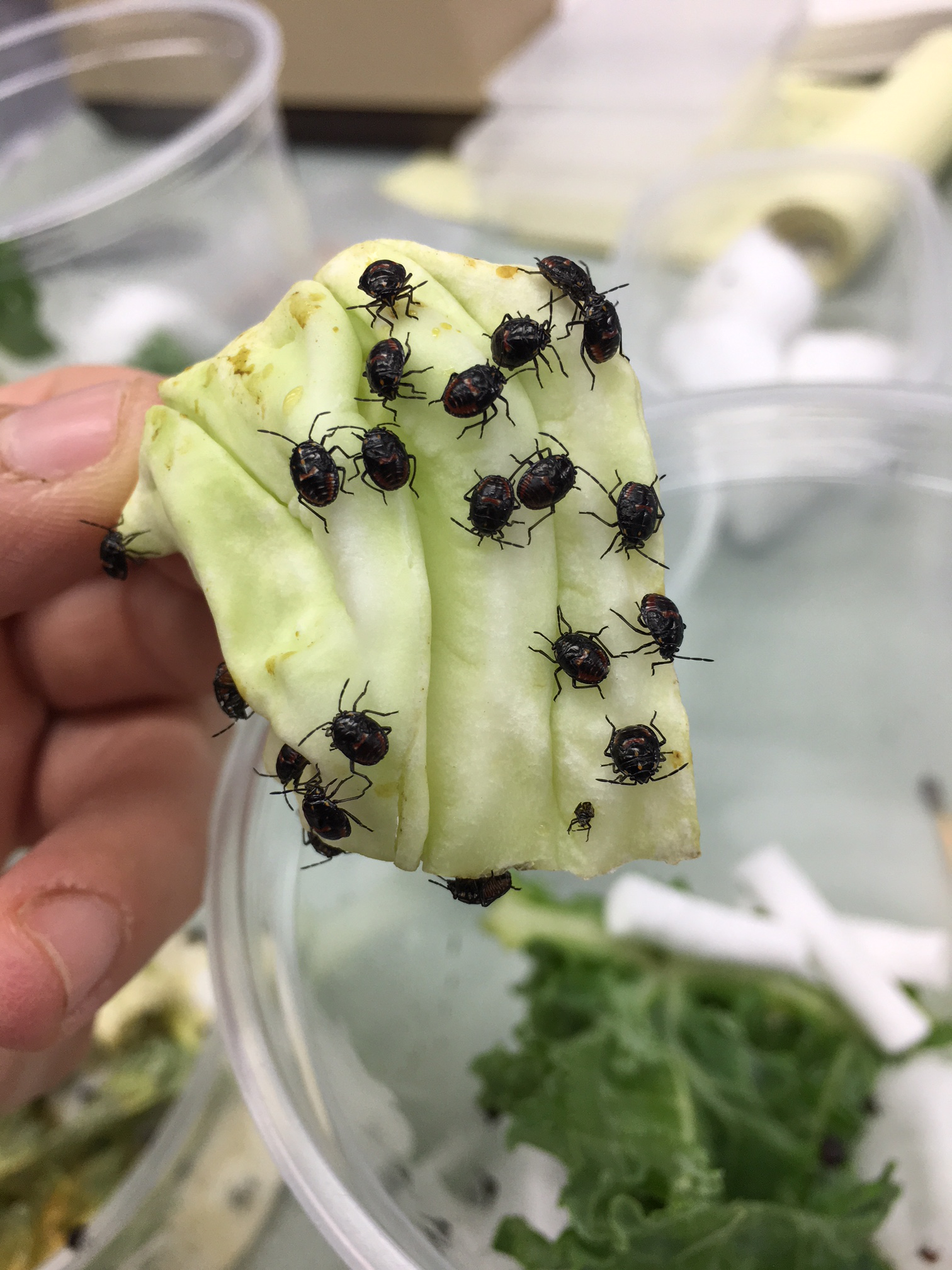 My research project is on the Bagrada bug (Bagrada hilaris). This pest causes significant damage to crops, primarily crucifers such as broccoli and cabbage. We are working on aggregation trials, examining how social behavior affects reproductive success and survival.
This work is made possible through collaboration with the Florida Biological Control Laboratory (FBCL), USDA- Animal and Plant Health Inspection Service (APHIS), and Dr. Norma C. Leppla.
Shannon McAmis: Florida First Detector
Sarah Birkmire: Surveying for parasitoids of the brown marmorated stink bug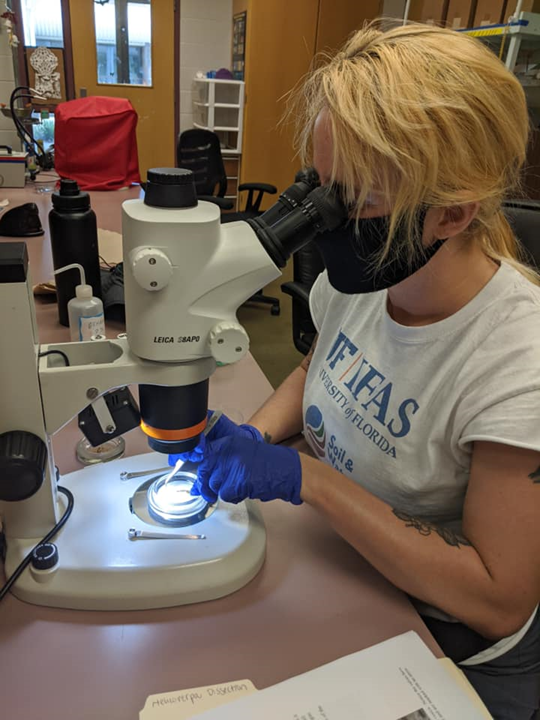 The brown marmorated stink bug (BMSB, Halyomorpha halys) is a highly invasive plant pest, feeding on many crops and presenting a significant threat to agriculture. My research is focused on surveying the parasitoids of stink bugs in Florida as these may provide a means to control populations of BMSB as well as other related pests. Sentinel egg studies have begun by placing sterilized BMSB and other stink bug eggs around various fruit and vegetable crops.
This project is being performed in collaboration with the Florida Department of Agriculture and Consumer Services (FDACS), Division of Plant Industry (DPI), and Florida Agricultural & Mechanical University (FAMU) Center for Viticulture and Small Fruit Research
Gideon Alake: Enhancing survey techniques for the oriental fruit fly

The oriental fruit fly (OFF, Bactrocera dorsalis) is a highly polyphagous and damaging invasive pest of fruits that has invaded Florida several times, causing significant economic losses for agricultural producers and requiring costly eradication. My research seeks to provide a risk assessment to help us determine and understand the primary OFF pathways into Florida ports of entry, to generate an accurate OFF risk map for improving domestic surveillance, and to use climate and population dynamics models to enhance survey tools for the OFF at Florida ports of entry

We are collaborating with Animal and Plant Health Inspection Service (APHIS), through the Plant Protection and Quarantine (PPQ) program.
Gideon Alake: Trap cropping for Squash bugs
The Squash bug (Anasa tristis) is a common pest of squash, zucchini, watermelon, and other cucurbit crops with persistent feeding often causing plant death. Squash bugs can also vector bacteria (Serratia marcescens) that causes the cucurbit yellow vine decline disease. Our research focuses on protecting and limiting damage to the main crop by using trap crops to lure squash bugs away from the main crop which will then be removed to kill the attracted pests. We are currently experimenting with different cucurbits for attractiveness to the squash bugs.
Hannah Talton: Surveying for Old World bollworm
I am currently monitoring and surveying for Old World bollworm (OWB, Helicoverpa armigera). OWB is an invasive lepidopteran pest that attacks over 180 plant species in 45 different families in its larval form including cotton, corn, sorghum, legumes, and tomatoes. Though not currently known to be established in the US, OWB presents a serious potential threat our agriculture. We have applied for a grant to continue monitoring for the pest.
I am collaborating with Dr. Silvana Paula-Moraes in Jay, FL, for trapping and Dr. Todd Gilligan from the USDA-APHIS to identify the moths.