In late July 2020, Dr. James E. Lloyd, professor emeritus of the University of Florida, Entomology and Nematology Department, passed away. Dr. Lloyd was a gifted educator, respected scientist, and the author of, A Naturalist's Long Walk Among Shadows: of North American Photuris. Completed in 2017, this book is the culmination of his life's work studying fireflies and it is filled with historic photographs and species he described. Below, is a picture of Dr. Lloyd in his office next to a stack of original print copies of his book. After this picture was taken, Dr. Lloyd graciously gifted the photographer (Norm) one of these original copies. Completed in 2017, this book is the culmination of his life's work studying fireflies and it is filled with historic photographs and species he described. This book is dedicated to his beloved wife, Dorothy, and to the original or naturalized Floridians, Marc Branham, Tom Walker, John Sivinski, and Sandy Fairchild.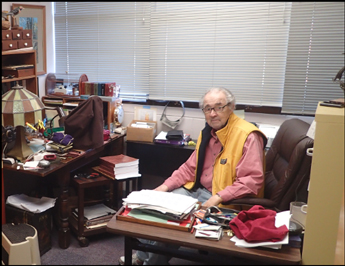 ABOVE: Dr. Lloyd in his office with copies of his book, A Naturalist's Long Walk Among Shadows: of North American Photuris, behind him. He made his work available online at http://entnemdept.ufl.edu/lloyd/firefly/Lloyd_2018.pdf. Photo taken by: Norm Leppla.
"Professor Lloyd was one of the elite biologists of his time, being a friend and respected colleague of E. O. Wilson, Ernst Myer, Thomas Eisner, Archie Carr and many other notable scholars who frequently visited him in Gainesville. I was thrilled and somewhat intimidated when Jim invited me to one of their private receptions. At the time, striving to be a behavioral ecologist, I organized a symposium, Sociobiology of Sex, at the 1978 meeting of the Entomological Society of America, Southeastern Branch and invited Jim to be a presenter. Everyone was reading E. O. Wilson's Sociobiology that was published in 1975. The symposium papers were published in the Florida Entomologist and I have a photograph of Jim down on his elbows and knees beside the highway to Cedar Key taking the reprint cover photograph of lubber grasshoppers. Jim enjoyed our symposium, so together we initiated a series on behavioral ecology that he organized and led for six years at annual meetings of the Florida Entomological Society (https://journals.flvc.org/flaent/issue/view/2758).

Jim was an inspiring educator both in and outside of the classroom. I recall passing the window of his classroom and being captivated by the student's enthusiasm in conducting exercises on firefly communication and related insect behavior. When Patch Adams, the eccentric physician, heard that Jim could communicate with fireflies he talked him into attending one of his unconventional gatherings as an honored guest. The gatherings were depicted in the 1998 movie about Patch Adams starring Robin Williams. Every summer, Jim drove his camper up the East Coast to New York, stopping along the way to collect fireflies and share his stories about their behavior, featuring the "femme fatale" Photuris species. Carol, my wife, and I were honored for Jim to include a stop in Annapolis, Maryland to visit us on his annual migrations. One year, he arrived when we were having a neighborhood party on our deck overlooking Saltworks Creek. He began talking about fireflies and soon everyone was gathered in a circle around him, enthralled with his stories and completely oblivious to the setting and the food! Jim was naturally charismatic and totally consumed by his entomological activities. This made him seem reclusive at times but he was loved by all who knew him."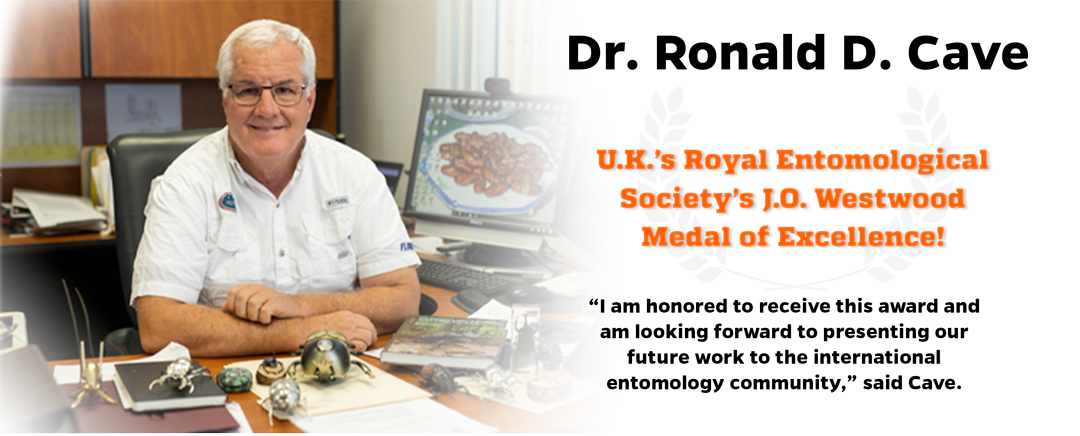 ABOVE: Dr. Ronald Cave, director at Indian River Research & Education Center, wins U.K. Royal Entomological society award! Dr. Cave and his co-author, Dr. Brett C. Ratcliffe, professor and curator of insects at the University of Nebraska State Museum in Lincoln, Nebraska, are career colleagues who gather and compile data on the Western Hemispheres' species of dynastine scarab beetles, also known as rhinoceros beetles and Hercules beetles, and sometimes identify species new to science. Cave and Ratcliffe will be honored for their work, "Neotropical Dynastinae Monograph Series," by members of the Royal Entomological Society at the next International Congress of Entomology, currently scheduled for July 2021 in Helsinki, Finland.

"In our first effort to advance diversity, equity, and inclusion within our department, the Entomology and Nematology Diversity, Equity, and Inclusion (DEI) committee distributed a climate survey that was accessible electronically for the month of July. Approximately, 120 members of the department, including students, staff, post-docs, and faculty from Gainesville and RECs participated in the survey and provided valuable input that will help direct the DEI committee's efforts to create a more inclusive and equitable workplace. Nearly every survey respondent said they value diversity and believe that diversity improves the academic and social dynamics of our department. Overall, the climate survey results tell us that most people in the department feel welcomed, supported, and included. However, we must recognize and remember that most of the people in the department, and in society, are not those who often feel excluded, unwelcomed, or judged. Our data are not balanced. It is our duty as a committee, and the duty of each member of our department, to recognize this imbalance and make efforts to include and support individuals within under-represented groups. The survey results have given us specific direction. We have identified weaknesses, issues, and oversights within the department that can and will be addressed. Encouragingly, there are already changes in motion from the university and department that will address several concerns expressed by many survey respondents. For example, annual anti-racism training will soon be required by UF for all faculty, staff, and students, and we will provide clear and accessible guidelines to all members of the department for reporting instances of discrimination or harassment to HR. The DEI committee also welcomes feedback and input on how to improve the department's climate and will provide a mechanism for doing so anonymously through a suggestion box that will be available on the upcoming DEI webpage, among other resources. Our next steps are to welcome new undergraduate, graduate, and DPM student representatives to the committee and dig deeper into the survey data to identify additional targeted action items. We are encouraged by the level of participation in the survey and the enthusiasm for positive change expressed by individuals in the department. To those who completed the climate survey and have felt unheard in the past, we hear you and are committed to creating a more equitable and inclusive environment."