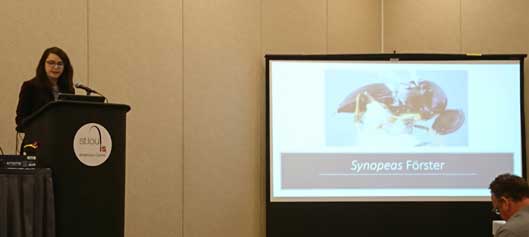 ABOVE: Jessica Awad's presentation at ESA won first prize in the SysEB Taxonomy & Diversity student competition. The title was "Building a Diagnostic Framework for the Genus Synopeas Using Reared Specimens from Papua New Guinea."

Dr. Mallinger
was an invited speaker at the 2019 Statewide Master Gardeners Conference on October 22. She gave a talk on Supporting Native Bees in Your Garden.

Oliver Keller, a Ph.D. candidate in the Branham lab, gave a presentation at the Entomological Collections Network annual meeting in St. Louis on November 17.

Dr. Jacqueline Miller attended the Entomological Collections Network and the Entomological Society meetings in St. Louis, MO. She also presented the following oral presentation: Miller JY, Matthews DL. Deception, thievery and mutualism in the orchid-insect world.

Dr. Ginny Greenway, a postdoctoral researcher in the Miller lab, gave an invited talk at the Smithsonian Tropical Research Institute in Panama. Her talk was titled "Beyond the dyad: Exploring mating and competition networks in insects" and was part of the Behavioral Discussion Seminar Series.
This December, Dr. Ginny Greenway travelled to London to give a poster presentation at the Association for the Study of Animal Behaviour Winter Meeting. She presented her research on why some individuals mate with the wrong species. Dr. Greenway is a postdoctoral researcher in Dr. Christine Miller's lab.

Dr. James P. Cuda attended the annual meeting of the Entomological Society of America held in St. Louis, MO, November 17th to the 20th. Dr. Cuda presented a poster titled "Is the gall midge Orseolia javanica (Diptera: Cecidomyiidae) a potential biological control agent for the invasive cogongrass, Imperata cylindrica, in the southeastern US?". Dr. Cuda also was a co-author on presentations by two of his former graduate students: Dr. Eutychus Kariuki and Ms. Patricia Prade.

Dr. Lawrence Reeves presented a talk titled "Phenacomyia: A new Culex subgenus detected in Florida through DNA barcoding" at the Florida Mosquito Control Association Annual Fall Meeting in St. Augustine, Florida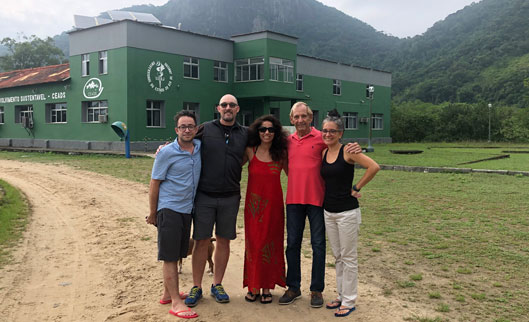 ABOVE: Dr. Jorge Rey, Dr. Barry Alto, Dr. Tanise Stenn, and Dr. Lawrence Reeves, with international collaborators, co-instructed the 2nd International Course on the Ecological Determinants of Vector-Borne Disease Dynamics at Ilha Grande, Rio de Janeiro, Brazil, from October 30th to November 8th 2019.

Dr. Thomas Chouvenc
was invited to give a workshop on November 21st to a group comprised of members of FNGLA, ISA and LIAF to raise awareness about the increasing impact of
Coptotermes gestroi
on the urban tree canopy in South Florida, in Weston, FL.
Jonhalyn Gordon and Joseph Velenovsky from the Chouvenc Lab both obtained first placed in their respective sessions of the graduate student competition at the Entomological Society of America annual meeting 2019 in St Louis.

Dr. Billy Crow presented "Nematode management on golf course turf" at the Carolinas Golf Course Superintendents Association conference at Myrtle Beach, SC on November 18th.
Dr. Billy Crow presented "How nematicides work" at the Missouri Green Industry conference at St. Charles MO on December 4th.

Kristin Dunn presented the talk "Micro-CT scanning: A 3D approach to visualizing the structure of light organs in fireflies (Coleoptera: Lampyridae)" in the graduate student competition at the annual ESA meeting in St. Louis, MO.

The Lucky Lab was well represented at the ESA annual meeting in St Louis.
Jason Williams presented an oral presentation: Global domination by crazy ants: Ultraconserved elements reveal biogeographic history and invasive species relationships in the genus Nylanderia (Hymenoptera, Formicidae).
Dr. Miles Zhang presented an oral presentation: Reinterpreting color patterns and species limits using UCEs: Phylogenomics of Sycophila (Hym: Eurytomidae) associated with oak galls.
Matt Miller (co-advised by Thomas Chouvenc) presented an oral presentation: Examining farming and tending behavior of Plagiolepis alluaudi (Formicidae) towards Paracoccus marginatus (Pseudococcidae).
Dr. Andrea Lucky presented an oral presentation: Collection-based education by distance and face to face: Learning outcomes and academic dishonesty.
return to top
From the Outreach Coordinator
Here are our events from November:
November 1st to the 3rd: New Orelans Bug Fest!!!- Dr. Rebecca Baldwin, Dr. Koehler, Clayton Bania, Ebony Taylor, Remy Powell, Constance Darrisaw, Kathryn Naherny, and Tarolyn Plumley.
November 6 to the 10th: OCALI days!!-Dr. Rebecca Baldwin, Cleveland Ivey, Constance Darrisaw, Rebecca Perry, Yuexun Tian, and Matt Borden.
November 22nd- FFA Entomology Tour- Dr. Phil Koehler, Dr. Rebecca Baldwin.

The live critters are always a hit with children and adults alike. The critters are available for you to check out should you be leading an outreach event. We have doubles of our most popular critters, as well as various native insect species depending on the time of year. We have large wood and Plexiglas cages for viewing our native orb weaving spiders. There is one travel cage and one larger static cage. Please be sure to contact us and review the protocol on transporting and handling the critters if you are not already familiar with it. If you lead an outreach, be sure to fill out a documentation form so your event can be included in the newsletter and we can log all outreach events.
If you would like to schedule an event or have any outreach questions, go to the
Outreach
pages on our
Bug Club
 website and contact us. If you have any questions, please email me.
Thank you — Clayton Bania, Outreach Coordinator.
Sage Thompson was awarded the Nan Yao and Jill Su Scholarship for M.S. students.
Ana Paula de Carvalho was awarded the Nan Yao and Jill Su Scholarship for Ph.D. students.