Winter note from Dr. Siegfried
As I reflect on my first full year here at the University of Florida, I realize how much I have learned and more importantly, how much I still don't know! Having been through one complete cycle of the academic year, things should start becoming familiar but I still run into an interesting new situation almost weekly. Between hiring 10 new faculty, traveling to 10 different REC's, hosting IFAS administrators and stakeholders for our departmental review, participating in the International Congress of Entomology, and learning about biotype Q whiteflies, Zika transmission, New World screwworms and Old World bollworms, it has been an interesting and busy year!
I have enjoyed my visits and interactions around the state and look forward to another year of getting to know our faculty, staff and students both here in Gainesville and at REC's as well as from our partnering institutions. Every time I attend an event or travel somewhere new, it seems that there is another entomologist or nematologist that I am meeting for the first time.
I have also come to appreciate the diversity of our state, our Institute, and especially our human resources. We should take pride in the amazing group of faculty, students, and staff dedicated to developing new knowledge and to providing solutions to nematological and entomological problems, and to the students we have the privilege to teach. We are fortunate to have a department with a global perspective that respects diversity and inclusion, and that allows us to be part of a community that makes our department a great place to work and a welcoming environment to learn. Given the divisiveness of recent months, I think we should join UF President Fuchs (click here to read Dr. Fuchs' letter to UF community) in affirming our individual and collective commitment to listening to perspectives that differ from our own, and striving to improve the lives of all people. These are simple messages and goals that we should all be able to support as we continue to respect the people we work with and serve.
As the year comes to a close and we begin to look forward to semester break, I hope your travels are safe and that you all find time to catch your breath, relax and enjoy the company of family and friends. As always, it is our differences that make us stronger and that allow us to grow from interacting with each other. Thanks to all for the unique contributions you provide!

2017 Early Career Seed Funding for faculty in Entomology & Nematology are:
Author: Dr. Brian Bahder
Unit: Entomology & Nematology/Ft. Lauderdale REC
Title: Potential insect vectors and genetic diversity of palm-infecting phytoplasmas in the Caribbean basin
Research Funding: $50,000
Author: Dr. Adam Dale
Unit: Entomology & Nematology/Campus
Title: The effects of turfgrass diversity on arthropod pests and biological control in urban landscapes
Research Funding: $50,000
Author: Dr. Justin Renkema
Unit: Entomology & Nematology/Gulf Coast REC
Title: Developing molecular tools to determine impacts of beneficial invertebrates in Florida small fruit agroecosystems
Research Funding: $49,998

Dr. Xavier Martini (North Florida Research and Education Center) was invited for a seminar on redbay ambrosia beetle and laurel wilt at the Florida A&M University November 29th .

Dr. Tesfa Mengistu travelled to Belgium to attend a Ph.D. defense of Dr. Awol Seid. Dr. Mengistu was his co-advisor of the research project titled Biodiversity of root-knot nematodes associated with tomato and characterization and screening of tomato genotypes against Meloidogyne species from Ethiopia. This Ph.D. research project was funded by the Belgian government for four years.



The Nov 2016 expedition to Paraguay by Dr. John Heppner (McGuire Center) resulted in many new records and undoubted new species of moths. This was the first entomological expedition under cooperation between McGuire Center and UF with the Museo de Historia Natural de Paraguay in Asuncion.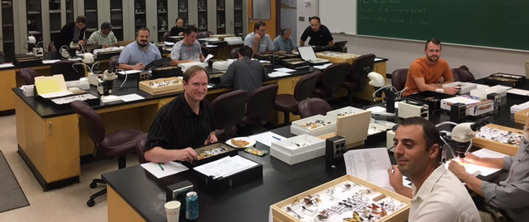 ABOVE: Each Fall Dr. Andrea Lucky hosts a Collections Grading Party for entomologists to share their expertise and assist in identifying the insects in student collections from Insect Classification (ENY 4161 / 6166). This year's event on Nov 30th was well attended, with more than a dozen participants from the department, the McGuire Center, DPI and the FSCA. Attendees included: Lyle Buss, Conrad Gillette, Susan Halbert, James Haydon, Jiri Hulcr, Akito Kawahara, Oliver Keller, David Plotkin, Eric Rodriguez, Marc Rothschild, Blair Siegfried, Paul Skelley, Gary Steck, Elijah Talamas and Felipe Soto-Adames. (photo by Andrea Lucky).
The result was more than well-scrutinized student collections. Three new state records were found in graduate student collections: 1) a coreid bug, Hypselonotus punctiventris, was identified in the collection of graduate student Jason Williams, collected in NATL! See attached photo from NATL, on Bidens alba, 2) A geotrupid beetle, Bolbocerosoma tumefactum, found by Reina Tong in Ft. Lauderdale and 3) a buprestid beetle, Ectinogonia buqueti, found by Iris Strzyzewski in Quincy. Nice work, grads! A big thank you to all who attended and congrats to the students for their excellent collections!

Dr. Phil Kaufman and Dr. Jennfier Gillett-Kaufman have been named the new Faculty Program Directors for the UF in Florence - Global Perspectives Program. This is one of the largest study abroad programs offered by UF. Students in this program spend six weeks studying at the Florence University of the Arts. Join them Summer A 2017 to study abroad in Italy for their class ALS 4404 Insects in Italy.

Dr. James P. Cuda was an invited speaker for the Department of Entomology Seminar Series at Purdue University on October 27th. Cuda gave a presentation titled Recent Advances in Biological Weed Control: A Florida Perspective.
Dr. James P. Cuda was guest lecturer for a graduate level agronomy course titled Aquatic Weeds (AGR 6932) on November 14th and 16th. Cuda presented two lectures on biological control of invasive aquatic weeds.

Dr. Andrei Sourakov and Dr. Thomas C. Emmel are once again offering the "Insects and Plants" course. The entomology section for this course is ENY4905, sec 1484. The course will be taught at the McGuire Center, Florida Museum of Natural History, on Thursdays at 3pm. You can register for this 1-credit course by e-mailing Elena Alyanaya.

Look for new information in the updated article IPM of the Tawny Crazy Ant, Nylanderia fulva (Mayr) by Oi FM, Calibeo D, Paige III J, Bentley M. ENY-2006.
return to top
Oliver Keller, doctoral student in the Branham Lab, received an Ernst Mayr Travel Grant in Animal Systematics from the Museum of Comparative Zoology, Harvard University. Oliver will use this funding to visit the Muséum National d'Histoire Naturelle, Paris, where he will study type specimens for his dissertation research on firefly systematics. The Muséum National d'Histoire Naturelle houses one of the most important collections of Lampyridae in the world. Oliver also received a Davidson Travel Scholarship from the University of Florida to attend the 2017 International Firefly Symposium in Taipei, Taiwan where he will present findings from his doctoral research.

Maxwell Duncan, an agronomy department undergraduate student working with Dr. Adam Dale, presented his senior capstone project poster entitled, "Enhancing golf courses to conserve beneficial insects and promote biological control: A preliminary evaluation" at the Plant Sciences undergraduate symposium in Fifield Hall.

Congratulations to the 2016 Entomology Undergraduate Scholarship Recipients. Awards are made on scholarship, leadership, professionalism, service to the department, degree specialization, and financial need. Scholarship funds for entomology students are made available through generous endowments to the University of Florida Foundation and are available to entomology majors and minors. For the year 2016, individual scholarship amounts ranged from $500 to $1,100 and totaled $19,300. Descriptions of the scholarships can be found on our website.
Katherine Arguez, Murphy Scholarship
Magda Bosco, Mulrennan Scholarship
Paige Carlson, Dixon Scholarship
Madison Cook, Mulrennan Scholarship
Lettie Cronin, Richardson Scholarship
Ann Deaderick, Hetrick Scholarship
Tanner Felbinger, Mitchell Scholarship
Johnalyn Gordon, Mulrennan Scholarship
Megan Bernier, Mulrennan Scholarship
Sarah Nguyentran, Mulrennan Scholarship
Andrew Nisip, Davis Scholarship
Samuel Pass, Sapp Scholarship
Rebecca Perry, Williams Scholarship
Abigail Prohofsky, Hetrick Scholarship
Mason Russo, Mulrennan Scholarship
Windi Sanchez, Mulrennan Scholarship
Johanna Schwartz, Mulrennan Scholarship
Gabriella Steele, Mulrennan Scholarship
Evan Waite, Knapp Scholarship
Rachel Watson, Murphy Scholarship

Lucas Carnohan and Joe Velenovksy, Ph.D. students in Dr. Nan-Yao Su's subterranean termite laboratory, traveled to Florida A&M University on Novermber 3rd to teach pest control professionals how to properly identify termites. They presented a 30 minute talk on termite identification techniques for termite pests commonly found in the southeastern U.S., including both drywood and subterranean termites. Following the presentation, the students demonstrated how to use macro lens attachments on personal smartphones as a tool in field identification and documentation. A variety of live and preserved specimens were provided for a hands-on learning experience.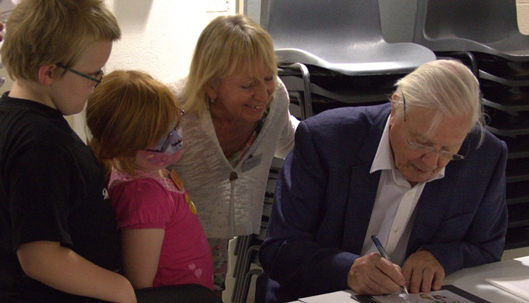 ABOVE: Ian McKay is one of our UK distance students, he took this picture of his family meeting Dr. David Attenborough this summer!

New on Featured Creatures:
Sirex woodwasp, Sirex noctilio Fabricius. Authors: Demian Gomez, School of Forest Resources and Conservation, University of Florida
Andrea Lucky, Entomology and Nematology Department, University of Florida Jiri Hulcr, School of Forest Resources and Conservation and the Entomology and Nematology Department, University of Florida.

Do you have a favorite creature? Learn how to make it into a
Featured Creature
!
return to top
Dr. Billy Crow presented a half-day workshop "Assembling a Nematode Management Plan" for the Carolina's Golf Course Superintendents Association at their annual meeting at Myrtle Beach SC on 15 November.

The University of Florida's School of Structural Fumigation was held at the Ft. Lauderdale R.E.C. during November 14-18, 2016. The now semiannual "Fume School" provides classroom, laboratory, and field training for pest control professionals who wish to supervise or conduct fumigations of buildings and goods against various pest infestations.  Since its inception, the Fume School has been attended by 1,135 students. This remains the only school of its kind in the world, and the school's 29th anniversary had another full attendance of 58 students (below).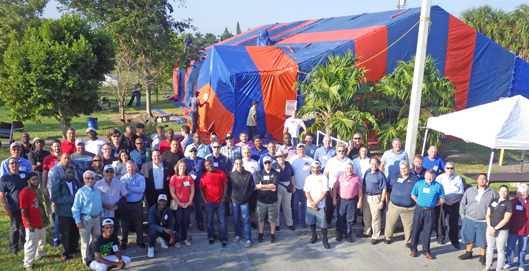 ABOVE: This latest class included students from Florida, California, Maryland, Missouri, Puerto Rico, and South Carolina as well as Mexico, St. Lucia, The Bahamas, and Trinidad and Tobago. The school yielded an 89% passing rate for students who opted to take the Florida State certification exams in fumigation. Dr. Rudi Scheffrahn, Dr. Bill Kern, and Renny Perez coordinate the school which offers expert instruction from manufacturers (Bayer, Douglas, Drexel, Ensystex), suppliers (Cardinal, Univar), fumigators, regulators (FLDACS), FL Dept. of Transportation, USDA, and the Certified Pest Control Operators of FL.

Dr. James P. Cuda was an invited speaker for the 40th Annual Meeting of the Florida Aquatic Plant Management Society held in Daytona Beach Shores, FL, 17-20 October. Cuda gave an oral presentation titled New IPM Approach for Hydrilla Management: Research Update. The presentation was co-authored by Drs. Emma Weeks, Judy Shearer, Mark Jackson and Mark Hoyer.

The McGuire Center for Lepidoptera and Biodiversity held the annual joint meeting of the Association for Tropical Lepidoptera and the Southern Lepidopterists' Society. The program is available online. This meeting is held annually in the fall, and is an excellent local venue to present your work, meet colleagues and go on collecting trips. Entomology students are encouraged to consider participating in this meeting in the future.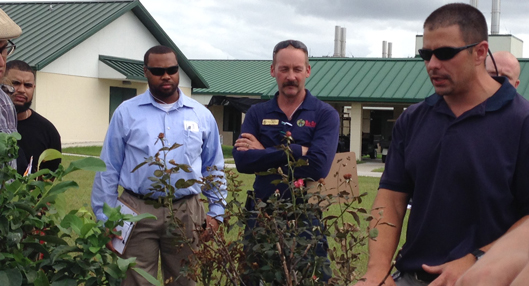 ABOVE: Pest Management University held its L&O Masters course with certified operator state examination on November 9th to the 11th. Eighteen attendees from nine companies and one IFAS unit participated in a 2.5 course filled with hands-on activities team taught by Chris Marble (MREC), Shad Ali (MREC), Dr. Adam Dale (Gainesville), Joe Jonovich (Program Coordinator) and Paul Mitola (FDACS). Congratulations to all of our newly minted certified operators! (Everyone passed the state exam.) (Picture: Chris Marble showing students how to recognize herbicide damage.) PMU facilities were used to train FDACS inspectors from November 29th to December 2nd.

On November 14th Dr. Thomas Chouvenc spoke at the Southwest Pest Management Conference in Ft. Meyers to provide local pest control practitioners some updates about termite problems in Florida.

Dr. Thomas Chouvenc was invited to give a presentation in the seminar series of Penn State University Department of Entomology on November 11th, in State College, PA. Dr. Chouvenc met with faculties and students throughout the day.
return to top
From the Outreach Coordinator
The live critters are always a hit with children and adults alike. The critters are available for you to check out should you be leading an outreach event. We have doubles of our most popular critters, as well as various native insect species depending on the time of year. We have large wood and Plexiglas cages for viewing our native orb weaving spiders. There is one travel cage and one larger static cage. Please be sure to contact us and review the protocol on transporting and handling the critters if you are not already familiar with it. If you lead an outreach, be sure to fill out a documentation form so your event can be included in the newsletter and we can log all outreach events.
A big thank you to the students and faculty who volunteered for November's outreach events.
November 3rd – Science Night at Littlewood Elementary - Michael Gonzalez and Laurel Lietzenmayer
November 9th-13th – Ocali Days – James Brown, Lauren Cirino, Ethan Doherty, Mengyi Gu, Michael Hull, Paul Joseph, Oliver Keller, Laurel Lietzenmayer, Matt Moore, Rebecca Rabinowitz, Clancy Short, Denise Tan, Evan Waite, Jason Williams, Qinwen Xia
November 17th – Williston Central Christian –Laurel Lietzenmayer
November 18th – Star Christian Academy – Lettie Cronin and Laurel Lietzenmayer
November 30th – Chiles Elementary School – Paul Joseph
Upcoming Events
December 14th – Elementary Science Day
January 13th – Career Day at Santa Fe High
January 23rd – Brilliant Minds 4-H Club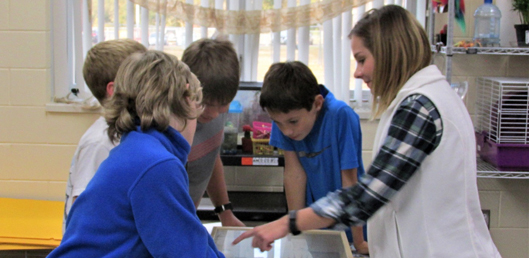 ABOVE: Danielle Sprague talks with members of the KMS Elementary Science Exploration Club about identifying insect orders. Danielle Sprague and Dr. Xavier Martini presented a hands-on insect education session for the Kate M. Smith Elementary Science Exploration Club in Chipley, Florida on November 15th.
If you would like to schedule an event or have any outreach questions, go to the Outreach pages on our Bug Club website and contact us. If you have any questions, please email me.
Thank you — Laurel Lietzenmayer, Outreach Coordinator.
return to top
Virni Mattson
, our grants specialist, reports that from November 1st to November 30th, 2016, we have had 12 new grants or contracts awarded for a total of $574,436.62 in external funding for all Entomology & Nematology faculty (in Gainesville and at RECs).
Dr. Basil Iannone (PI, School of Forest Resources & Conservation) and Dr. Adam Dale (Co-PI), were awarded a UF/IFAS Early Career Seed Grant for $50,000 titled, "Evaluating the contribution of biotic complexity to pest control in ornamental plant communities".
Dr. Steve Frank (NC State University), Dr. Adam Dale, and Dr. Vince D'Amico (US Forest Service) were awarded a $325,000 grant through the USDA-NIFA Crop Protection and Pest Management program titled, "Protecting human and environmental health with IPM for urban trees".
The team will work over the next three years to determine 1) How urban tree diversity affects pest abundance and biological control; 2) how drought interacts with impervious surface cover and regional climate to affect tree growth and pest susceptibility; and 3) to develop IPM recommendations for urban tree species common throughout the eastern U.S. This research will span a latitudinal gradient from Florida to Delaware to determine how responses vary geographically and by climate.
return to top
Honey Bee Research and Extension Laboratory invites you to follow them on Twitter to find out about upcoming events and interesting stories about honey bees
@UFHoneybeelab.

Getting social!
We have several social media sites for the Entomology & Nematology Department. To make them easily searchable, all three (YouTube, Facebook and Twitter) have the same page name: UFEntomology. Please share these links with past students or colleagues who may have an interest in departmental activities.
return to top
Dr. Jennifer Gillett-Kaufman
is the newsletter editor and does the HTML coding. Issues usually are published by mid-month. Submit items for an issue by the 7th of that month.
We like to share news when it happens using our social media outlets: Twitter, Facebook and YouTube. Follow us on these sites for daily updates! When you send news, we will post it on one or more of these sites and again in the monthly newsletter. Please be sure you have permission from people in photographs you submit for publication.

UF-Bugnews-L listserv subscribers receive notices when issues are posted. Our home page has instructions for subscribing and unsubscribing.
Special thanks to Haleigh Ray and Nancy Sanders who reviewed the newsletter for errors and to Jane Medley and Don Wasik who built the web page design.