March 2011
---
Faculty News
Dr. Harsimran "Rosie" Gill worked as a postdoctoral assistant with Dr. Bob McSorley> after completing her Ph.D. in August 2010. She is now working as a postdoctoral assistant with Dr Kirsten Pelz-Stelinski at the UF/IFAS Citrus Research and Education Center in Lake Alfred. Dr. Gill is testing different insecticide peptides for management of Asian citrus psyllid using the citrus tristeza virus as a delivery system.
Dr. James P. Cuda was invited to stand as a candidate for one of the Advisory Board positions for the newly formed North American Invasive Species Network.
Dr. James Cuda hosted a group of high school science students and teachers for a lab tour on 7 February. The students and teachers were part of the 2011 Junior Science, Engineering and Humanities Symposium sponsored by UF's Center for Precollegiate Education and Training.
Last Fall, Dr. Hugh Smith returned to the University of Florida from the Connecticut Agricultural Experiment Station where he was involved with integrated pest management on a number of crops, including ornamentals, strawberries and cigar wrapper tobacco. However, his specialty is management of insects and mites in vegetable crops, with a special interest in biological control, habitat manipulation to enhance biological control, grower outreach and pest management training in Spanish. Dr. Smith received his Ph.D. in entomology from the University of Florida in 1999. He has experience as an entomologist working in California, Central America, and in Pacific. His appointment as a member of our faculty was previously announced, but only recently did his Web page become available.


Student News
Ph.D. student Abhishek Mukherjee, a member of Dr. James Cuda's program, was invited to interview for a postdoctoral research position in biological control at Texas A&M University, College Station, Texas, on 2 March. Mukherjee gave a seminar on "Prospects for biological bontrol of Hygrophila polysperma, an aquatic invasive weed in Florida and Texas."


Bug Fest 2011
On 6 April, our department will sponsor a "Bug Fest" and open house oriented to UF undergraduates. The event is hosted by the undergraduate Entomology Club. From 6-8 pm, there will be games, prizes, live giant arthropods (just to pet, not take home), tours of our facility, information on entomology degrees, movies and even "bug songs." The intent is to increase our already large number of undergraduates who either major or minor in Bugology. Also, there will be FREE pizza and FREE passes to the UF/IFAS McGuire Center Butterfly Rainforest for the first 400 attendees.


Publications
Kalsi M, Seal DR. (February 2011). Milkweed assassin bug, Zelus longipes Linnaeus. Featured Creatures. EENY-489. http://entnemdept.ifas.ufl.edu/creatures/beneficial/bugs/zelus_longipes.htm
de Macedo DM, Pinho DB, Barreto RW, Pereira OL, Cuda JP. 2010. Black mildew fungi (Meliolaceae) associated with Schinus terebinthifolius (Brazilian pepper tree) in Brazil. Mycotaxon 114: 429–437.
Walker TJ, Collins N. 2010. New World thermometer crickets: the Oecanthus rileyi species group and a new species from North America. Journal of Orthoptera Research 19: 371-376. [This article is the first JOR article to include online supplementary material, which in this case includes a video of the holotype calling.]
Gill HK, McSorley R, Buss L. (January 201l). The insect community on the soil surface. EDIS. http://edis.ifas.ufl.edu/in876
Gondhalekar AD, Song C, Scharf ME. 2011. Development of strategies for monitoring indoxacarb and gel bait susceptibility in the German cockroach (Blattodea: Blattellidae). Pest Management Science 67: 262–270.
Tiwari S, Pelz-Stelinski K, Mann RS, Stelinski LL. 2011. Glutathione S-transferase and cytochrome P450 (general oxidase) activity levels in Candidatus Liberibacter asiaticus-infected and uninfected Asian citrus psyllid, Diaphorina citri. Annals of the Entomological Society of America 104: 297-305.
Boina DR, Youn Y, Folimonova S, Stelinski LL. 2011. Effects of pymetrozine, an antifeedant of Hemiptera, on Asian citrus psyllid, Diaphorina citri, feeding behavior, survival, and transmission of Candidatus Liberibacter asiaticus. Pest Management Science 67: 146-155.


2011 Forensic Entomology Summer Camp
This summer, the department will hold its 2nd annual entomology camp with the theme "Forensic Entomology." This 5-day camp (8:30-4:30) is for middle schoolers and will be held at the department during 20-24 June. Space is limited to 20 students, so sign up early. Additional information is available on the Bug Club Web site. For images from last year's camp, click here.


2011 Entomology Seminars
We have a great list of speakers for the Spring 2011 Entomology Seminar Series. You can visit http://entnemdept.ufl.edu/seminar/ for a listing and the most up-to-date information on the seminars, as some presentation titles are not yet provided. If you wish to meet with a speaker while he or she is visiting, please let the organizer (listed for that speaker) know or send me an email. - Dr. Christine Miller


Meetings and Presentations
Drs. Harsimran "Rosie" Gill and Gaurav Goyal both served as judges for the poster session of the Graduate Student Council Interdisciplinary Research Conference held on the campus of the University of Florida, 2 February 2011.
A Citrus Scouting and Pest Manamgment workshop was arranged by Dr. Mongi Zekri, Multi-County Citrus Agent, Hendry County Extension, and held at the UF/IFAS Southwest Florida Research and Education Center on 10 February. Dr. Phil Stansly> presented, "Scouting citrus for pests and beneficials", Dr. Jawwad Qureshi presented, "Biological control to enhance management of Asian citrus psyllid and other citrus pests", and senior biological scientist Barry Kostyk presented "Insecticide trials to control citrus rust mite and psyllid." The meeting was recorded for educational purposes by Stephanie Stocks, Coordinator for Protect US, which is part of a larger network - Community Invasive Species Network. The meeting was followed by field demonstrations of tap sampling.
Dr. James Cuda participated in the UF-Howard Hughes Medical Institute (HHMI) Science for Life Open House held in the Infirmary Building on UF's campus, 14 February. Cuda presented a poster created by Justin Bricker, one of his HHMI undergraduate students.


Outreach
Thank you to those members and friends of the department who participated in our February outreach activities:
5 February: Cub Scout campout at Camp Shands. Participants: Chris Bibbs, Maria Christina Carrasquilla, Dale Halbritter, Wendy Helmey-Hartman, and Kelsie Jacks
8 February: Insect Encounters at the Florida State Fair, booth setup. Participants: Dr. Rebecca Baldwin, Nick Hostettler, and Jane Medley
10-21 February: Insect Encounters at the Florida State Fair, booth staffing. Participants:

10 February: Katie Buckley
11 February: Dr. and Mrs. Howard Frank
12 February: Dale Halbritter
14 February: Navneet Kaur and Jodi White
15 February: Lyle Buss
16 February: Debbie Hall and her husband Kenny
17 February: Dr. Rebecca Baldwin and Chris Holderman
18 February: Tiffany Dale and Janine Razze
19 February: Dr. Jim Cuda and Dale Halbritter
20 February: Tamika Garrick , Marissa Gonzalez, Annika Minott, Danae Perry, and Jodi White
21 February: Teresia Nyoike

18 February: Department tour for homeschoolers. Participants: Chris Bibbs, Dale Halbritter and Jodi White. A special thanks to those who offered tours of their laboratories: Allison Bechard (Miller Lab), Dr. Roberto Pereira (Urban lab), Dr. Susan Webb, and Jodi White (Capinera Lab)
21 and 22 February: Insect Encounters at the Florida State Fair, booth take-down. Participants: Nick Hostettler and Jane Medley
25 February: Visitation/show at Belleview Santos Elementary, Marion County. Participant: Anna Binder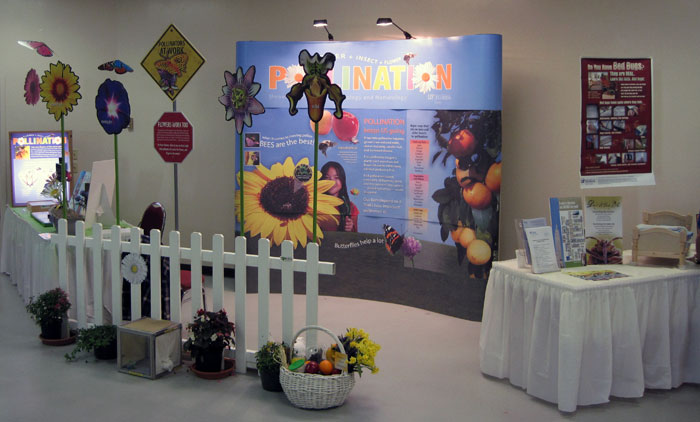 Our booth at the Florida State Fair: part of the Insect Encounters exhibit. The booth featured a hands-on
pollinating bee puppet, scented model flowers, live Painted Lady butterflies, a miniature representation
of a bed bug-infested mattress and bed frame, live bed bugs in sealed petri dishes, and many other
informative displays.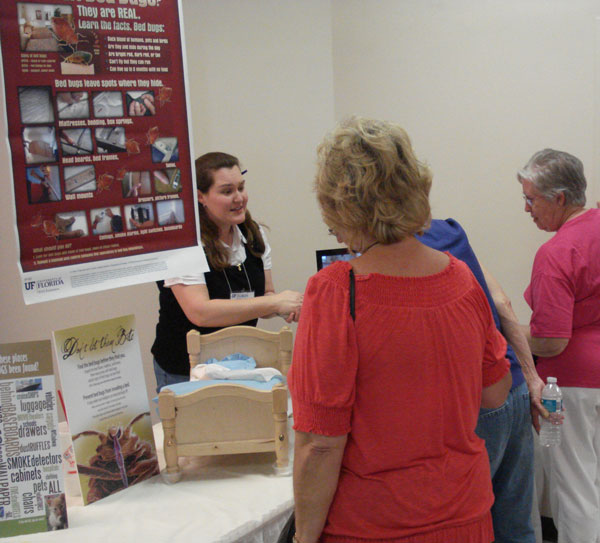 Dr. Rebecca Baldwin explains bed bug management techniques,
from an entomologist's perspective, to curious Fair visitors.
A special thanks to those who participated in the Florida State Fair! Once again, our booth was in the Agricultural Hall of Fame building (Florida State Fairgrounds, Tampa) and was part of a larger exhibit called Insect Encounters. Our booth featured two main topics: pollination of plants by insects and bed bugs. Approximately 78,000 people came through the Agricultural Hall of Fame building this year.
The following are outreach events currently scheduled for March:
16 March: Presentation to a Life Science class at UF
24 March: Visitation/show at Micanopy Area Cooperative School
The live critters are always a hit with children and adults alike. The critters are available for you to check out should you be leading an outreach event. If you lead an outreach, please be sure to fill out a documentation form so your event can be included in the newsletter and so that we can log all outreach events. If you would like to schedule an event or have any outreach questions, go to the Outreach pages on our Bug Club Web site and contact us. - Dale A. Halbritter, Outreach Coordinator


Nominations for FES Annual Awards
The Honors and Awards committee for the Florida Entomological Society needs your assistance in identifying and nominating individuals and groups for the following awards:
Entomologist-of-the-Year
Annual Achievement Award for Teaching in Higher Education
Annual Achievement Award for Teaching in K-12
Annual Achievement Award for Research
Annual Achievement Award for Extension
Annual Achievement Award for Industry
Annual Achievement Award for Regulatory Entomology
Special Achievement Awards for Research Teams, Laboratories, or Agencies, etc.
Certificates of Appreciation for Special Service to the Society
Honorary Membership
Please nominate your deserving colleague(s). Groups may also be nominated. Each nomination should be accompanied with a justification narrative (1 page maximum) outlining the specific contribution of that individual or group to the profession of entomology, science, the community, or the FES. State the present employment of the nominee and category for which nomination is sought. Winners will be announced at the 2011 Annual Meeting in Fort Myers. You can see previous winners at http://www.flaentsoc.org/awards.html. This year's awards will be posted online in a 'plaque-like' format. The deadline for nominations is 15 June.

Nominations should be forwarded to the chair of the award committee:

Dr. Steven Arthurs
Mid-Florida Research and Education Center
2725 Binion Rd, Apopka, FL 32703
e-mail: spa@ufl.edu,
Fax: 407-814-6186





Newsletter Minutiae

Thomas Fasulo is the newsletter editor. Departmental faculty, staff, students and alumni can submit news anytime to fasulo@ufl.edu. Issues usually are published by early mid-month. Submit items for an issue by the 7th of that month.

UF-Bugnews-L listserv subscribers receive notices when issues are posted on the newsletter Web site at http://entomology.ifas.ufl.edu/news, which has instructions for subscribing and unsubscribing. Pam Howell and Nancy Sanders review the newsletter for errors. Thomas Fasulo does the HTML coding.

In the last 12 months, the newsletter Web site recorded 162,336 page views.



---
March 2011.