Dr. Heather McAuslane was elected to serve a three year term on the University of Florida Graduate Council.
Poster awards from the 2012 UF/IFAS Central District Extension Faculty Symposium, April 26, 2012 at the UF/IFAS Sumter County Extension Office.
1st Place. Natural Resources. Dr. Joan Bradshaw, Dr. Jim Cuda, Ken Gioeli, and Dr. Jennifer Gillett-Kaufman. Educational campaign implementation: IPM strategies for hydrilla management.
1st Place. Agriculture. Steven Lands, David Dinkins, Dr. Jennifer Gillett-Kaufman, and Dr. Faith Oi. Good neighbor practices (GNPs): Increasing communication between school personnel and neighboring landowners.

Student News return to top

Krista Seraydar who did her undergraduate research with Dr. Phillip Kaufman is graduating with her B.S. degree this semester. She was awarded the CALS Outstanding Four-Year Scholar award.
Vivek Kumar is graduating with his Ph.D. this semester. Dissertation: Characterizing phenotypic and genetic variations in the invasive chilli thrips, Scirtothrips dorsalis Hood (Thysanoptera: Thripidae). Committee Chair: Dr. Dak Seal.
Ping Li is graduating with his M.S. degree (nonthesis). Committee Chair: Dr. Marjorie Hoy.
Gloria Lucia Lotz is graduating with her M.S. degree (nonthesis).Committee Chair: Dr. Phil Stansly.
Karen Stauderman (UF/IFAS Volusia County Residential Horticulture Extension Agent) is graduating with her M.S. degree this semester. Thesis: Evaluation of Isaria fumosorosea for control of the Asian Citrus Psyllid, Diaphorina citri Kuwayama (Hemiptera: Psyllidae). Committee Chair: Dr. Steven Arthurs.
Jodi White is graduating with her Ph.D. this semester. Dissertation: Identification of Agriculturally Important Molluscs to the U.S. and Observations on Select Florida Species.Committee Chair: Dr. John Capinera.
The CALS Ambassadors are a select group of students in the UF College of Agricultural and Life Sciences who have demonstrated outstanding achievement in academics and student leadership. The 2012-2013 CALS Ambassadors from Entomology and Nematology are Paula Cohen and James Fleming.   
Lab News return to top


Need to name that bug? A host of experts are available to help Floridians identify any insect or related arthropod. If a mystery creature has six or more legs, the UF Insect ID Lab is the place to send it.

Think it might be a nematode problem? The Nematode Assay Laboratory serves Florida and other State residents by providing nematode assay and expert advice regarding nematode management.

For more information on the Nematode Assay Laboratory please contact the Lab Manager, Dr. Tesfa Mengistu.

Publications return to top


Carrillo D, de Coss ME, Hoy MA, Pena JE. 2012. Variability in response of four populations of Amblyseius largoensis (Acari: Phytoseiidae) to Raoiella indica (Acari: Tenuipalpidae) and Tetranychus gloveri (Acari: Tetranychidae) eggs and larvae. Biological Control 60: 39-45.
Cating RA, Hoy MA, Palmateer AJ. 2012. A comparison of standard and high-fidelity PCR: Evaluating quantification and detection of pathogen DNA in the presence of orchid host tissue. Plant Disease 96: 480-485.
Chouvenc T, Su N-Y. 2012. When subterranean termites challenge the rules of fungal epizootics. PLoS ONE 7: e34484.  
Chouvenc T, Robert A, Sémon E, Bordereau C. 2012. Burial behavior by dealates of the termite Pseudacanthotermes spiniger (Termitidae,  Macrotermitinae) induced by chemical signals from termite corpses. Insectes Sociaux 59: 119-125.
Francis AW, Moses KK, Roda AL, Liburd OE, Polar P. 2012. The passionvine mealybug, Planococcus minor (Maskell) (Hemiptera: Pseudococcidae), and its natural enemies in the cocoa agroecosystem in Trinidad. Biological Control 60: 290-296.
Oi FM, Gillett-Kaufman JL, Connor E, Overline M, Taggart B, Witherington L. (2012). What Not To Do for Bed Bugs / Que No Hacer contra las Chinches. University of Florida EDIS- Electronic Data Information Source. IN 925. http://edis.ifas.ufl.edu/in925
McNeill CA, Liburd OE, Chase CA. 2012. Effect of cover crops on aphids, whiteflies and their associated natural enemies in organic squash. Journal of Sustainable Agriculture  36: 382-403.
Rhodes EM, Liburd OE, England GK. 2012. Effects of southern highbush blueberry variety and treatment threshold on flower thrips populations. Journal of Economic Entomology 105: 480-489.
Sourakov A, Duehl A, Sourakov A. (2012). Foraging behavior of the Blue Morpho and other tropical butterflies: The chemical and electrophysiological basis of olfactory preferences and the role of color. Psyche, vol. 2012, 10 pages.
http://www.hindawi.com/journals/psyche/2012/378050/

Stuhl CJ, Sivinski JM. (April 2012). A wasp parasitoid, Doryctobracon areolatus (Szépligeti). Featured Creatures. EENY-525.
http://entnemdept.ifas.ufl.edu/creatures/beneficial/wasps/doryctobracon_areolatus.htm
Wu K. 2012. Extended starvation reduced and eliminated Wolbachia, but not Cardinium, from Metaseiulus occidentalis females (Acari: Phytoseiidae): A need to reassess Wolbachia's status in this predatory mite? Journal of Invertebrate Pathology 109: 20-26.


Meetings and Presentations return to top

Dr. Faith Oi was invited by the National Pest Management Association to present four sessions at PestWorld East in Dubai (April 22-23) including a hands-on demonstration of bed bug management techniques with Technical Director Jim Fredericks.
Sessions-
Hands-On Demonstration of Bed Bug Management Techniques.
Understanding How Pesticides Work and Why It Matters to the Pest Management Professional.
Biology Behavior and Control of German Cockroaches Using IPM Techniques.
Important Pest Ants and Options for Integrated Pest Management.

The meeting was only the second time that pest management professionals in the region gathered together to share information on the growing global pest control market. Approximately 250 people attended.

In April, two students (Fernanda Checa and Elena Ortiz) and two McGuire staff members (Keith Willmott and Andrei Sourakov) presented their research at ELEN IV (The Fourth Meeting on Neotropical Lepidoptera) in Montevideo, Uruguay.

Dr. Phil Stansly, professor of Entomology at Southwest Florida Research and Education Center presented, "Asian Citrus Psyllid IPM" at the 2012 Florida Citrus Growers' Institute in Fort Pierce.  The program was offered by University of Florida IFAS Extension and the Citrus Research and Development Foundation.

Outreach return to top



Getting Social: We have several social media sites for the Entomology & Nematology Department. To make them easily searchable, all three (YouTube, Facebook and Twitter) have the same page name, UFEntomology. Please share these links with past students or colleagues who may have an interest in departmental activities.


UF Entomology Field Camp: There are still spots available for the UF Entomology Field Camp. The camp is June 25th-29th. It is open to students entering 5th through 9th grade. For more information, please visit http://entnemdept.ufl.edu/bug_club/camp.htm or e-mail Stephanie Hill.

Outreach Events: Thank you to those members and friends of the department who have volunteered for our April and early May outreaches:
13 April: Department tour for children from the Expressions Learning Arts Academy.

Volunteers: Sarahlynne Guerrero and Dale Halbritter

Attendance: 15 children + parents

16 April: Department tour for students from the Renaissance Charter High School for Innovation, New York City.

Volunteers: Thomas Fasulo, Dale Halbritter, Stephanie Hill, and Ephraim Ragasa

Attendance: 11 high schoolers + 2 instructors

21 April: Tabling at the Florida Museum of Natural History Earth Day BioBlitz.

Volunteers: Alissa Berro, Keith Gerber, and Dale Halbritter

Attendance: 731, general public

28 and 29 April: Tabling at the USA Science and Engineering Festival in Washington, D.C.

Attendance : several thousand

1 May: Presentations on insects at Lake Forest Elementary.

Volunteers: Dale Halbritter and Tony Riggio

3 May: Tabling for Family Science Night at Rawlings Elementary.

Volunteer: Savannah Nease

Attendance: approx. 100 children and parents

4 May: Tabling for Career Fair at Chiefland High School.

Volunteer: Stephanie Hill

Attendance: 450 high schoolers

9 May: Tabling for Lake Butler Elementary School Camp-out.

Volunteers: Lucas Carnohan and Dale Halbritter

Attendance: 50 children + camp staff
The following are programs and outreach events currently scheduled for the rest of May:
18 May: Tabling Presentations in insects for Career Day at Chiles Elementary
24 May: Department tour
25 May: Department tour
30 May: Presentation on insects and their roles in gardens at Saddlewood Elementary
The live critters are always a hit with children and adults alike. The critters are available for you to check out should you be leading an outreach event. We have doubles of our most popular critters, as well as various native insect species depending on the time of year. We have large wood and plexiglas cages for viewing our native orb weaving spiders. There is one traveling cage and one larger static cage. Please be sure to contact me and review the protocol on transporting and handling the critters if you are not already familiar with it. If you lead an outreach, be sure to fill out a documentation form so your event can be included in the newsletter and so that we can log all outreach events.
If you would like to schedule an event or have any outreach questions, go to the Outreach pages on our Bug Club Web site and contact us.
- Dale A. Halbritter, Outreach Coordinator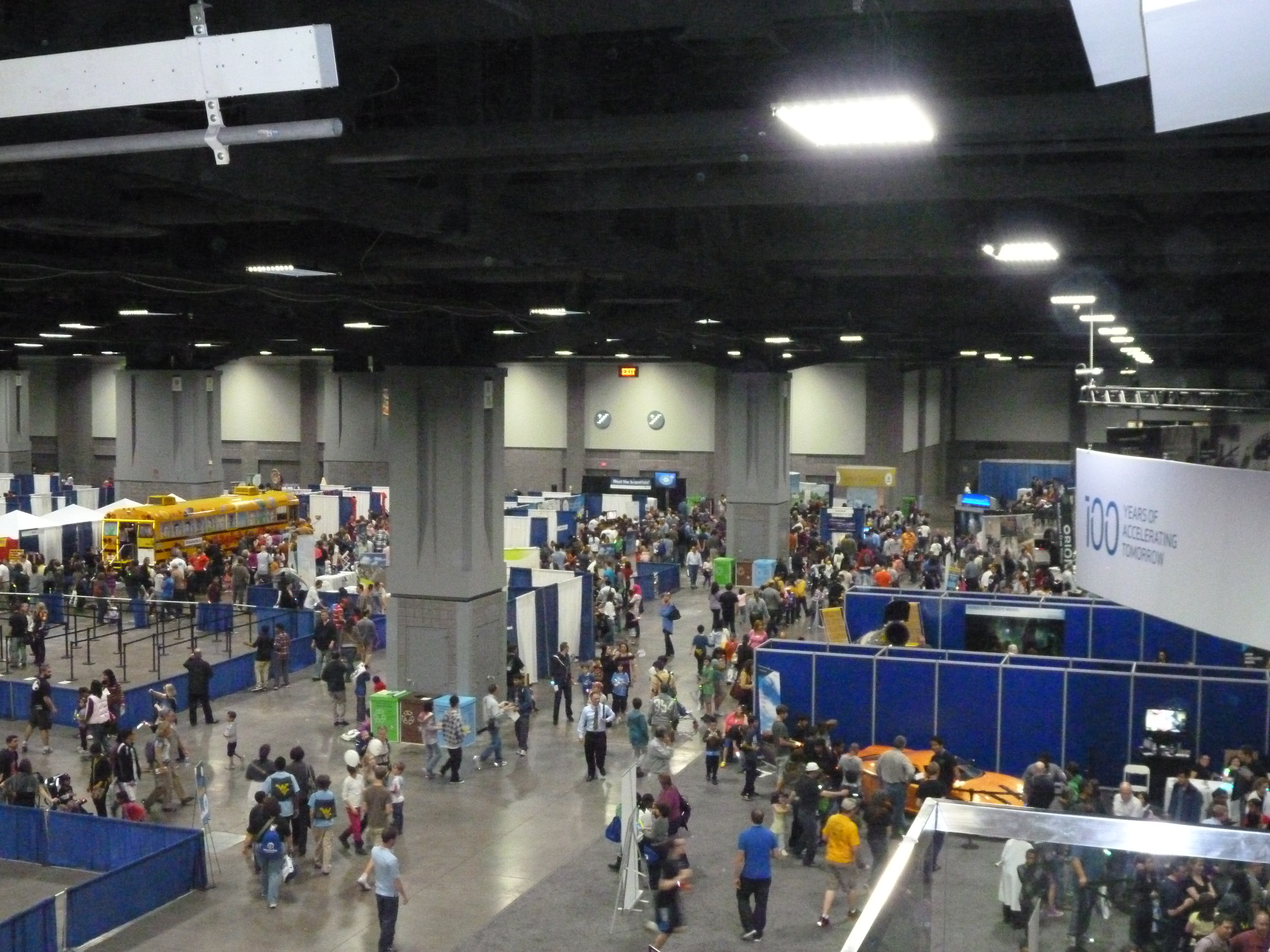 Above: 2012 USA Science and Engineering Festival in Washington, D.C.

Grants return to top


Virni Mattson our Grants Specialist reports that from January 1, 2012 to May 7, 2012 we have had 16 grants or contracts awarded for a total of $861,227 in external funding for all Entomology & Nematology faculty (in Gainesville and at RECs).
Dr. Faith Oi was awarded $244,372 as the PI for one of six projects funded by the EPA for School IPM. The EPA's Office of Pesticide Programs (OPP) has selected six projects to receive $1.1 million in grants to promote use of Integrated Pest Management (IPM) in schools. These six projects were selected from a total of 23 proposals in an open, competitive process.

Announcements return to top

Science Fair Winner Publishes New Study On Butterfly Foraging Behavior- ScienceDaily (Apr. 30, 2012) - University of Florida lepidopterist Andrei Sourakov has spent his life's work studying moths and butterflies. But it was his teenage daughter, Alexandra, who led research on how color impacts butterflies' feeding patterns.
The annual issue of the McGuire News is now on-line: http://www.flmnh.ufl.edu/mcguire/mcguireNews.htm

Gainesville entomologist Dr. Aaron Dossey wants to feed bugs to starving children to prevent malnutrition, and now he has a $100,000 grant from the Gates Foundation to give it a shot. http://www.gainesville.com/article/20120509/ARTICLES/120509543

The Honors and Awards Committee are requesting nominations for 2012 in the following categories-
Entomologist of the year.
Annual Achievement Award for Research.
Annual Achievement Award for Extension.
Annual Achievement Award for Industry.
Annual Achievement Award for Teaching.
Annual Achievement Award for Regulatory Entomology.
Achievement Award for a Collaborative Research Team.
Certificate(s) of Appreciation.
Winners will be announced at the 2012 Annual Meeting. Each nomination should be accompanied with a justification narrative that will be read at the awards luncheon.
You can see previous winners here http://www.flaentsoc.org/honors-awards-tributes.html
Send nominations (by July 1st) to
Steven Arthurs [Chair, Honors and Awards Committee] Mid-Florida Research and Education Center Institute of Food and Agricultural Sciences University of Florida
2725 Binion Road
Apopka, FL 32703-8504 USA
Ph:   407-884-2034 x 113
Fax: 407-814-6186
E-mail: spa@ufl.edu


About This Newsletter return to top


Dr. Jennifer Gillett-Kaufman is the newsletter editor and does the HTML coding. Issues usually are published by mid-month. Submit items for an issue by the 7th of that month.
We would like to share news when it happens using our social media outlets- Twitter, Facebook and YouTube. Follow us on these sites for daily updates! When you send news we will post it on one or more of these sites and again in the monthly newsletter. Please be sure you have permission from people in photographs you submit for publication.

UF-Bugnews-L listserv subscribers receive notices when issues are posted. Our home page has instructions for subscribing and unsubscribing.
Special thanks to Pam Howell andNancy Sanders who reviewed the newsletter for errors and to Jane Medley who built the web page.