Dr. Thomas Chouvenc and colleagues, who recently published a paper in PRSB on the evolution of leading-following behaviors was highlighted in several media outlet (Mizumoto N, Lee S-B, Valentini G, Chouvenc T, Pratt S. 2021. Coordination of movement via complementary interactions of leaders and followers in termite mating pairs. Proceedings of the Royal Society B Lond. 288: 20210998. https://doi.org/10.1098/rspb.2021.0998):
return to top
Dr. Thomas Chouvenc gave a seminar at the Southwest Pest Management Conference 2021 which was held virtually on Sept 30th, and provided insight on how termite baits impact the egg-laying activity of queens.

The 2021 IPM Academy, led by Hugh Smith, was held September 21, 2021 in Citra, Florida. Participants were taught the core concepts and skills needed to design integrated pest management programs for vegetable, fruit, ornamental and field crops. They were also taught to use resources available within IFAS and beyond for diagnosing and addressing arthropod pest problems of diverse commodity groups. Sessions combined PowerPoint and hands-on activities led by a group of entomologists with diverse pest management responsibilities from throughout the state.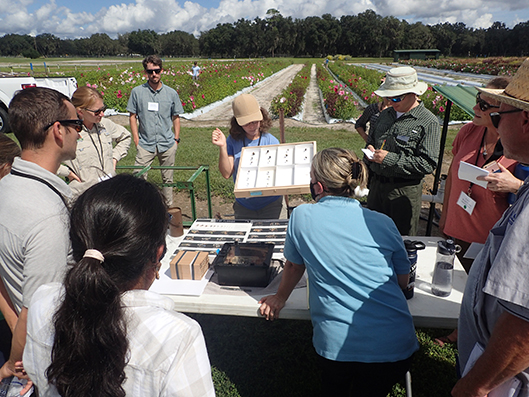 ABOVE: Dr. Rachael Mallinger teaches "Creating pollinator-friendly landscapes."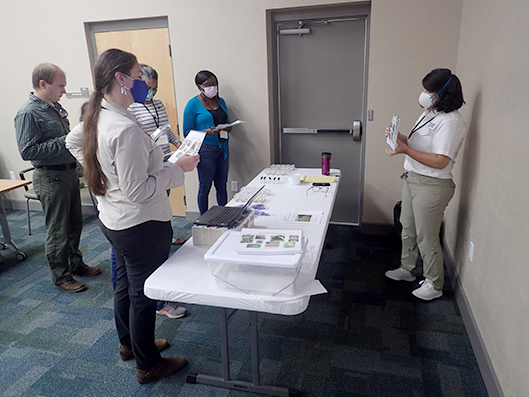 ABOVE: Dr. Silvana Paula-Moraes describing her new cotton pest app.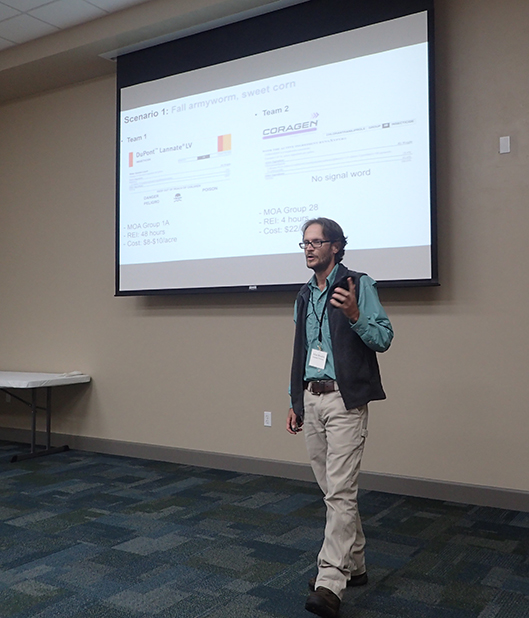 ABOVE: Dr. Julien Beuzelin explaining the use of conventional and biological insecticides.

The 2021 Society of Nematologists Meeting was held in Gulf Shores Alabama. The meeting was dedicated to the memory of Dr. Grover Smart, retired UF Nematology Professor and SON Fellow who passed in 2020.
UF Nematology Students Rock!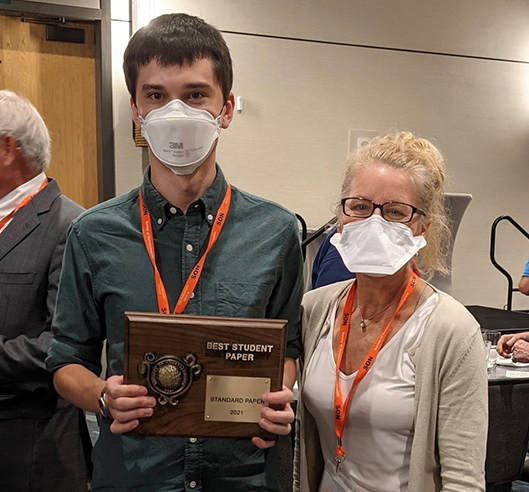 ABOVE: J McQueen pictured here with Dr. Porazinska, won the best student paper competition for his oral presentation "Species identity as a dominant driver for the assembly of nematode gut microbiomes in the Dry Valleys of Antarctica". McQueen JP, Gattoni K, Gendron EJL, Sommers P, Darling J, Schmidt SK, Porazinska DL. at the 2021 Society of Nematologists Annual Meeting, Gulf Shores, AL.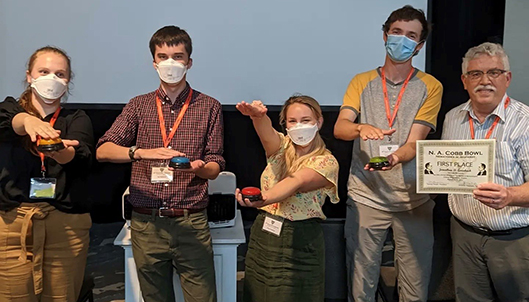 ABOVE: The University of Florida student team consisting of Katie Gattoni, Parr J. McQueen, Rachel Shepherd, Christian Kammerer won the Cobb Bowl competition at the 2021 Society of Nematologists Annual Meeting, Gulf Shores, AL.
Rachel Shepherd received a student travel award from Bayer at the 2021 Society of Nematologists Annual Meeting, Gulf Shores, AL.
Worms et al. oral presentations at the 2021 Society of Nematologists Annual Meeting, Gulf Shores, AL
Shepherd R, Brigham LM, Bueno de Mesquita CP, Smith JG, Schmidt SK, Suding KN, Porazinska DL. Long-term nitrogen deposition in alpine tundra alters nematode communities.
Sandoval-Ruiz R, Grabau Z, Seepaul R, Wright D, Small IM. Reniform nematode management with Brassica carinata in the southeast United States.
Borgmeier A, Gattoni K, Harris T, Mullin P, Porazinska D, Powers K, Wedin D, Powers T. Nuance or numbers: Taxonomic bias in approaches to measure nematode biodiversity.
Mishra S, Salichs O, DiGennaro PM. Plant and root-knot nematode co-expression networks of diurnally regulated genes implicate metabolic pathway.
Budhathathoki S, Wang K-H. Strategies to enhance the efficacy of entomopathogenic nematodes for the management of diamondback moth and imported cabbageworm.
Gattoni K, Borgmeier A, Gendron E, McQueen JP, Mullin P, Poers K, Powers TO, Porazinska DL. Potential role of the filtering framework in nematode community assembly.
McQueen JP, Gattoni K, Gendron E, Sommers P, Darling J, Schmidt S, Porazinska DL. Species identity as a dominant driver for the assembly of nematode guy microbiomes in the dry valleys of Antarctica.
De Oliveira C, Subbotin SA, Inserra RN, Brito JA, Desaeger J. An update of some foliar nematodes in Florida, Louisiana, and North Carolina: Species delimination and notes on their phytoparasitic status.
Kammerer C, Alake G, Crow WT. Differential effects of fluopyram and abamectin on Belonolaimus longicaudatus and Meloidogyne graminis in vitro.
Tsegay M, Grabau ZJ. Efficacy of nematicides at managing plant parasitic nematodes in field corn.
Liu W, Gattoni K, Adhikari A, Park SW. Cotton tolerance against Rotylenchulus reniformis employs jasmonate signaling in root hair development.
Digennaro P, Mishra S, Hu W. Basal plant biology and its roles in host responses to root-knot nematode.
Bui HX, Gu M, Desaeger JA. A nematode survey on Asian vegetable farms in central Florida.
Noling J, Desaeger J. Better bed wetting via assessment of the radial spatial pattern of chemical tracer moving through soil.
Habteweld A, Mendes ML, Inserra RN, Crow WT. Phylogenetic relationships of some Belonolaimus longicaudatus populations associated with turfgrasses in the southeastern USA.
Bogale M, Sampson E, Hu W, Baniya A, Mishra S, Doty A, Zhang DA, Amador M, Guryanova O, Mathieu M, Shabashvili D, Miranda M, Xoi L, DiGennaro P. Monoclonal antibodies for the identification of plant-pathogenic nematodes.
Alake G, Musa N. 50 Years of nematology research: Changing research themes and implications for the future.
Gendron E, Sevigny JL, Powers TO, Thomas WK, Byiringiro I, Porazinska DL. Utilizing shotgun mitochondrial metagenomics for improved data collection and identification of nematodes.
Porazinska DL, Bueno de Mesquita CP, Farrer EC, Spasojevic MJ, Suding KN, Schmidt SK. Response of nematode communities to climate-driven plant colonization of a high alpine landscape.
Wang K-H, Waisen P, Paudel R, Budhathathoki S, Uyeda J, Relationships between nematode community and incidence of asparagus crown and root rot.
Moreira D, Desaeger J. Effect of new non-fumigant nematicides on the motility and mortality of different trophic groups of nematodes.
Grabau ZJ, Sandoval-Ruiz S. Fumigation chemistries and methods for Meloidogyne incognita management in sweetpotato.
Crow WT, Snyder R, Frank J. Effects of pesticide and root health programs on a golf course putting green infested by multiple plant-parasitic nematodes.
Desaeger J, Bui HX. Chloropicrin fumigation on the first crop increases root-knot nematode damage on cucurbit double crops.
Grabau ZJ, Liu C, Navia Gine PA. Fluensulfone and fumigation for sting nematode management in potato production.
Crow WT, Thoden TC, Agi A, Habteweld A. Reklemel active as a nematicide for warm-season turfgrasses.
Baniya A, DeGennaro P. Metagenomic approach to decipher host-parasitic interaction among native entomopathogenic nematodes.
Dritsoulas A, Wu S-Y, Duncan LW. Arthropod community responses reveal potential predators and prey of entomopathogenic nematodes in a citrus orchard.
Regmi H, Vallad GE, Hutton SF, Desaeger J. Interaction studies between Meloidogyne javanica and Fusarium oxysporum f. sp. Lycopersici (FOL) race 3 on different isolines of tomato cv. Tasti Lee.
Hughes K, Mishra S, DeGennaro PM. Quantifying plant parasitic nematode nitrogen assimilation with isotope enriched proteomics.
Riva G, Bui HX, Gu M, Desaeger JA. Distribution of root-knot nematodes in Florida with focus on Meloidogyne enterolobii.
Jagdale G, Oliveira-Hofman C, Chavez D, Blaauw BR, Duncan L, Colson G, Bock CH, Shapiro-Ilan D. Comparative efficacy of fluensulfone and Steinernema carpocapsae against plant nematodes.
Agudelo P, Corbin J, Desaeger J, Gorny A, Grabau Z, Guan Z, Hajihassani A, Mueller J, Quesada-Ocampo L, Rutter W, Wadl P. A multi-state effort to contain and manage Meloidogyne enterolobii in vegetable crops.
Wram C, Hesse C, Vieria P, Eves-van den Akker S, Myers R, Humphreys-Pereira D, Coyne D, DiGennaro P, Lopez-Nicora H, Cedeno A, Emmanuel O, Saikai K, Duncan L, Guzman O, Cobon J, Chinnasri B, Inserra R, Zasada I. Global comparative genomics of Rodopholus similis.
Liu C, Grabau ZJ. Nematode management in Florida sweet potato using non fumigant nematicides.
Schumacher L, Grabau Z. Vertical distribution of nematodes in peanut-cotton cropping systems.