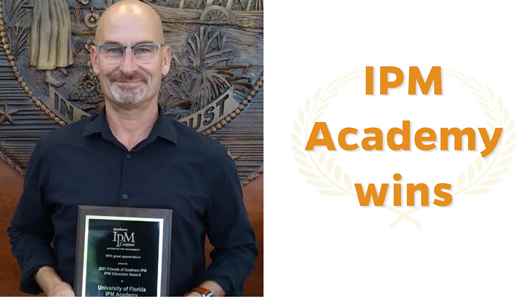 ABOVE: Congratulations to the IPM Academy for receiving the IPM Educator award given by the Southern IPM Center. This group offers a daylong hands-on in-service training for UF/IFAS Extension agents. Pictured is Dr. Hugh A. Smith with the IPM Educator award plaque. IPM Instructors are: Dr. Hugh Smith, Dr. Norm Leppla, Dr. Adam Dale, Dr. Sriyanka Lahiri, Dr. Lauren M. Diepenbrock, Dr. Jawwad A. Qureshi, Dr. Silvana Paula-Moraes, Dr. Julien M. Beuzelin, and Dr. Xavier Martini. Next IST will take place in Citra in September.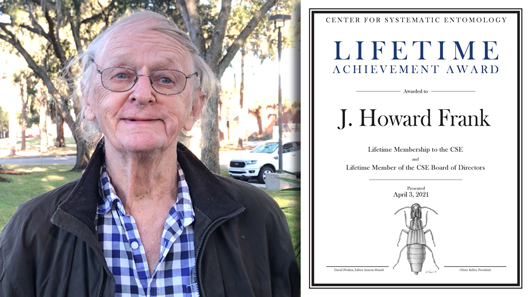 ABOVE:
On Saturday, April 3rd,
Dr. Howard Frank
was awarded a lifetime membership to the Center for Systematic Entomology and became a Lifetime Member of the CSE Board of Directors. Dr. Frank's achievements were honored during a symposium organized by Julieta Brambila at the CSE conference and Dr. Norm Leppla delivered a presentation detailing Dr. Frank's many contributions to the field of entomology, Entomology and Nematology Department, and CSE.

Congratulations to our ESA-SEB Faculty Awards Winners!
Dr. Lukasz Stelinski received the Achievement Award in Horticultural Entomology!
Dr. Rachael Mallinger received the Excellence in Early Career Award!
Dr. Oscar Liburd and the Sustainable Spotted Wing Drosophila Management Team for receiving the Pulling Together Award!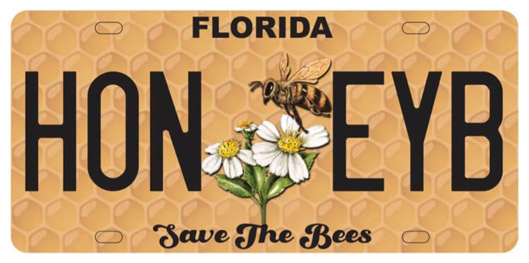 ABOVE: Looking for a cool update for your vehicle? The Florida State Beekeepers Association (FSBA) designed a specialty license plate, now available for pre-sale. Funds will contribute to honey bee research. Contact your local tax collectors office to pre-order yours!

A statement from IDEA
We strongly condemn the violent, physical assaults and hateful speech against people of Asian and Pacific Island descent in the United States. The unconscionable racist violence has intensified since the arrival of COVID-19 in the U.S. but builds on a long history of xenophobia, bias, and discrimination against Asian Americans. Mounting hate crimes coupled with the recent heinous murders of eight people in Atlanta, including six women of Asian descent, only add to the fear, isolation, and trauma of the Asian American community. We offer our support to our Asian colleagues and students and stand in solidarity with them against anti-Asian hate and discrimination. We pledge to stand up against racism and hate, rather than standby.

Please help the Asian community by reporting hate incidents at stopaapihate.org
return to top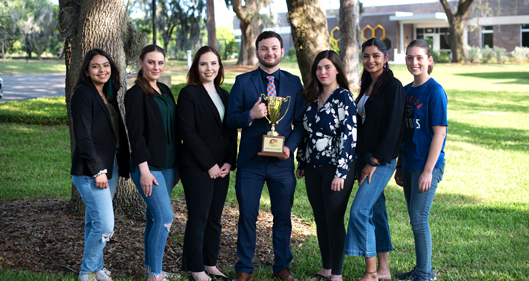 ABOVE:
Congratulations to the UF Entomology Club for receiving CALS Club of the Year! Awarded on April 14th by the Agriculture and Life Science College Council (ALSCC). Pictured from left to right is: Gabriela Gonzalez, Cameryn Lein, Jordyn Ranfone, Brett LaBella, Savannah France, Lucia Navia, Lillie Rooney.

Congratulations to our ESA-SEB Student Award Winners!
Our Entomology Games team advances to ESA annual meet in October! The 2021 competition team is Jason Williams (captain), Keiran Hyte, Nicholas Johnston, Emilie Demard and Kelly Carruthers. The team meets twice weekly, and is coached by Dr. Amanda Hodges, Dr. Rebecca Baldwin, and Dr. Estelle Martin.
Lillie Rooney wins First Place in the Undergraduate Student Paper Competition.
Sarah Tafel (Entomology minor) wins First Place, and Second Place respectively, in the Undergraduate Student Paper Competition.
Kelly Carruthers wins Second Place in the Ph.D. Student Paper Competition.
Joseph Montemayor wins First Place in the Graduate Student Paper Competition.
Lourdes Perez Cordero wins First Place in the Graduate Student Poster Competition.
Katherine Carroll wins Second Place in the Graduate Student Paper Competition.
Gagandeep Kaur wins Second Place in the Ph.D. Student Poster Competition.
Shannon McAmis wins First Place in the Extension and Outreach oral session.
return to top
Need to name that bug? A host of experts are available to help Floridians identify any insect or related arthropod. If a mystery creature has six or more legs, the UF Insect ID Lab is the place to call.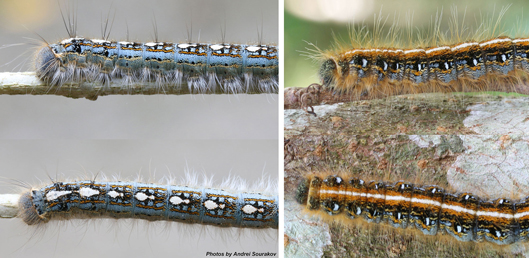 ABOVE: It's a great time of year to look for caterpillars! Most of the hardwood trees have a fresh set of leaves, which means that the early spring defoliators are out too. This includes our two species of tent caterpillars, shown in this nice comparison plate made by Andrei Sourakov. On the left is the forest tent caterpillar, easily recognized by its blue color and the row of white footprint-shaped dots down its back. The eastern tent caterpillar has less blue, and a solid white line down its back.

Lyle Buss is the UF/IFAS Insect ID Lab manager.

Think it might be a nematode problem? The Nematode Assay Laboratory serves Florida and other states by providing nematode assays and expert advice regarding nematode management.
For more information on the Nematode Assay Laboratory, please contact the lab manager Dr. Billy Crow.

New on Featured Creatures:

Northern house mosquito, Culex pipiens Linnaeus, 1758 (Insecta: Diptera: Culicidae) written by Abdullah A. Alomar, Nathan D. Burkett-Cadena, Derrick K. Mathias.

Black dwarf honey bee, Apis andreniformis Smith (Insecta: Hymenoptera: Apidae) written by Mary Nordgulen, Brynn Johnson, and Cameron Jack.

Tomato bug, tobacco leaf bug, Nesidiocoris tenuis Reuter (Insecta: Hemiptera: Miridae) written by Victoria Oluwaseun Adeleye and Dakshina R. Seal.
Do you have a favorite creature? Learn how to make it into a Featured Creatures!
return to top
On March 31st, Dr. Rebecca Baldwin and Dr. Roberto Pereira moderated the 2021 ESA SEB Symposium "Embracing Challenges and Moving Forward through Virtual Entomology Experiences in Education, Outreach, and Extension" Speakers included: Amy Vu, Jennifer Standley and Dr. Rebecca Baldwin, Dr. Claudia Riegel, and Dr. Roberto Pereira.

On March 3rd, Dr. Billy Crow presented "Nematodes on golf course bermudagrass" for the Gulf Coast Golf Course Superintendent's Chapter in Fairhope, Alabama.
On March 16th, Dr. Billy Crow presented "Nematology training for Mastergardeners" in Charlotte County by Zoom.
On March 16th, Dr. Billy Crow presented "Nematodes in Volusia County turf and ornamentals" at the Volusia County Extension office in Deland.
On March 24th, Dr. Billy Crow presented "Lance and root-knot nematodes on bermudagrass, 2021" at the Florida Turfgrass Association regional seminar in Ft. Myers.
On March 31st, Dr. Billy Crow presented "Nematodes in Duval County turf and ornamentals" at the Duval County Extension office in Jacksonville.
Entomology Education and Outreach News
return to top
Don't forget the Entomology and Nematology Education and Outreach Program is available and will accommodate to both virtual presentations and approved in person presentations too!
Recent Outreach events:
Alachua County Elementary Schools: Jennifer Standley, the UF Entomology and Nematology Student Outreach Coordinator and Dr. Rebecca Baldwin, the faculty Outreach Director, have been approved for virtual presentations through the Alachua County School Board. Throughout March virtual presentations about entomology were provided to a variety of virtual classes. Through these virtual presentations, more than 300 youth were reached.

Having virtual presentations means students at the main campus in Gainesville and UF/IFAS RECs have been able to participate! Thank you to our volunteers: Michele Himadi, Christian Fernandez, Melody Bloch, and Isabela Estrada. Christian was a super star entomology student in an event in which the youth participants had muted video and wanted someone to eat a mealworm. The laughter was contagious.

Incredible Insect Badge, 3/5: Jennifer Standley led a virtual presentation for Alachua County Girl Scouts as part of the requirement to their earning a "Bug Badge."


Earth Fest - Celebrate Arbor Day, Marion County 4/24: The Outreach Program set up a booth displaying the amazing arthropods and it had educational materials about our love of insects to celebrate Earth Day.
Future Outreach events:
6/21-6/25: This will be in person…yes, we said IN-PERSON! The ghost-BUG-sters camp will be a week-long event for youth between the ages of 10-18. Campers will learn all about arthropods with ghostly names, see the ghost ant change colors based on diet, learn why the ghost mantis is not permitted in Florida, search for phantom bugs (stick insects) as they field collect, meet a "Scientist of the Day", and get started on an insect collection they can submit at the Florida 4-H Insectathon. If entomology students wish to volunteer as camp leaders, please speak with Dr. Baldwin to receive a Bug Camp Volunteer Guide and register for mandatory youth conference training.

Entomology on the Go -
What's better than a live show and tell of some really cool arthropods?! Our live petting zoo consists of: tarantulas, scorpions, vinegaroons, bess beetles, Madagascar hissing cockroaches, and native insects, when in season. With a short training program, they are available for you to check out should you be leading an outreach event, even if it is virtual. The critters are always popular with both youth and adults and are used as a tool to expose the public to STEM disciplines. We have large wood and Plexiglas cages for viewing our native orb weaving spiders. There is one travel cage and one larger static cage. We also have activity kits and lesson plans that are available as well. Please be sure to contact us and review the protocol on transportation and handling of the animals. If you lead an outreach event, be sure to fill out a documentation form so your event can be included in the newsletter and we can log all outreach events. Also note that volunteering to assist with outreach events will count as departmental service for ENSO travel grants. (Please note that some venues require background checks or additional screening.)
If you have any questions or would like to volunteer, please email us.
Cheers – Jennifer Standley, Outreach Coordinator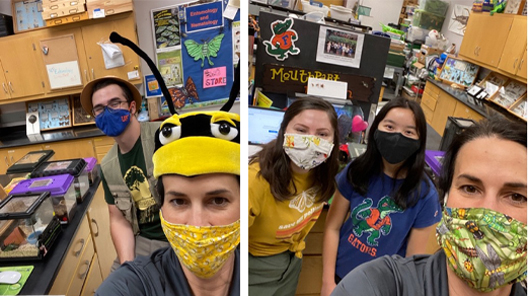 ABOVE: From left to right: Jennifer Standley and Christian Fernandez ready to present virtually on March 15th. Michele Himadi, Isabela Estrada, and Jennifer Standley after a morning of presenting virtually to elementary kids on March 17th.


ABOVE: Dr. Rebecca Baldwin received "Paper-Plate" awards from Alpha Gamma Rho and Sigma Alpha for teaching and advising. Deans Turner and Brendemuhl, along with Dr. Emerson and members of AGR and SA made a surprise visit to ENY 1001, Bugs and People class to present the awards.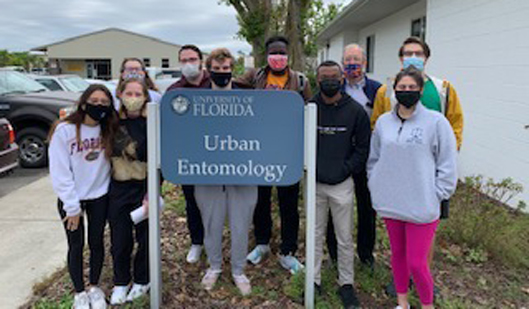 ABOVE: The UF Mock Trial Competition Team will be competing in a national mock trial event in April 2021 litigating a case involving bed bugs. The Mock Trial team visited the Urban Entomology Lab to learn more about bed bug biology and laws involving bed bugs. The team gained knowledge from Dr. Roberto Pereira, Dr. Phil Koehler, and Dr. Rebecca Baldwin, so were able to use materials from the Entomology Education and Outreach Program and Urban Entomology Lab to video an "expert witness" testimony acted out by one of the team members. Good luck UF Mock Trial Team and may your new bed bug knowledge please the court. The UF Mock Trial team president is Richard German and the coach is Dr. Laura Sjoberg.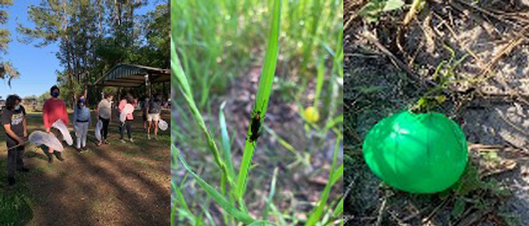 ABOVE: The Entomology Club held an insect themed egg hunt in NATL. Even the wildlife enjoyed the games. Pictured left to right: Entomology students are ready for an adventure. Lovebugs rest near a yellow egg. A dragonfly has claimed this find.
Getting social!
Use #UFBugs so our department can find and share your social posts easily!

We have several social media sites for the Entomology & Nematology Department. To make them easily searchable, all three (
YouTube
,
Facebook
and
Twitter
) have the same page name: UFEntomology. Please share these links with past students or colleagues who may have an interest in departmental activities.
return to top
The ESA annual meeting will take place in Denver, Colorado October 31st to November 3rd. Registration will open in June.
UF Entomology Field Camp: June 21st to the 25th. If entomology students wish to volunteer as camp leaders, please speak with Dr. Baldwin. Find out more
here
.
Want to stay up to date? Check out our website home page for a link to our Google calendar.

Postdoctoral spotlight – Dr. Ginny Greenway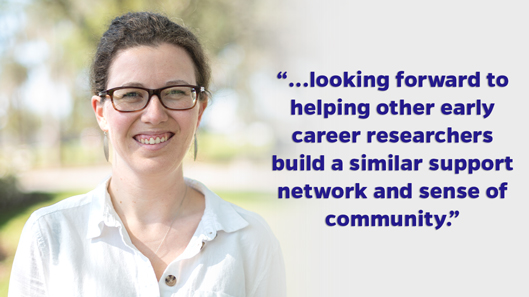 Ginny is an evolutionary ecologist with a focus on the causes and consequences of variation in reproductive success in insects. She's interested in understanding why some individuals produce so many more offspring than others, and why some individuals fail to produce offspring at all. Ginny has been working with Dr. Miller, and is currently collaborating with researchers in Cambridge and London in the United Kingdom to examine the biomechanics of insect weapons. She's also part of team developing a workshop and longer-term initiative on peer-mentoring circles for this year's Animal Behavior Society Meeting. "I've benefitted greatly from being part of a peer-mentoring circle over the last 2 years and am looking forward to helping other early career researchers build a similar support network and sense of community." Outside of work she likes spending time outdoors, listening to podcasts, and dabbles in wildlife photography.
return to top
Suzy Rodriguez is the newsletter editor and does the HTML coding. Newsletters usually are published around mid-month. Submit items for an issue by the seventh of the month.
We like to share news when it happens using our social media outlets: Twitter, Facebook and YouTube. Follow us on these sites for daily updates! When you send news, we will post it on one or more of these sites and again in the monthly newsletter. Please be sure you have permission from people in photographs you submit for publication.

UF-Bugnews-L listserv subscribers receive notices when issues are posted. Our home page has instructions for subscribing and unsubscribing.
Special thanks to James Brown and Nancy Sanders for reviewing the newsletter for errors, and to Jane Medley and Don Wasik for webpage build and design.
Give Back
Want to support the UF Entomology & Nematology Department? Consider making an online gift today! Questions can be directed to Cody Helmer at (352) 392-1975 or chelmer@ufl.edu.