Coming soon...
Bromeliad terraria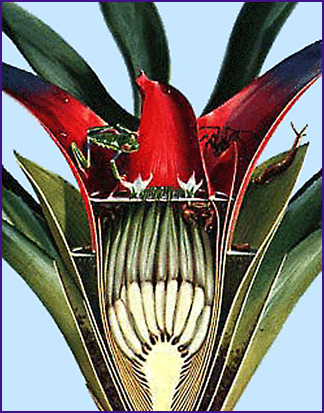 Original Painting by: William H. Bond
As Published in National Geographic 1975 147(3):393
Used with Permission of National Geographic

REFERENCES

Cruz-García, S., Garrido-Jiménez, I., Hornung-Leon, C.T. 2010. Las bromélias como importantes fito-telmata. Boletín de la Sociedad Latinoamericana y del Caribe de Cactáceas y otras Suculentas 7(1): 8-10.

Demirozer, O, Tyler-Julian, K, Funderburk, J. 2015. Seasonal abundance of Thysanoptera species in Tillandsia usneoides (Poales: Bromeliaceae). Florida Entomologist 98: 1179-1181.

Kamke, R., Schmid, S., Zillikens, A., Lopes, B.C., Steiner, J. 2011. The importance of bees in the short corolla bromeliad Aechmea caudata in southern Brazil. Flora 206: 749-756.

Palacios-Vargas J.G., Hornung-Leoni, C.T., Garrido, I. 2012. Collembola in epiphytic bromeliads (Tillandsia imperialis: Bromeliaceae) from Hidalgo, Mexico and description of a new Sminthurinus (Collembola: Katiannidae). Brenesia 78: 58-64.

Solervicens, J., Estrada, P, Beéche, M. 2004. Entomofauna asociada a tallos florales e infrutescencias de especies de Puya (Bromeliaceae) de Chile Central. Revista Chilena de Entomología 30: 31-44.
Sponsored by:
The University of Florida
Department of Entomology & Nematology
Gainesville, Florida
Visit our Home Page!