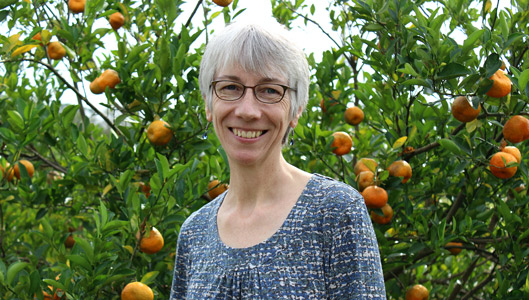 ABOVE: Dr. Bryony Bonning along with colleagues Dr. Lukasz Stelinski, Dr. Choaa El-Mohtar, Dr. Nabil Killiny, Dr. Manjul Dutt, and Dr. Monique Rivera, UC Riverside, and Citrus Research and Education Center were awarded a nearly $1.5 million grant from USDA-NIFA's Emergency Citrus Disease Research & Extension program to evaluate the combined impacts of gene silencing RNAs and bacterial pesticidal proteins on the Asian citrus psyllid, Diaphorina citri. Read the full USDA press release; IFAS blog here. Photo by Kay Weigel.

New pest reported in South Florida: The Black Bean Bug. Dr. Amanda Hodges and graduate student Adam Pitcher noticed an unusual post on iNaturalist recently and suspected a new plataspid bug in Florida.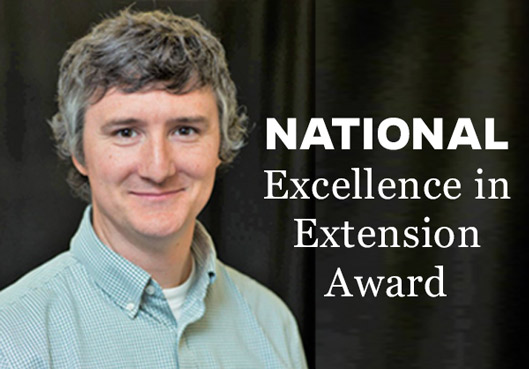 ABOVE: Congratulations to Dr. Jamie Ellis! He won the NATIONAL 2020 Excellence in Extension Award. Read the full USDA press release; IFAS Blog here. Photo by UF/IFAS.

CALL for applicants! The 2020 CAMTech request for applications (RFA) has been released with a deadline of December 1st 2020. They are currently accepting one-page pre-proposals on pre-competitive research related to arthropods and nematodes. This RFA is open to UF and University of Kentucky researchers only. For more information, contact camtech@ifas.ufl.edu.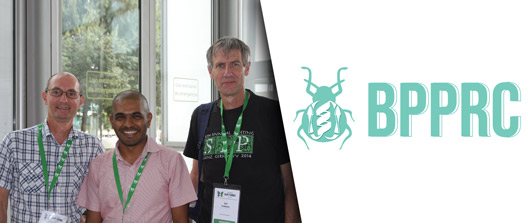 ABOVE:
Dr. Suresh Pannerselvam
, a postdoctoral researcher in Bryony Bonning's lab, in collaboration with Dr. Ruchir Mishra, Dr. Neil Crickmore, Dr. Colin Berry, Dr. Tom Connor, and Grace Crummer established the Bacterial Pesticidal Protein Resource Center (BPPRC) at
bpprc.org
. The BPPRC was produced in conjunction with the Crickmore et. al (2020) publication of new pesticidal protein nomenclature. The database includes information and analysis of bacteria-derived pesticidal proteins (i.e. BT toxin), for academics, regulators, and research and development personnel. The BPPRC project is funded by
NSF
, and
CAMTech
with logo design by
Suzy Rodriguez
. Photo: Colin Berry, Suresh Pannerselvan and Neil Crickmore (Taken at 2019 annual meeting of the Society of Invertebrate Pathology held in Valencia, Spain).