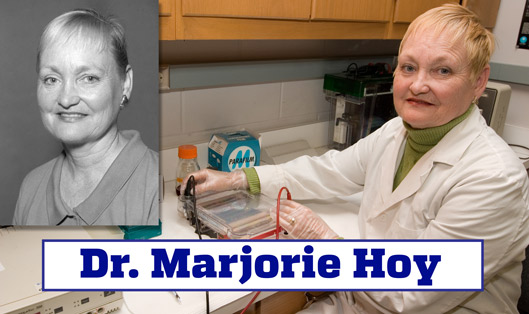 We are all extremely saddened to learn that Dr. Marjorie Hoy passed away suddenly on June 19th while on an extended trip to Colorado to be close to her family. Dr. Hoy was an exceptionally talented and rare entomologist who spent considerable time both at the University of California Berkeley and at the University of Florida. She received her M.S. (1966) and Ph.D. (1972) in the former Department of Entomology. Time to completing her Ph.D. was phenomenal: 1.5 years–a record! After leaving briefly for a postdoctoral position in Connecticut, she returned to Berkeley as an assistant professor in the Department of Entomology in 1976. She achieved the rank of full professor six years later. In 1992, she accepted the Davies, Fischer and Eckes Endowed Chair in Biological Control at the University of Florida. After her retirement in 2015, she was Professor Emerita of Biological Control at the University of Florida.
Dr. Hoy was a pioneer in insect molecular genetics, in particular as it applied to biological control and agricultural acarology. Her book, Insect Molecular Genetics, is considered a classic. Her publication list is lengthy, at least 159 peer-reviewed articles and 53 book chapters and books.  Her work is frequently cited, by some estimates, 12,000 times. She was advisor and mentor to 12 MS and 15 Ph.D. students, as well as 20 postdocs, many of whom went on to successful academic careers. During her long and productive career, Dr. Hoy received many special recognitions and awards including the first female faculty member of the Department of Entomology, UC Berkeley (1976); Entomological Society of America Founders Memorial Award (1992); Fellow AAAS (1990). Marjorie was a knowledgeable and dynamic instructor, as well as an advocate for increasing diversity among students and academic hires in Entomology. A recent interview and article featuring Dr. Hoy's illustrious career can be found at https://academic.oup.com/ae/article/65/3/158/5571419.
Please keep her and her family in your thoughts and prayers.
-Vernard Lewis, UC Berkeley emeritus, Michael Haverty, retired USDA, & Blair Siegfried UF Entomology & Nematology Department Chair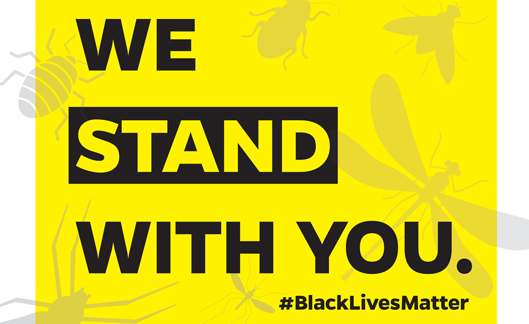 Dear colleagues and friends,
The recent killings of George Floyd, Ahmaud Arbery, and Breonna Taylor, tragic to their families and friends, have also sent waves of shock and anguish throughout our Entomology and Nematology community. We acknowledge the pain, anger, and exhaustion of our students, colleagues and acquaintances who navigate the daily reality of persistent, systemic, and institutionalized racism. Please join us in pledging your support for the people who cannot go about their daily activities without fear or discrimination, and who lack the freedoms that many of us take for granted as our basic rights as citizens. In particular, we want to express our support for minoritized colleagues and students within our Entomology and Nematology community, especially our Black colleagues at this time. We grieve with you, although many of us cannot fully understand what you are going through. Your contribution to science matters. Your voice in our department matters. Black Lives Matter. We, as a community, pledge to work together to confront instances of racism, bigotry and injustice in our department and at UF and to take a stronger and more deliberate approach to confronting these injustices than we have in the past. As a department, it is our duty to take action to ensure that we do not perpetuate a culture of silence. We will hold listening sessions, conduct a departmental climate survey, and provide resources and opportunities for training in bystander intervention and implicit bias. Our goals are to create a departmental climate where everyone of every identity is valued, respected, welcomed, and feels safe and supported to grow and develop as individuals and scientists, and to help our departmental members grow in their individual understanding of racism and how to take an active stand against bigotry. We welcome your input to the recently established Diversity, Equity, and Inclusion working group. Silence is not a solution. Please contact the working group in our department to get involved by emailing Heather McAuslane at hjmca@ufl.edu.

Dr. James P. Cuda was selected for inclusion in the 2020 edition of Who's Who in the World.

Dr. Jiri Hulcr was selected as one of the recipients of the international 2020 Fulbright Scholar Program Award. With the funding, he will join a team of collaborators in Europe to study the impact of the massive outbreak of the Eurasian spruce beetle triggered by climate change. Good work Dr. Hulcr!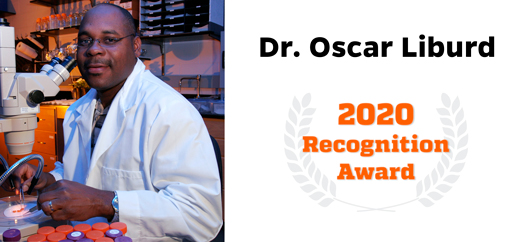 ABOVE: Dr. Oscar Liburd received the 2020 Recognition Award in Entomology from the Entomological Society of America southeastern branch. The award recognizes his research and extension contributions to agricultural pest management as well as his service to the society. Congratulations Oscar! UF/IFAS photo by Tyler Jones.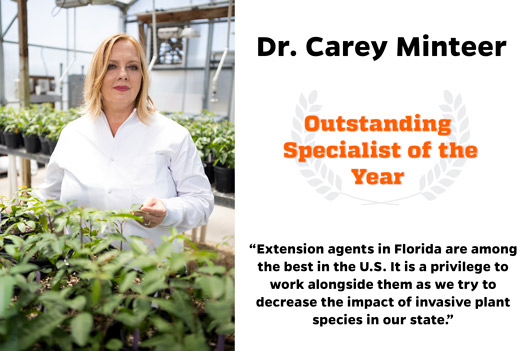 ABOVE: Dr. Carey Minteer, receives the "Outstanding Specialist of the Year" title from Florida Association of County Agricultural Agents! A huge congratulations Carey! Read the UF/IFAS blog here. UF/IFAS photo by Tyler Jones.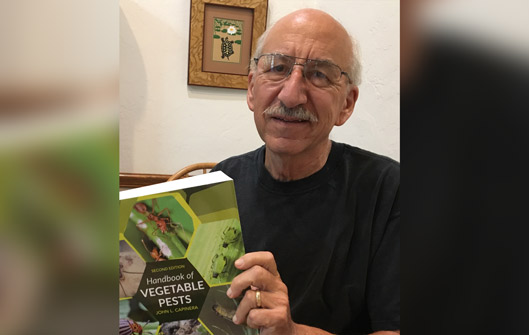 ABOVE: Dr. John Capinera holds his second edition Handbook of Vegetable Pests! First edition published in 2001, this second edition is an update adding about 50 or more entries of mostly new insects introduced in the last 20 years! Published by Academic Press, it is now available on Amazon.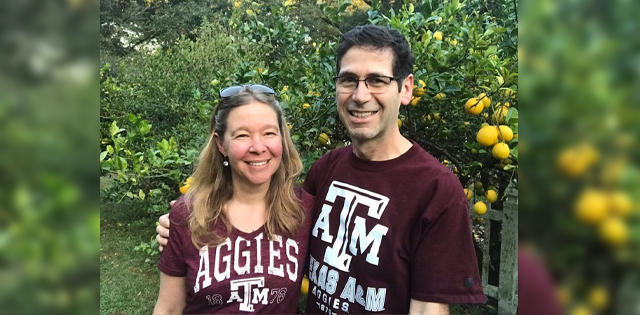 ABOVE: Dr. Phil Kaufman and Dr. Jennifer Gillett-Kaufman are leaving UF at the end of June to join Texas A&M University in College Station, Texas. Jennifer joined our department in January of 2005 and Phil joined in May of 2005. They met in the department and were married on July 4, 2008. Phil will be the head of the Texas A&M entomology department and Jennifer will be an instructional professor there. They both tremendously enjoyed their time as faculty members at UF and will miss the work family they have here.