Urban Entomology, our legend…



The University of Florida Entomology and Nematology Department has a long and rich tradition of research, teaching and Extension programs in Urban Pest Management and has been instrumental in serving the needs of the Pest Control Industry in our state. This commitment to serving stakeholders is ongoing, and it is my sincere hope that we can grow our programs such that UF is situated as the premier institution in the country for expertise in urban entomology and pest management.

In March 2020, just before the onset of the coronavirus pandemic and the subsequent disruption of our activities, our faculty members with urban programs as well as representatives of industry and regulatory communities came together to establish a strategic plan for UF Urban Pest Management programs. The day-long event was led by a skilled facilitator, and while the plan is still evolving, building on the foundation of existing programs allowed us to develop a number of recommendations.

First, we requested that Dr. Phil Koehler's position be replaced upon his retirement. We are currently in the process of recruiting candidates. While it is impossible to replace a legend such as Dr. Koehler, based on our strategic planning, there is a consensus that this position should have a research and teaching focus that will complement our existing programs and will work closely with industry to better understand the challenges and complexities of managing pests in an urban environment. This position will complement the well-established extension programs (Fume School, Pest Management University, Southeast and Southwest Pest Management Conferences). Second, more stable funding was secured for Dr. Roberto Pereira who will continue to share in Extension responsibilities in support of the industry. These changes along with new faculty hires in public health pests have allowed us to maintain our strengths in management of structural, lawn and ornamentals pest while opening new opportunities to work toward solving industry problems.

The investment that UF IFAS is making in Urban Entomology is significant especially during these uncertain times and budgetary constraints. I believe strongly that our Urban programs serve an important role in providing a direct linkage for IFAS to work with industry and impact the lives of the majority of Floridians. Urban pest management is a high priority for our department and for IFAS.

Our Department has been extremely fortunate to have benefited from the generous support of pest management industry for many years. The commitment on the part of industry leaders such as Chuck Steinmetz, the Sapp Family and organizations such as Florida Pest Management Association and the Rollins Organization, have been instrumental to our development and we look forward to continued cooperation and in developing programs that support the industry with sound research, education and extension.
-Dr. Blair Siegfried, Professor and Chair.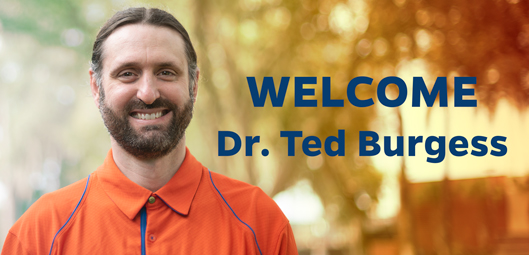 ABOVE: Dr. Ted Burgess, Veterinary Entomologist, joins our Gainesville faculty. Welcome Ted Burgess!

The Dale Lab is excited to welcome Dr. Bernadette Mach to the team! Dr. Mach joins us after recently completing a Ph.D. in Dr. Dan Potter's lab at the University of Kentucky. Dr. Mach will be working in collaboration with Dr. Jaret Daniels to develop environmentally friendly ornamental plant production protocols, a project funded through the UF Research Opportunity Seed Fund and the Florida Nursery Growers and Landscape Association.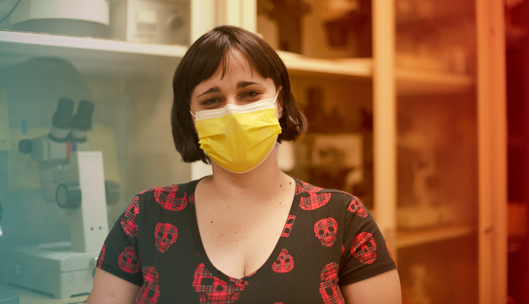 ABOVE: Jenny Carr takes on a new role as Senior teaching Lab Specialist at our Gainesville campus. Congratulations Jenny!

Dr. Christine W. Miller, Secretary-elect of the Division of Ecology and Evolution for the Society of Integrative and Comparative Biology (SICB) served as the Chair of the Division's virtual student award talks on January 3, 2021.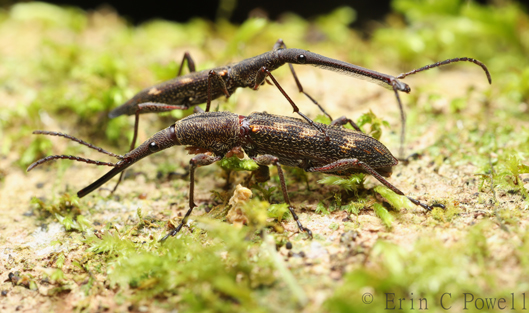 ABOVE: A photograph taken by Dr. Erin Powell, member of the Taylor Lab, will be featured in ESA's 2021 World of Insects calendar. More than 700 photo entries were submitted for the annual calendar competition. Her photo of a pair of endemic New Zealand giraffe weevils was taken while conducting nocturnal field work during her Ph.D.

Diversity, Equity, and Inclusion…

As a committee, our initial focus has been on gathering information and feedback on the current departmental environment, through a climate survey and UF Counseling and Wellness Center-facilitated listening sessions, as well as compiling resources and trainings. After an unprecedented and turbulent 2020, we are now looking forward to a year of meaningful change at several levels, through implementation of concrete measures to advance diversity, equity, and inclusion principles within our own department.

These measures are encapsulated in a strategic plan mandated by UF IFAS Vice President, Scott Angle, which the committee has been working on for several months. The strategic plan offers an exciting opportunity to be ambitious and take a multi-pronged and long-term approach to DEI progress. The broad goals of the departmental strategic plan are three-fold:

1. to increase recruitment and retention of undergraduates, graduate students, faculty, and staff in under-represented groups,
2. to improve the Gainesville campus climate by providing a more welcoming and inclusive environment, and
3. to continue to promote awareness of, and involvement in, efforts to increase diversity, equity and inclusion in the department.

Each goal includes specific actions, ranging from outreach and hiring changes to hosting guest speakers and providing training and educational opportunities. Stay tuned for more on this as the plan is finalized.
One established opportunity is DEI committee member James Brown's "Making a Minority" (https://makingaminority.weebly.com/) podcast club, which is set to resume January 25th, 2021 after a successful first semester. The 2021 Spring semester's playlist will feature podcasts that focus on the experience of poverty in the United States and how to lift people out of poverty. Each week members of this club meet to learn about the origins of labels given to minoritized people, to share their perspectives of the assigned podcast, and to unlearn the negative stigma assigned to these groups. Please visit the website or reach out to James Brown directly if you're interested in joining.

As a DEI committee we believe that all the members of our department deserve a space where they can feel welcomed and trust that their voice and opinions are valued and respected. On Wednesday, January 6th, the Capitol Building in Washington, DC was attacked and the imagery from those moments will have a lasting impression in our hearts and our country. In the wake of the events in Washington and the many unprecedented events of 2020 there is an opportunity to build a stronger, closer community for all of us here in the Entomology and Nematology Department. The DEI committee invites anyone impacted by the events in Washington to contact any of our DEI committee members for support or opportunities to express themselves.

As a reminder, there is now a webpage dedicated to DEI initiatives on the departmental website (http://entnemdept.ufl.edu/diversity-equity-and-inclusion) containing valuable resources about UF DEI events for students, staff and faculty and links to UF HR web pages. As always, the DEI committee welcomes feedback and input on how to improve the department's climate. Please reach out to any committee members or visit the DEI webpage to submit anonymous thoughts via a Qualtrics link.

There is no doubt that 2020 disrupted our lives in ways previously unimaginable but it also reaffirmed the importance of our DEI committee. As we continue our work, we hope that you continue to support us and each other as we move towards a more diverse, equitable, and inclusive community in 2021.


-Respectfully, ENY DEI committee

Remembrances...

As we turn the page to a new year with hopes and aspirations for better times in 2021, we would be remiss in not acknowledging the passing in late 2019 and in 2020 of several long serving and cherished retired faculty colleagues. 2019 saw the untimely passing of Jim Maruniak, a beloved teacher and mentor to many entomology and virology students, and Freddie Johnson, an extension-focused professor with a larger-than-life personality. 2020 brought additional sadness as we said goodbye to nematologist and former graduate coordinator, Grover Smart, and the "firefly doc", Jim Lloyd. Finally, we were shocked to hear of the untimely passing of Eminent Scholar Emerita, Marjorie Hoy, unexpectedly and so recently into her retirement. Please keep a warm thought for our departed colleagues' family, friends, and colleagues.


- Dr. Heather McAuslane, Professor, Associate Chair, and Graduate Coordinator