November 2011
---
Faculty News
Dr. Lance Osborne was featured in a UF/IFAS news release on how gall midges can help control the twospotted spider mite. Click here for details.
Dr. Hail Shannag, of the Jordan University of Science and Technology is working in Dr. John Capinera's lab this year. Dr. Shannag is a Fulbright Scholar, and is conducting research on neem and its effects on insect behavior and development.


Staff News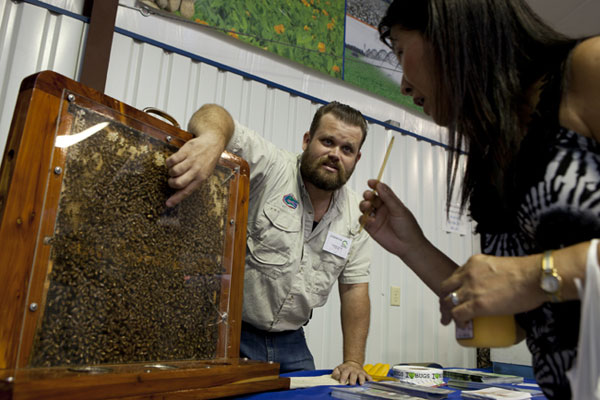 During 18-20 October, Mark Dykes manned one of the UF/IFAS booths at the Sunbelt Ag Expo in Moultrie, Georgia.
Publications
Avery PB, Wekesa VW, Hunter WB, Hall DG, McKenzie CL, Osborne LS, Powell CA, Rogers ME. 2011. Effects of the fungus Isaria fumosorosea (Hypocreales: Cordycipitaceae) on reduced feeding and mortality of the Asian citrus psyllid, Diaphorina citri (Hemiptera: Psyllidae). Biocontrol Science and Technology 21: 1065-1078.
Wekesa VW, Avery PB, McKenzie CL, Powell CA, Osborne LS. 2011. Control of Liriomyza trifolii (Diptera: Agromyzidae) in cut flowers using Isaria fumosorosea (Hypocreales: Cordycipitaceae) alone and in combination with insecticides. Journal of Entomological Science 46: 80-84.
Avery PB, Mannion CM, Powell CA, McKenzie CL, Osborne LS. 2011. Natural enemies managing the invasion of the fig whitefly, Singhiella simplex (Hemiptera: Aleyrodidae), infesting a Ficus benjamina hedge. Florida Entomologist 94: 696-698.
Lapointe SL, Stelinski LL. 2011. An applicator for high viscosity semiochemical products and intentional gaps for mating disruption of Phyllocnistis citrella. Entomologia Experimentalis et Applicata 141: 145-153.
Tiwari S, Gondhalekar AD, Mann RS, Scharf ME, Stelinski LL. 2011. Characterization of five CYP4 genes from Asian citrus psyllid and their expression levels in Candidatus Liberibacter asiaticus-infected and uninfected psyllids. Insect Molecular Biology 20: 733-744.
Vitorino MD, Christ LR, Barbieri G, Cuda JP, Medal JC. 2011. Calophya terebinthifolii (Hemiptera: Psyllidae), a candidate for biological control of Schinus terebinthifolius (Anacardiaceae): Preliminary host range, dispersal, and impact studies. Florida Entomologist 94: 694-695.
Burckhardt D, Cuda JP, Manrique V, Diaz R, Overholt WA, Williams DA, Christ LR, Vitorino MD. 2011. Calophya latiforceps, a new species of jumping plant lice (Hemiptera: Calophyidae) associated with Schinus terebinthifolius (Anacardiaceae) in Brazil. Florida Entomologist 94: 489-499.
Gidudu B, Copeland RS, Wanda F, Ochaya H, Overholt WA. 2011. Distribution, interspecific associations and abundance of aquatic plants in Lake Bisina, Uganda. Journal of Aquatic Plant Management 49: 19-27.


Fall Semester 2011 Entomology Seminars
The department's entomology seminars take place on Thursday afternoon in Room 1031, unless indicated otherwise. The talks start at 4:00 pm. with refreshments served at 3:50 pm. Other details, as well as a listing of this semester's talks, are available on the seminar site.


Meetings and Presentations
Dr. Jawwad Qureshi was invited by the United Nations Food and Agriculture Organization to speak at a Subregional Workshop on "Biological control in Huanglongbing (HLB) recommendations for Central America," held 5-7 September 2011 at Muelle de San Carlos, Costa Rica. Dr. Qureshi spoke on "Management of HLB in Florida with emphasis on biologically based management of Asian citrus psyllid."
During 10-13 October, Dr. James P. Cuda presented "Results of Native Range Surveys to Identify Natural Enemies of Hygrophila polysperma," an invited talk at the annual meeting of the Florida Aquatic Plant Management Society, in St. Augustine, Florida.
During 1-4 November, Dr. James P. Cuda participated in the 38th Annual Natural Areas Conference held in Tallahassee, Florida. Cuda was an invited speaker for a symposium on Invasive Plant Risks, Management and Restoration, and his presentation focused on "Integrated Management of Cogongrass, Imperata cylindrica (Poaceae): Prospects for Biological Control." He also presented the poster "Prospects for Biological Control of Hygrophila polysperma," co-authored by Drs. Abhishek Mukherjee and William Overholt.
Drs. James P. Cuda and Jennifer Gillett-Kaufman contributed educational materials developed for the hygrophila biological control program for the IFAS Exhibit on "Silent Invaders of Swamps and Wetlands" showcased at the 2011 Sunbelt Ag Expo held in Moultrie, Georgia, 18-20 October.


Grants
Dr. James P. Cuda received a $9,000 grant from the UF/IFAS Center for Aquatic and Invasive Plants to support graduate student research on invasive plants.


Newsletter Minutiae
Thomas Fasulo is the newsletter editor. Departmental faculty, staff, students and alumni can submit news anytime to fasulo@ufl.edu. Issues usually are published by early mid-month. Submit items for an issue by the 7th of that month.
UF-Bugnews-L listserv subscribers receive notices when issues are posted on the newsletter Web site at http://entomology.ifas.ufl.edu/news, which has instructions for subscribing and unsubscribing. Pam Howell and Nancy Sanders review the newsletter for errors. Thomas Fasulo does the HTML coding.
In the last 12 months, the newsletter Web site recorded 117,135 page views.
---
November 2011.