November 2010
---
Faculty News
Two of our graduates, Dr. Joseph DiClaro (Ph.D. '10) and Jeffrey Hertz (M.S. '07), and two faculty, Drs. Phil Koehler and Roberto Pereira, received a license (UF # 13018) for "Fly Attractant System with Toxicant-Treated Cords" which is under development for commercial use. Both graduates are now back on active duty with the U.S. Navy.
Drs. Nan-Yao Su and Hou-Feng Li, of the UF/IFAS Fort Lauderdale Research and Education Center, and Dr. Wen-Jer Wu of the National Taiwan University organized the Symposium and Workshop of Termite Biology and Control in Taiwan, held on 1-2, and 9 October 2010 in Taipei. Over 200 researchers, students, and pest control operators attended the conference. Drs. Su and Li gave three presentations: "Biology and control of subterranean termites in the 21st century," "Global distribution and population genetics of Coptotermes," and "Identification and collection of termites in Taiwan."
Dr. James P. Cuda and his research on hydrilla Integrated Pest Management (IPM) were featured in an article of the 4 October issue of the TC PALM, the local newspaper for St. Lucie and Palm Beach counties. The article highlighted the new USDA NIFA IPM RAMP grant awarded to UF, FAMU, and USACOE research/extension specialists.
Drs. James Cuda, Jennifer Gillett-Kaufman, and William Overholt were featured in an article published in the Fall 2010 issue of Southern Exposure, the official newsletter of the Southern IPM Center. The news article highlighted UF's new hydrilla IPM grant.


Alumni News
Dr. H. Alejandro Arevalo (MS '03, Ph.D. '06) accepted a position at the Research Triangle Park area in North Carolina as a Senior Research Entomologist for BASF. Alejandro, who was a post-doctoral associate at the UF/IFAS Southwest Research and Education Center (SWREC) at Immokalee, extends a 'thank you' to the entomology team at the SWREC, and especially to Dr. Phil Stansly of the SWREC, to the people in Dr. Oscar Liburd's Small Fruit and Vegetable IPM lab, to Dr. Howard Frank's Biocontrol lab (both on the Gainesville campus), and to all the people that have offered their support and friendship throughout his great time in Florida.


Publications
Avery PB, Queeley GL, Faull J, Simmonds MSJ. 2010. Effect of photoperiod and host distribution on the horizontal transmission of Isaria fumosorosea (Hypocreales: Cordycipitaceae) in greenhouse whitefly assessed using a novel model bioassay. Biocontrol Science and Technology 20: 10, 1097—1111. doi: 10.1080/09583157.2010.515299, First posted on: 18 August 2010 (iFirst)
Obenauer PJ, Kaufman PE, Kline DL, Allan SA. 2010. Detection of and monitoring for Aedes albopictus (Diptera: Culicidae) in suburban and sylvatic habitats in north central Florida using four sampling techniques. Environmental Entomology 39: 1608-1616.
Kaufman PE, Nunez SC, Geden CJ, Scharf ME. 2010. Selection for resistance to imidacloprid in the house fly (Diptera: Muscidae). Journal of Economic Entomology 103: 1937-1942.
Mann RS, Kaufman PE, Butler JF. 2010. Evaluation of semiochemical toxicity to houseflies and stable flies (Diptera: Muscidae). Pest Management Science 66: 816-824.
Kaufman PE, Mann RS, Butler JF. 2010. Insecticidal potency of novel compounds on multiple insect species of medical and veterinary importance. Pest Management Science DOI 10.1002/ps.2025.
Capinera JL. (October 2010). European earwig, Forficula auricularia Linnaeus. Featured Creatures. EENY-483. http://entnemdept.ifas.ufl.edu/creatures/veg/european_earwig.htm
Mann RS, Qureshi JA, Stansly PA, Stelinski LL. 2010. Behavioral response of Tamarixia radiata (Waterston) (Hymenoptera: Eulophidae) to volatiles emanating from Diaphorina citri Kuwayama (Hemiptera: Psyllidae) and citrus. Journal of Insect Behavior 23: 447-458.
Stelinski LL, Boina DR, Meyer WL. 2010. Oviposition marking behavior of Diachasma alloeum (Hymenoptera: Braconidae), parasitizing Rhagoletis pomonella (Diptera: Tephritidae). Journal of Insect Behavior 23: 419-430.
Seal DR, Kumar V. 2010. Biological response of chilli thrips, Scirtothrips dorsalis Hood (Thysanoptera: Thripidae), to various regimes of chemical and biorational insecticides. Crop Protection 29: 1241-1247.
Li H-F, Yang R-L, Su N-Y. 2010. Interspecific competition and territory defense mechanisms of Coptotermes formosanus and Coptotermes gestroi (Isoptera: Rhinotermitidae). Environmental Entomology 39: 1601-1607.
Chiu C-I, Li H-F, Yang M-M. 2010. Geographical distribution and dispersal flight season of Odontotermes formosanus (Isoptera: Termitidae) in Taiwan. Formosan Entomologist 30: 193-202.
Cuda JP. 2010. Gainesville: Hydrilla IPM RAMP Project Funded. Florida Association of Natural Resource Extension Professionals Newsletter, October 2010-April 2011.


YouTube Entomology and Nematology Site
Jane Medley, Senior Art and Graphics Specialist, and Kay Weigel, Graphics Designer, have "completed" our departmental site on YouTube. Visit the site to see 53 currently posted videos relating to our department. Supposedly, despite any video you select, you will remain on the departmental site. As with anything, there are exceptions and I was soon viewing videos on vampires. This made me think of all the books, TV shows and movies being produced on vampires. This seems like a good source of funding and perhaps our department should investigate it. Meanwhile, if you are with the department, anywhere in the state, and wish to add videos, please contact either Jane or Kay.


Meetings and Presentations
On 13 October, Dr. Christine Miller gave an invited seminar on "Sexual selection in variable environments" as a part of the Ecology and Evolution Seminar Series at the University of Missouri.
During 27-28 October, Dr. Marjorie Hoy attended the Florida Genetics 2010 conference on campus. This was the sixth annual symposium produced by the University of Florida Genetics Institute. It is sponsored by the Center for Epigenetics, College of Letters and Sciences, Department of Molecular Genetics and Microbiology, Graduate Program in Plant Molecular and Cellular Biology, Health Science Center Libraries, the ICBR and the Genetics Institute. Outstanding talks were given by visiting and UF scientists. In addition, over 100 posters were presented by students and faculty from around the campus. For students and faculty interested in genetics, this is a worthwhile way to spend some time without having to spend funds on travel and hotels. Students: if you are doing anything molecular (phylogenetics, ecological, etc.) you can present a poster. Look for the notice about the conference next year; it usually occurs in October.
Dr. Marjorie Hoy presented a talk on "Women in a Nontraditional Field: Entomological Perspectives on Women in Science" at the Women in Science course, Institute for Learning in Retirement, Oak Hammock at the University of Florida on October 22, 2010.
On 3-7 October, Dr. James Cuda attended the 2010 Biological Control for Nature Conference held in Northampton, Massachusetts. Cuda organized the symposium "Role of Molecular Genetics in Identifying 'Fine Tuned' Natural Enemies of Invasive Weeds." He also presented the paper, "Effect of host-plant genotypes on the performance of Brazilian peppertree biological control agents," which was co-authored by Drs. William Overholt and Veronica Manrique of the UF/IFAS Indiana River Research and Education Center.
During 18-21 October, Dr. James Cuda was an invited speaker for the 34th Annual Meeting of the Aquatic Plant Management Society held in Daytona Beach, Florida. Cuda gave the presentaiton "Update: biological control of Hygrophila." The paper was co-authored by Ph.D. student Abhishek Mukherjee, and Dr. William Overholt.


Grants
Drs. Phillip Kaufman and Sandra Allan (USDA-CMAVE, Gainesville) received $198,162 from the USDA-NIFA Pest Management Alternatives Program to develop and deliver an innovative, alternative pest management program for the brown dog tick. This tick continues to establish in homes and kennels with few effective options available outside of regular pesticide applications to animals and structures.


Palm Pests on the Web
The USDA-APHIS Center for Plant Health Science and Technology (CPHST) announced the release of its newest pest identification tool. A Resource for Pests and Diseases of Cultivated Palms: Screening Aid to Pests was developed through collaboration among USDA-APHIS-PPQ-CPHST, University of Florida, and Southern Plant Diagnostic Network personnel. Screening Aid to Pests (SAP) is the first of six tools being developed to support the screening and detection of pests and diseases of cultivated palms in the U.S. and Caribbean, and is aimed primarily at the novice entomologist.
SAP was designed to help users determine which type of arthropod palm pest they have found and features illustrated fact sheets with descriptions of each pest as well as two interactive keys. There is an adult key that helps the user with identifying the order of the pest, and then offers the ability to identify to a lower rank, such as family, genus, or species, as well as a key to select larval species. In the keys themselves, common language terms are used to help support use of the keys by inexperienced individuals. However, in order to maximize their value and validity, some specialized entomological terminology appears in the fact sheets. A glossary with links from the fact sheets, as well as an illustrated primer to insect anatomy, assist the user in understanding such terms.
The screening aid to pests is designed to assist field personnel, such as county extension agents, Master Gardeners, agricultural inspectors, survey specialists, and other interested individuals with pest identification on palms. The resource includes fact sheets as well as adult and larval keys. Although higher magnification can sometimes be helpful, users only need a 10-15X hand lens for use of the keys and character viewing.
SAP is available on the Internet at: http://itp.lucidcentral.org/id/palms/SAP/.
Authors are Amanda J. Redford, Terrence Walters, Amanda Hodges, Forrest W. Howard, and Matthew Trice.


Outreach
Thank you to those members and friends of the department who participated in our October outreach activities:
9 October: Cub Scout Annual Campout, Newberry Sports Complex – Participants: Pablo Chialvo, Dale Halbritter, Stephanie Larrick, Maggie Paxson, Andrea Perez de Solar, Lauren Stewart
13 October: Insect pinning presentation for homeschoolers, High Springs – Participant: Sara Brennan
14 October: Kindergarten lectures, Terwilliger Elementary – Participants: Hannah McKennrick, Maggie Paxson
23 October: UF Family Day, Plaza of the Americas – Participants: Maggie Paxson
23-24 October: ButterflyFest, Florida Museum of Natural History – Participants: Katie Buckley, Jason Graham, Andrea Perez de Solar, Matt Thom, Roxanne Wagner
25 October: Collecting and Curating show for homeschoolers, at our department – Participants: Chris Bibbs, Dale Halbritter, Stephanie Larrick, Thomson Paris, Janine Razze
1 November: "What our department has to offer" presentation to a Life Science Class, McCarty Hall – Participants: Dr. Rebecca Baldwin, Dale Halbritter
We have several Outreach events in November, in and away from the department. Among these are:
8-14 November: Ocali Country Days - 9 am-2 pm weekdays, 9 am-5 pm Saturday and Sunday
10 November: Department tour for a high school group
The live critters are always a hit with children and adults alike. The critters are available for you to check out should you be leading an outreach event. If you lead an outreach, please be sure to fill out a documentation form so your event can be included in the newsletter. If you would like to schedule an event, go to the Outreach pages on our Bug Club Web site and contact us. - Dale A Halbritter, Outreach Coordinator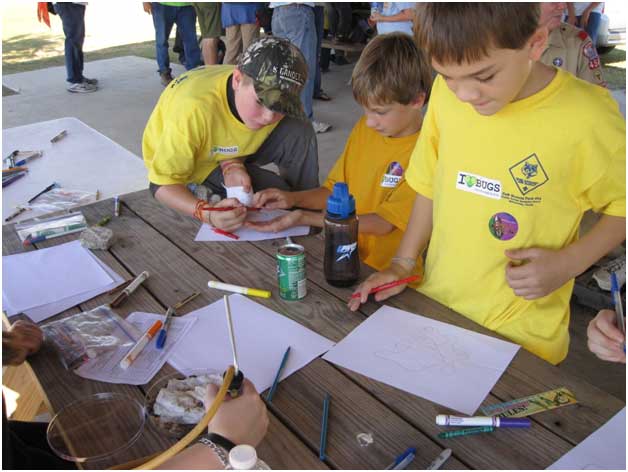 October 9th: Cub Scout Annual Campout in Newberry. Several hundred 1st-5th grade scouts were present
at the campout, and many came through our displays. Scouts learned about how termites use pheromones to
navigate. Termites follow a trail drawn with ballpoint pens, which contain a chemical that resembles their pheromone.
Other writing utensils do not work. They also got to see the insect petting zoo and made art with live maggots.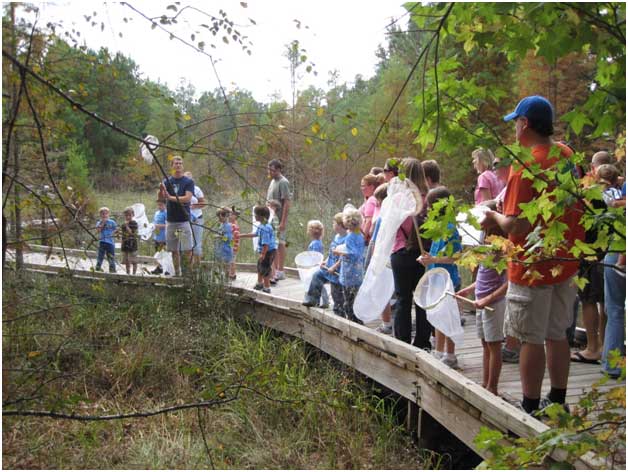 October 25th: "Homegrown Homeschoolers" from Jacksonville take a tour of the Natural Area
Teaching Laboratory and learn some collecting techniques. The 20 1st-3rd graders (and their parents)
also received a demonstration on how to preserve their insects after they collected them.
(Dale Halbritter demonstrates net-swinging for the group.)
Newsletter Minutiae
Thomas Fasulo is the newsletter editor. Departmental faculty, staff, students and alumni can submit news anytime to fasulo@ufl.edu. Issues usually are published by early mid-month. Submit items for an issue by the 7th of that month.
UF-Bugnews-L listserv subscribers receive notices when issues are posted on the newsletter Web site at http://entomology.ifas.ufl.edu/news, which has instructions for subscribing and unsubscribing. Pam Howell and Nancy Sanders review the newsletter for errors. Thomas Fasulo does the HTML coding.
In the last 12 months, the newsletter Web site recorded 158,855 page views.
---
November 2010.