May 2011
---
Faculty News
On 15 April, the University of Florida Undergraduate Honors Program held its first annual banquet for Honors faculty and Honors students. This will be an annual event, during which an Honors Professor of the year will be honored. At this first banquet, Dr. James Nation, who has been teaching in the Honors program since about 1991, was selected as the 2010-2011 Honors Professor of the year. Dr. Nation is an entomologist, retired from our department, who has remained active in teaching and as a journal editor.
Drs. James P. Cuda, Jennifer Gillett-Kaufman, and William Overholt were featured in the December 2010 FAMU Center for Biological Control Newsletter, Volume 9. The article, submitted by team member Dr. Raymond Hix (Florida A&M University), highlighted the $500,000 USDA NIFA grant the research team was awarded to battle the aquatic weed hydrilla.
Dr. Rebecca Baldwin's iPest app was featured in an example of an extension use of smartphone technology by the Chronicle of Higher Education.
Dr. Dan Hahn received an Excellence for Assistant Professor Award. This is one of 10 such awards given each year to University of Florida faculty. The award focuses on junior faculty and recognizes excellence in research.
Dr. Jaret Daniels received the Superior Accomplishment award in the IFAS Faculty category.


Student News
Four of our undergraduate entomology majors were recently selected as College of Agricultural and Life Sciences (CALS) Ambassadors. They are Paula Cohen, Carolyn Huntley, Mary Reed and Andrew Shahan.
Mr. Abhishek Mukherjee, a Ph.D. student in Dr. James P. Cuda's laboratory, accepted a postdoctoral research position in biological control of weeds at Texas A&M University, College Station, Texas, effective 15 August. Mukherjee will be investigating cold tolerance in Cyrtobagous salviniae, a weevil from South America that was released in Texas for biological control of giant salvinia, Salvinia molesta.
During 1-5 May, Dr. James Maruniak and seven students from The University of Florida Society for Viral Studies, aka 'Virology Club,' went to Lima, Peru. During the trip, they visited the U.S. Naval Medical Research Unit – 6 (NAMRU-6) located there. Navy Lieutenant Roxanne Burrus, who received her Ph.D. from our department in 2010, organized presentations and facility tours by researchers and physicians. The military doctors described diseases and vectors currently of health significance in Peru and Bolivia. These include Anopheles spp. and malaria, Aedes aegypti and dengue, sandflies and Leishmania, tick-borne Bartonelloses, triatomines and Chagas. Dr. Burrus is in charge of many projects and personnel in her new position at NAMRU-6. Dr. Maruniak and the students were impressed with Lt. Burrus' organizational skills and the scope of her projects.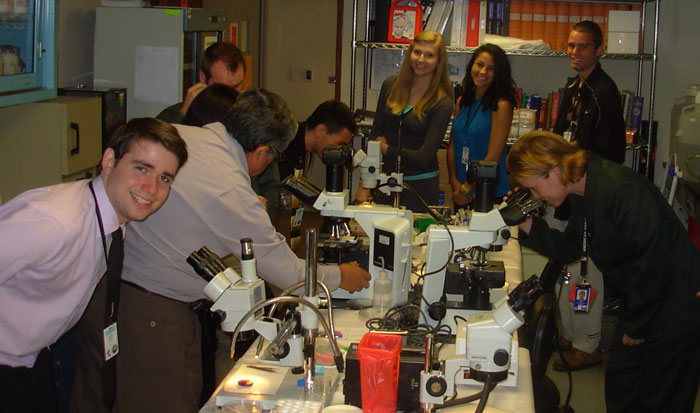 Virology Club students and Lt. Roxanne Burrus (right) viewing sandflies in the NAMRU entomology laboratory.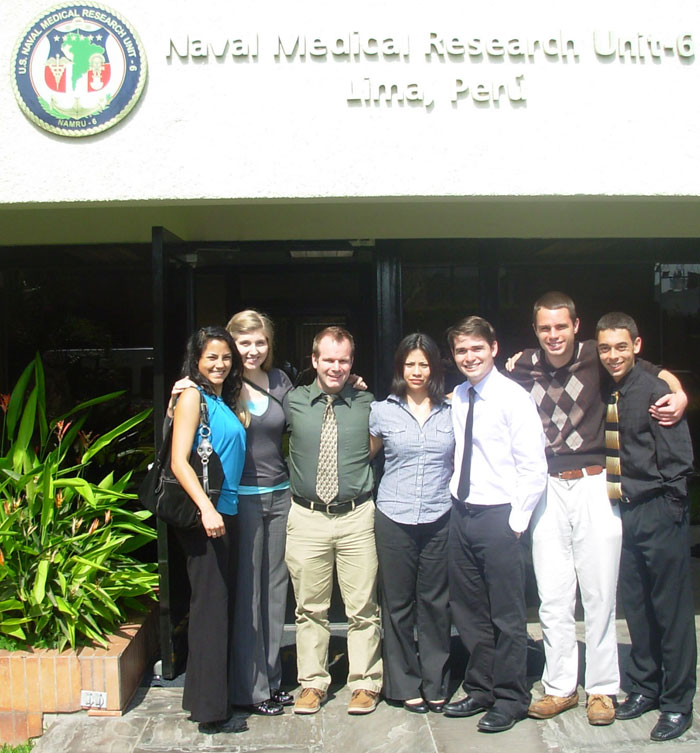 Virology Club members who visited Peru with Dr. James Maruniak (left to right): Gaby Maura, Rachel
Unterbrink, James Stull, Sofia Funes-Stull, Pablo Plasencia, Eric Downes and R.J. Bustami.
All of these students perform undergraduate research for credit in Dr. Maruniak's laboratory.
Renaming the Building
Although many of us have grown to love the "Building 970" name we have lived with since November 1990, on 25 May the Entomology and Nematology Building will be renamed to Charles Steinmetz Hall. Mr. Steinmetz recently provided our department with a large endowment for three professorships and other activities. The building dedication will take place at 1:00 pm with a short ceremony. Afterwards, there will be department tours and laboratory visits. The public is invited.


Publications
Machtinger E, Kaufman PE. (April 2011). Eye gnats, Liohippelates spp. Featured Creatures. EENY-485. http://entnemdept.ifas.ufl.edu/creatures/livestock/flies/liohippelates.htm
Mann RS, Hulcr J, Peña J, Stelinski LL. (April 2011). Redbay ambrosia beetle, Xyleborus glabratus Eichhoff. Featured Creatures. EENY-491. http://entnemdept.ifas.ufl.edu/creatures/trees/beetles/redbay_ambrosia_beetle.htm
Lapointe SL, Stelinski LL, Robinson RD. 2011. A novel pheromone dispenser for mating disruption of the leafminer Phyllocnistis citrella (Lepidoptera: Gracillariidae). Journal of Economic Entomology 104: 540-547.
Manrique V, Diaz R, Cuda JP, Overholt WA. 2011. Suitability of a new invader as a target for biological control in Florida. Invasive Plant Science and Management 4: 1-10.


Meetings and Presentations
Dr. James P. Cuda was invited to participate as a speaker and moderator for the Aquatic Weed Control Shortcourse 2011 held in Coral Springs, Florida, 3-5 May. Cuda's presentation was "Biological Control of Hydrilla."


Outreach
Thank you to those members and friends of the department who participated in our April and early May outreach activities:
7, 8, and 10 April: Tabling at the Levy Co. Fair: "Insects of Florida". Participants: Katie Buckley, Dale Halbritter, and Janine Razze – Attendance: 3,275 people
14 April: Bug Day! for Baby Gator at Village Drive. Participants: Eddie and Crystal Atkinson – Attendance: 30 children
21 April: Presentation on butterflies at Lake Forest Elementary, 3rd grade. Participant: Dale Halbritter – Attendance: 80 children
27 April: Tabling and outreach curriculum presentation at"4H Day at the Capitol", Tallahassee. Participants: Dr. Rebecca Baldwin and Dale Halbritter – Attendance: 580 middle/high schoolers
28 April: Department tour for SPICE middle schoolers. Participants: Crystal Atkinson, Dr. Rebecca Baldwin, Dale Halbritter, Wendy Helmey-Hartman, Bennett Jordan, Stephanie Larrick, Corraine McNeill, Lary Reeves, and Jodi White – Attendance: 60 middle schoolers
6 May: Presentations on insects at Hidden Oak Elementary, 1st grade. Participants: Eva Buckner, Chris Holderman and Dale Halbritter – Attendance: 160 children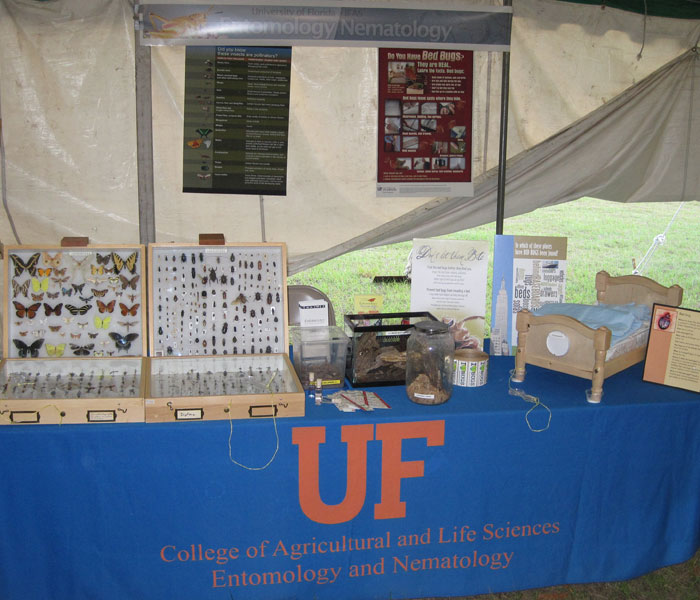 Levy County Fair: our table featured a collection of native Florida insects, some live native insects and arthropods,
and a bed bug display. This was our first time we had an exhibit at the Levy County Fair, which 3,275 people attended.
The following are programs and outreach events currently scheduled for May and June:
10 May: Presentations on metamorphosis at Dr. N.H. Jones Elementary in Ocala, 4th grade
11 May: Department tour for Tall Pines homeschool group
13 May: Presentations on insects at Alachua Elementary for "Career Fest", 4th grade
27 May: Presentations on insects at Wiles Elementary for "Science Symposium", 5th grade
20-24 June: Forensic Entomology Camp for middle schoolers at our department - some photographs from last year's camp
The live critters are always a hit with children and adults alike. The critters are available for you to check out should you be leading an outreach event. We have doubles of our most popular critters, as well as various native insect species depending on the time of year. If you lead an outreach, please be sure to fill out a documentation form so your event can be included in the newsletter and so that we can log all outreach events. If you would like to schedule an event or have any outreach questions, go to the Outreach pages on our Bug Club Web site and contact us. - Dale A. Halbritter, Outreach Coordinator


Grants

Dr. James Cuda, Dr. Amanda Hodges and Lyle Buss were awarded a $4,928 CALS Teaching Enhancement Minigrant for their proposal "Parasitoids and Pathogens of Florida's Invasive Arthropod Pests." The funds will be used to develop an Insect Image Gallery CD-ROM.

Mr. Justin Bricker, an undergraduate Howard Hughes Medical Institute student in Dr. James Cuda's laboratory, was awarded a $1,000 research grant from the Weed Science Society of America (WWSA). Justin's proposal, "Modeling of the population dynamics and impact of the exotic weevil Apocnemidophorus pipitzi on the invasive Brazilian peppertree," was selected for a 2011 WSSA Undergraduate Research Award.

Dr. James Cuda was awarded a 2011 Florida Agricultural Experiment Station Summer Internship ($3,360) to support an undergraduate student for a weed biological control project during the Summer C semester.


Newsletter Minutiae

Thomas Fasulo is the newsletter editor. Departmental faculty, staff, students and alumni can submit news anytime to fasulo@ufl.edu. Issues usually are published by early mid-month. Submit items for an issue by the 7th of that month.

UF-Bugnews-L listserv subscribers receive notices when issues are posted on the newsletter Web site at http://entomology.ifas.ufl.edu/news, which has instructions for subscribing and unsubscribing. Pam Howell and Nancy Sanders review the newsletter for errors. Thomas Fasulo does the HTML coding.

In the last 12 months, the newsletter Web site recorded 154,250 page views.



---
May 2011.