April 2011
---
Faculty News
Agricultural Acarology: Introduction to Integrated Mite Management, by Dr. Marjorie A. Hoy and published by CRC Press, will be available May 3rd. If interested, please contact me for a form that allows students and faculty to purchase it for a discount. I especially thank Nik Hostettler for his excellent help in preparing the illustrations for publication and Lyle Buss for providing some outstanding photographs of mites and their damage. The book includes an accompanying CD that contains many color photographs of pest and beneficial mites, as well as predatory insects that are natural enemies of agricultural mites. - Dr. Marjorie Hoy


Student News
Ms. Evelien van Ekert's M.S. thesis was chosen as the best in the College of Agricultural and Life Sciences for the 2010 calendar year. She will be presented with the IFAS Award of Excellence for Graduate Research at the Florida Agricultural Experiment Station's Annual Awards reception on 19 May 2011. Evelien's research was supervised by Dr. Dov Borovsky of the UF/IFAS Florida Medical Entomology Laboratory (FMEL) in Vero Beach. Her thesis was "Identification and Characterization of Juvenile Hormone Acid Methyl Transferase, the Ultimate Enzyme in the Juvenile Hormone Biosynthetic Pathway of Aedes aegypti." She is currently pursuing a Ph.D. at FMEL.
Buddhi Achhami, of Nepal, is currently studying for a masters degree in Plant Sciences at Wageningen University and Research Center in The Netherlands. Part of that program includes an internship which will be done in our Small Fruit and Vegetable IPM lab during April–August 2011. Buddhi will study the occurrence, phenology and biological control of the grapevine aphid under the supervision of Drs. Oscar Liburd and Elke Weibelzahl. Buddhi completed a B.S. in Agriculture from the Institute of Agriculture and Animal Science in Nepal in 2003, and joined the Nepal Agricultural Research Council (NARC) as a researcher. NARC is a leading national agriculture research organization in Nepal. For those interested in biological control in Nepal's agricultural system, please stop by and speak to Buddhi.
Undergraduate entomology major Hannah McKenrick, graduating this May, received a National Science Foundation Fellowship to attend the University of Kentucky to study for a Ph.D. in entomology. This is in addition to a fellowship provided by the UK's Entomology Department.


BugFest
By most any standard, the [April 6th] BugFest was an enormous success. We had in excess of 300 campus-wide and community visitors and they all seemed to have a wonderful time. They played the games, looked at our academic information, played with the live arthropods, ate pizza and collected their [Butterfly] Rainforest passes. Several asked to be added to our Entomology Club listserve. I do not yet know how many majors we may have recruited from this venture, but I can tell you we got wonderful exposure on campus and in the community. This may well be worth doing annually.
I am especially appreciative of many of our faculty who attended the event and interacted with those attending. Thanks to [Drs.] Jim Cuda, Norm Leppla, Eileen Buss, Christine Miller, Phil Kaufman, Phil Koehler and Rebecca Baldwin. If I have omitted anyone, I sincerely apologize. Dr. and Mrs. Capinera attended and Provost Joe Glover stopped by. Tom Nordlie [IFAS News] was there with his photographer and our department and BugFest will be a feature article in Impact Magazine in the summer. Entomology club students did a magnificent job of organizing the event and managing the logistics. All in all, a wonderful event. - Dr. Carl Barfield, Undergraduate Coodinator
Entomology Club photosgraphs from BugFest
From IFAS Photography: Last week the Entomology department held their first annual BugFest, an open house of sorts where the public could come out, hold bugs, play an assortment of games (cricket spitting being the most popular), tour the facilities, and undergraduates could check out what the major had to offer. Lots of families brought their kids out and everybody had a lot of fun. Photographs from that event are now available to view via the link below—a gallery featuring all of the images Also important to note, those are not thumb tacks pushed into the roaches, they are just the tops of tacks that have been temporarily affixed to their backs so that they could pull the toy tractors in the roach races. In other words, no bugs were harmed during BugFest. Thanks, and enjoy.
Gallery of photographs


Publications
Wekesa VW, Avery PB, McKenzie CL, Powell CA, Osborne LS. 2011. Control of Liriomyza trifolii (Diptera: Agromyzidae) in cut flowers using Isaria fumosorosea (Hypocreales: Cordycipitaceae) alone and in combination with insecticides. Journal of Entomological Science 46: 80-84.
Chouvenc T, Elliott ML, Su N-Y. 2011. Rich microbial community associated with the nest material of Reticulitermes flavipes (Isoptera: Rhinotermitidae). Florida Entomologist 94: 115-116.
Pitzer JB, Kaufman PE, Geden CJ, Hogsette JA. 2011. The ability of selected pupal parasitoids (Hymenoptera: Pteromalidae) to locate stable fly hosts in a soiled equine bedding substrate. Environmental Entomology 40: 88-93.
Olafson PU, Pitzer JB, Kaufman PE. 2011. Identification of a mutation associated with permethrin resistance in the para-type sodium channel of the stable fly (Diptera: Muscidae). Journal of Economic Entomology 104: 250-257.
Fitzpatrick D, Kaufman PE. (April 2011). Horn fly, Haematobia irritans irritans (Linnaeus). Featured Creatures. EENY-490. http://entnemdept.ifas.ufl.edu/creatures/livestock/flies/horn_fly.htm
Rozen Jr JG, Hall HG. 2011. Nesting and developmental biology of the cleptoparasitic bee Stelis ater (Anthidiini) and its host, Osmia chalybea (Osmiini) (Hymenoptera: Megachilidae). American Museum Novitates 3707: 1-38.


Summer Course in IPM
Dr. Oscar Liburd will offer PMA 4570/PMA 6228 "Field Techniques in Integrated Pest Management" during Summer B (Tuesday and Thursday: 9:30-12:00). The course:
Reviews general information required when developing a pest management program for a specific crop.
Introduces students to techniques that include monitoring, sampling, decision-making, biological control and limited or alternative pesticide usage.
Emphasizes the practical aspects of pest management.
Meetings and Presentations
Dr. Phil Stansly, of the UF/IFAS Southwest Florida Research and Education Center, spoke on "HLB management with foliar applications of nutritionals and insecticides" at the Florida Citrus Growers' Institute on 6 April 2011. The purpose of the institute is to give an opportunity for Florida growers to come together and learn effective management of citrus greening disease or Huanglongbing (HLB).


Outreach
Thank you to those members and friends of the department who participated in our March and early April outreach activities:
24 March: Presentation and insect hunt at Micanopy Area Cooperative School, 2nd grade. Participants: Jason Graham and Stephanie Stocks
29 March: Department tour for a home school group. Participants: Katie Buckley and Dale Halbritter
2 April: "Wonders of the Salt Marsh" at the Withlacoochee Gulf Preserve. Tabling and presentation on dragonflies. Participants: Dale Halbritter and José Navarrete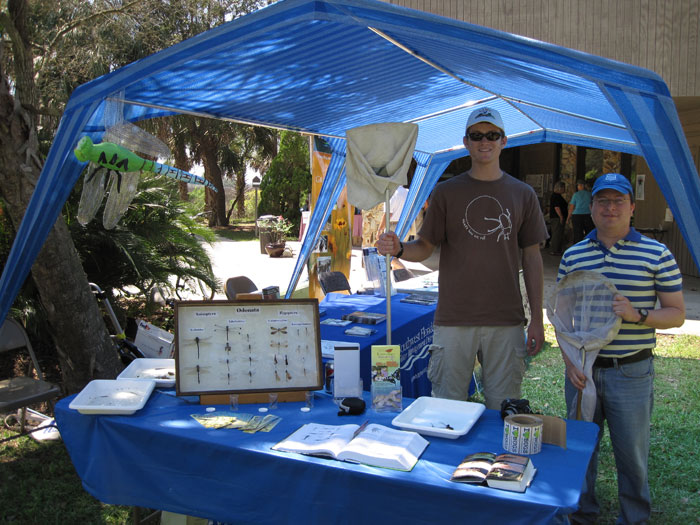 Dale Halbritter and José Navarrete teach the public all about Odonata (dragonflies and damselflies) at the
Withlacoochee Gulf Preserve. The program was called "Wonders of the Salt Marsh" and emphasized wetlands conservation.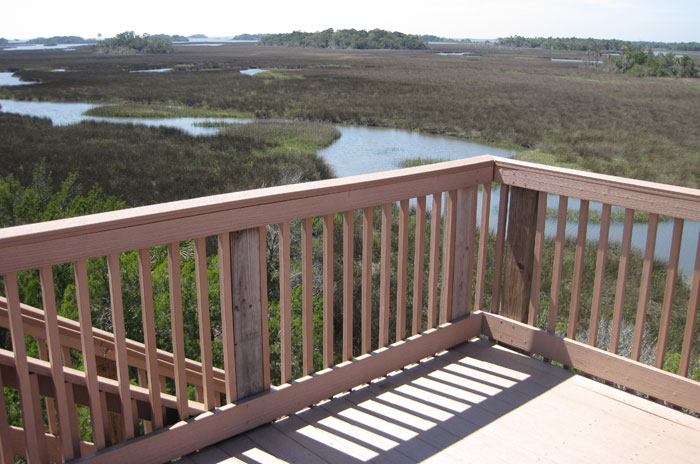 A spectacular view from atop the observation tower at the Withlacoochee Gulf Preserve. Many of our
outreach trips provide us with the opportunity to experience Florida's history, beautiful vistas and parks.
The following are outreach events currently scheduled for April:
7-10 April: Tabling at the Levy Co. Fair: "Insects of Florida"
21 April: Presentation on butterflies at Lake Forest Elementary, 3rd grade
26 April: Presentations on metamorphosis at Dr. N H Jones Elementary, 4th grade
27 April: Tabling and outreach curriculum presentation at "4-H Day at the Capitol", Tallahassee
28 April: Department tour for SPICE middle schoolers
The live critters are always a hit with children and adults alike. The critters are available for you to check out should you be leading an outreach event. If you lead an outreach, please be sure to fill out a documentation form so your event can be included in the newsletter and so that we can log all outreach events. If you would like to schedule an event or have any outreach questions, go to the Outreach pages on our Bug Club Web site and contact us. - Dale A. Halbritter, Outreach Coordinator



Newsletter Minutiae

Thomas Fasulo is the newsletter editor. Departmental faculty, staff, students and alumni can submit news anytime to fasulo@ufl.edu. Issues usually are published by early mid-month. Submit items for an issue by the 7th of that month.

UF-Bugnews-L listserv subscribers receive notices when issues are posted on the newsletter Web site at http://entomology.ifas.ufl.edu/news, which has instructions for subscribing and unsubscribing. Pam Howell and Nancy Sanders review the newsletter for errors. Thomas Fasulo does the HTML coding.

In the last 12 months, the newsletter Web site recorded 157,969 page views.



---
April 2011.