Maggot Painting is Truly Buggy Art
---
On 13 May 2009, the Expressions Learning Arts Academy, an art-based elementary charter school, visited the University of Florida's Entomology and Nematology Department. The field trip comprised 23 kindergarteners, their teachers, and several parents. The day began with a guided tour, led by Matt Thom, of the university's Natural Area Teaching Laboratory (NATL). During the tour the students identified many insects, observed vegetation and habitats, found and examined a tortoise shell and enjoyed the nature walk.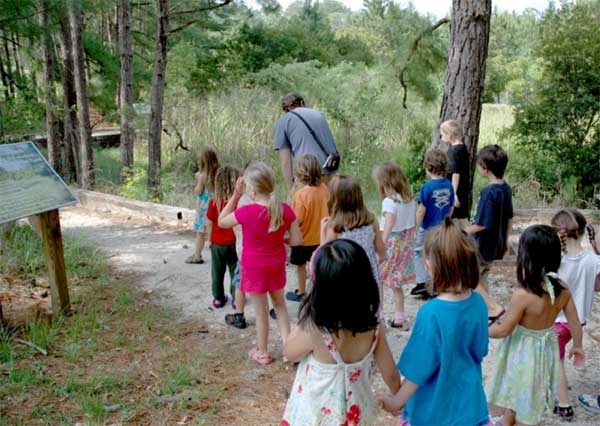 Graduate student Matt Thom leads students into the Natural Area Teaching Laboratory.
The students then participated in a special activity with Dr. Rebecca Baldwin and graduate students Matt Thom and Sharon Clemmenson — painting with live maggots. The maggots were dropped into different colored paints, then plucked out with forceps and dropped on art paper, where they wriggled around leaving some very interesting works of art in their wake. The children all enjoyed this very much and had never experienced this type of art process. Comments about the house fly maggots, courtesy of Dr. Phil Kaufman and Lois Wood, included adjectives such as "so cute", and "adorable".
| | | |
| --- | --- | --- |
| Dr. Rebecca Baldwin and young artists. | Getting introduced to the maggots. | Painting with maggots. |
The students were sad when they had to wash their living paintbrushes and return them to the container. After cleaning up the art project, the children had the opportunity to observe and even touch a Madagasca hissing cockroach.
| | |
| --- | --- |
| Some are anxious to hold the roach on Sharon's arm. | Others would rather Matt Thom held it. |
As a treat to the tour leaders, the teacher shared her rendition of "Head, Thorax, Abdomen" (ala "Head, Shoulders, Knees and Toes"). The children received I Love Bugs stickers and said that it was the best field trip ever. According to one parent, the teachers and chaperones also were very impressed and hope to return with classes in the future.
---
Thomas Fasulo is the newsletter editor. You can submit news anytime to fasulo@ufl.edu. Issues are published the middle of each month. Submit items for an issue by the 7th of that month. Detailed articles, such as this one, must be submitted before the first of the month for that month's newsletter.

---
Return to the June 2009 issue.