Recent Heliconia Taxonomy.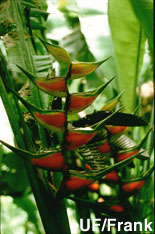 The botanical publications listed below have been important to ecologists in identification of the species of Heliconia. Because of profound changes in nomenclature, only Berry & Kress (1991) and subsequent publications should now be considered reliable guides; ecological publications with identification based on older botanical guides may have incorrect identification of the Heliconia species studied.

Aristeguieta, L. 1961. El género Heliconia en Venezuela. Caracas; Ministerio de Agricultura y Cria. 61 p.

Berry, F.H., Kress, W.J. 1991. Heliconia: An Identification Guide. Washington, DC; Smithsonian Institution Press. viii + 334 p.

Daniels, G.S., Stiles, F.G. 1979. The Heliconia taxa of Costa Rica. Keys & descriptions. Brenesia 15(suppl.) 1-150.

Smith, R.R. 1968. A taxonomic revision of the genus Heliconia in Central America. PhD thesis, University of Florida, 343 p.

For example, publications by R.P. Seifert and co-authors (about aquatic insects in Heliconia flower bracts) concerning insects associated with "Heliconia aurea Rodríguez" (following classification by Aristeguieta) in Venezuela, in fact concern insects associated with Heliconia bihai (L.) cv. Aurea. Publications by Machado-Allison et al. and several other authors in Venezuela concerning Heliconia caribaea Lamarck (following classification by Aristeguieta) in fact concern H. bihai (see Frank and Barrera 2010). That by Beutelspacher & Butze in Mexico concerning aquatic insects in bracts of H. bihai, in fact concerns H. uxpanapensis C. Gutiérrez Báez.

Although the genus Heliconia has been placed at various times in the families Musaceae and Strelitziaceae, it is now (following Berry & Kress, 1991) in family Heliconiaceae.