The Bromeliads
Bromeliads (family Bromeliaceae) are a large group of plants (over 2,500 described species) of neotropical origin. They are a conspicuous part of the flora of South and Central America and the West Indies. Only a few bromeliad species are native to peninsular Florida, and still fewer range north and west into other states. In South America, bromeliads have evolved to occupy a wide range of habitats from humid lowlands to deserts to high mountains. They grow in humus or sand on the ground, on rocks, or as epiphytes of trees (although many species grow on trees, none is known to be a true parasite). Some of them are grown as crops (pineapple is a bromeliad), and many are grown as ornamentals, and for this reason bromeliads are now grown in the tropics and subtropics worldwide. In more temperate climates they are grown in glasshouses.
Native bromeliads
Bromeliads considered as native to Florida belong to three genera (Catopsis, Guzmania, and Tillandsia) and all of them are epiphytic. The three native species of Catopsis and one Guzmania are restricted in Florida to the extreme south, where all of them are listed as endangered (6). Most of the dozen native species of Tillandsia have quite restricted distributions; four (Tillandsia fasiculata, T. flexuosa, T. pruinosa, and T. utriculata) are listed as endangered, and two (T. balbisiana and T. variabilis) as threatened (6).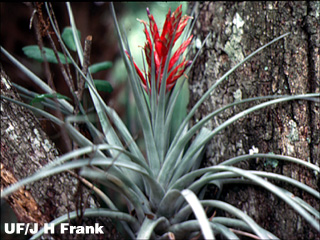 A native bromeliad, Tillandsia fasciculata (photo: J.H. Frank)

They are the most common native examples of tank bromeliads that harbor mosquito larvae. The endangered, threatened and commercially exploited plants are protected under Florida law (6) and to a lesser extent under U.S. law (33). The remaining two species, which are not protected, are "Spanish moss" (Tillandsia usneoides) and "ball moss" (Tillandsia recurvata); these are the most common native examples of bromeliads that do not form tanks and therefore do not harbor mosquito larvae.
Introduced bromeliads
Numerous bromeliad species have been introduced into cultivation in Florida from South and Central America and the West Indies. Among them are species of the genera Aechmea, Androlepis, Billbergia (see introductory picture), Canistrum, Catopsis, Guzmania, Hohenbergia, Neoregelia, Nidularium, Orthophytum, Portea, Quesnelia, and Vriesea, many of which form tanks; species of Acanthostachys, Ananas, Araeococcus, Bromelia, Cryptanthus, Dyckia, Fosterella, Hechtia, Navia, Pitcairnia, and Pseudoananas, most of which do not form tanks; and species of Tillandsia which contains bromeliads with and without tanks.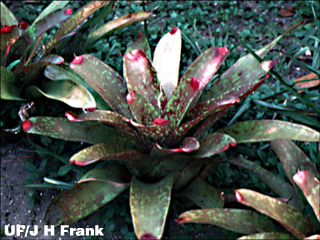 An imported tank bromeliad, Neoregelia marmorata (Photo: J.H. Frank).
Many nurseries in south Florida sell bromeliads and a few nurseries specialize in bromeliads. They sell natural species, cultivars, interspecific hybrids, and even intergeneric hybrids with such names as Neomea 'popcorn.' Bromeliad cultivation has become so popular that a society [The Bromeliad Society International (BSI), which publishes Journal of the Bromeliad Society, formerly Bulletin of the Bromeliad Society] was formed in 1951. There are now 13 local bromeliad societies in Florida alone, some of which publish newsletters such as The Bromeliadvisory (from the Bromeliad Society of South Florida), The Caloosahatchee Meristem (from the Caloosahatchee Bromeliad Society), and The Commentary (from the Bromeliad Society of Broward County),
Biology of bromeliads
Bromeliads are monocotyledonous plants that share biological characteristics of related families such as Cannaceae and Musaceae. Although a few members of some plant families other than bromeliads (e.g., Agavaceae, Araceae, Cannaceae, Marantaceae, Musaceae, Strelitziaceae) accumulate little tanks of water in their leaf axils, hundreds of species of bromeliads have this characteristic. The arrangement of these tanks varies; in some species water accumulates in a few or in many separate leaf axils, while in others the central leaves together form a large tank surrounded by a few, separated tanks provided by outer leaf axils.
Bromeliad leaves bear special epidermal cellular structures (trichomes) that absorb water and minerals from the leaf surface. This ability to absorb from the leaf surface explains why some bromeliads (sometimes called "air plants") can live with their roots attached to telephone lines and power poles. These air plants gain their nutrients from whatever mineral particles, blown about in the wind and rain, happen to land on their leaf surfaces. They seem to live "on the air," and their feeble-looking roots serve merely to anchor them.
Most cultivated bromeliads are epiphytic (27) and thus have a natural association with trees. During and after rains, water dripping from trees is no longer just rainwater, but is enriched with minerals leached from tree leaves: bromeliads absorb it through trichomes on their leaf surfaces or through trichomes on the leaf surfaces forming their tanks. The tanks also trap pollen, dead leaves, and twigs and seeds falling from the trees; these materials break down in the tanks to form a nutritive soup available to the bromeliads and mosquito larvae.